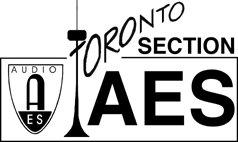 May 1 1993: Volume 1, Number 5

"It's Obvious That Mozart Never Took Physics 101"

Date: Tuesday, May 18, 1993
Time: 7:30 pm
Place: George Brown College
Address: 200 King Street East, Main Campus Building Toronto, Ontario
Pre-meeting "Dutch Treat" dinner, 6:00 pm at On The Rocks Restaurant, 169 Front Street East (near S.W. corner of Sherbourne &amp Front)
---
What's Inside
---
This Month's Meeting Preview
What Mozart's Dad Didn't Tell Him about his Ears
During the past decade, there have been some rather excellent attempts to quantify the potential for hearing damage among musicians. Researchers have found that depending on the seating position within an orchestra, musicians reached their maximum safe weekly dose of noise by musical exposure after only ten to twenty-five hours of playing. Many are suffering hearing losses, albeit to a slightly lesser extent than "equivalent" industrial workers.
Dr Marshall Chasin, a private audiologist and researcher in Southern Ontario, and Ian McIntosh, manager of EDI Canada, which distributes ER Musicians Products, will give a presentation which includes an introduction to an earplug design which significantly minimizes the associated problems with earplugs, making them a highly recommendable tool for professionals who are engaged in making or monitoring high level fidelity music and sound.
Although hearing protection obviously has a place in the industrial environment, there are some limitations for musicians. Conventional earplugs produce ten to twenty decibels of high frequency attentuation, have a large occlusion effect, which makes the user hear their own voice with a boom quality, and attenuate more than is necessary for much of the sound levels musicians are exposed to.
Noise induced hearing loss is a function of the exposure of time, the average noise level and the peak level of very loud sounds. Some people are more susceptible to hearing loss than others, so that protection on the basis of an average time and sound level exposure will only protect the "average" person. Even under optimistic conditions, regular listening for two hours without protection would be the safe limit at levels of 100 decibels, and this assumes that for the rest of the day, the listener is not exposed to sound levels exceeding 85 decibels.
Education and prevention are the two essential ingredients to any ear-protection program for musicians and audio professionals. Manipulation of the listening environment and reduction of the noise/music levels reaching the ear are imperative in order to ensure that hearing is protected. Additionally, the specification of the correct type of earplug is crucial, as are any subtle modifications made to the device.
Dr Marshall Chasin received his Masters of Science degree in Audiology and Speech Science from the University of British Columbia, and then joined the Canadian Hearing Society as audiologist, where he was responsible for clinical research and health care education. Since 1985, he has served on or worked with many organizations including the Centre for Human Performance and Health Promotion, the Canadian Hearing Society, the Canadian Standards Association, Health and Welfare Canada, the Department of Communications, the Advisory Committee on Hearing Aids, and the Ministry of Labour Performing Arts committee. He is a regular lecturer at the University of Toronto, Department of Linguistics, the University of Western Ontario, Department of Communicative Disorders and George Brown College, Hearing Instrument Practitioners Course. He is author of over 45 related articles, book chapters and letters, and has presented over 150 related seminars throughout North America.
Ian McIntosh is General Manager of EDI Canada, and is actively involved with the recording industry, both as a muscian and as a consultant dealing with the noise levels that musicians must face.

What's Inside
---
Last Month's Meeting Summary
Bryston: The Tour
On Tuesday April 27, a Section Meeting was held at the manufacturing facility of Bryston Limited. Bryston is one the great Canadian success stories.
Bryston products are recognized around the world for their build quality and durability and are considered to possess "audiophile" sound qualities. The methods and ideas that led to this reputation were outlined to those in attendance by Bryston staff. Design philosophies and the origins of Bryston's 20 year product warranty were also discussed.
A brief tour of the manufacturing facility was then conducted. Bryston's manufacturing is most definitely a "hands on" process, as very little automation is employed, and responsibility for quality control is distributed among those assembling and testing the products.
Parts are either custom built to very tight tolerances by Bryston suppliers or are tested in house to strict tolerances. This obsession with close tolerances is clearly shown in the selection of resistors. All resistors used are delivered as 1% devices, and these are then measured in house and grouped into 0.1% (1/10 of 1%) slots. Any device manufactured by Bryston is assembled from only one 0.1% group guarantying a high degree of match to published specifications.
Extending down one wall of the factory is the burn in bench. All power amplifiers must first make a stop here before being shipped. Amplifiers are burned in for many hours into a reactive load at high output levels: any problems are revealed by this workout and subsequently rectified.
At the conclusion of the tour, AES members and guests reassembled to hear more from Bryston's engineers about new and old products. A new microphone preamplifier was demonstrated as well as a portable Dolby SR adapter for the venerable Nagra.
As a special treat, one of the very first power amplifier prototypes ever assembled at Bryston was put on display for all to see, illustrating the degree of progress that has been made since early days.
Questions from those in attendance were then answered including several about potential future products. All in all, it was a very interesting evening with one of the most respected audio manufacturers in the country.
In Toronto, Denis Tremblay

What's Inside
---
Announcements
LADIES AND GENTLEMEN FOR THE EXECUTIVE: Introducing The Nominees (Part Two) for 1993/94
Anne Reynolds is once again nominated for the position of Committee Member. A Graduate of the Harris Institute for the Arts' Producing/Engineering Program, and the University of Prince Edward Island with a Bachelor of Business Administration, Anne is currently working as Coordinator for Magnetic Music, the Music Production wing of Magnetic Enterprises.
Devy Breda is a Certified Engineering Technician with twelve years experience in Sound System Design and Installation. Devy has a diploma as an Acoustic Engineering Technician, and immediately after graduating from George Brown College, started his career in pro-audio. He started as an installer, but shortly after moved to technical sales at Superior Communications.
Currently, he is the president of Audiospec Inc., which he started in 1987. Audiospec Inc. is a complete Sound and Communications Contractor with many successful installations for both public and private institutions (Houses of Worship, Government Departments, etc). Devy is also a member of the N.S.C.A., Toronto Construction Association and the Mississauga Board of Trade. Devy is looking forward to contributing to the Toronto AES as a Committee member.
Martin Fraser, a present Committee member, started out in full time music studies at the Royal Conservatory of Music with his major instrument being saxophone. He then started working at Number Nine Studios, then a small 16-track in Richmond Hill. He moved down to Comfort Sound, where he assistant engineered on many album projects both in the studio and the 24-track mobile unit.
Realizing that he enjoyed working inside the console instead of on top of it, he pursued the technical side of sound recording. He was employed at Phantom Power Broadcast and Recording Systems while studying electronics at Devry. He assisted in the design and installation of many studios including Sound Ideas, Kean Communications, and BMG.
Martin is currently chief technician at Soundhouse, where he maintains two mixing rooms for film and video, a Foley/ADR stage, plus two newly acquired WaveFrame rooms for digital sound editing.
Leo Lobo had a childhood fascination with Electromagnetism that led to studies in Physics and Maths, and culminating in a BSc degree. This was followed by employment in Radio Broadcast Engineering in Tropical Africa, Communications Radio Manufacturing Industry in Montreal, and followed by time at Ward-Beck Systems Ltd, Scarborough, Ontario.
He is currently at CJRT-FM Inc as Associate Engineer. He is a member of the Institution of Electrical Engineer (UK), and a Chartered Engineer, Engineer Council (UK).
---
The AES Convention Update
The AES Convention continues to be a driving force in Europe for the delineation of new audio techniques. This year's 94th convention was no exception. Berlin, Germany was the site and attracted an attendance of 7,194. One hunded and fifty-three papers and six workshops of practical audio engineering practices provided the European audience with a high quality program of product insights for the years to come.
Four days of technical products exhibition assisted the continental AES membership to keep abreast of many new product areas that will affect product usage in the future. The International Convention Centre Berlin accommodated 306 audio exhibitors from all parts of the world.
AES Standards Committee meetings continued to highlight the AES International concern for standardization of new emerging digital practices and to assist in the implementation of such standards developed.
A special emphasis on the 50th anniversary of stereo magnetic recording in Germany was evident in a special historical equipment display and in a broadcast of the original stereo recordings engineered fifty years ago by Helmut Krueger. Mr Krueger was honoured at the AES Awards Banquet with an honorary membership in the Society. At the same banquet, silver medals were presented to Raymond Cooke and Peter Baxandall for their outstanding contributions to audio engineeering.
During the convention in Berlin, the AES Board of Governors met and approved the 1994 AES 96th Convention site in Amsterdam at the Rai Centre, February 27 - March 2, 1994. This will be the first weekend convention in Europe.
Also, the AES Board of Governors approved new dates and location for the 1994 AES 97th Convention in North America. The new dates are November 10 - 13, 1994, and the location is at the Moscone Center in San Francisco. This is a change from the dates of mid-October, 1994 in Los Angeles.
In New York, Donald Plunkett, Executive Director
---
A Clarification
It has come to our attention that a vicious rumour is circulating around to the effect that our Glenn Specht was approached by Genesis to play koto guitar (whatever that is) on an upcoming reunion album, and that he rebuked them!
In actual fact, Glen Specht (note only one "n" in Glen) was approached and did refuse, but we don't know this man.
We also don't have the foggiest how such a rumour may have begun.

What's Inside
---
Previous and Next Issues

Back to April 1993

Forward to June 1993
---

Copyright 1993, Audio Engineering Society Toronto Section Bulletin

Articles may be used with the Author's Permission. Contact the Bulletin Editor: earlm@hookup.net

Editor: Earl McCluskie Assistant Editor: Anne Reynolds Layout Editor: Lee White

The Bulletin is prepared in print by Lee White, and on Horizons and the Internet by Earl McCluskie.
---