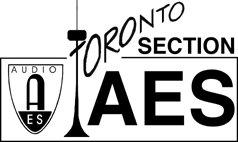 January 1994: Volume 2, Number 5

Yorkville Sound: The Tour
A Tour of the New Facilities and a Presentation of a Digital Audio Console Design

Date: Tuesday, January 11 1993
Time: 7:30 pm
Place: Yorkville Sound
Address: 550 Granite Court, Pickering, Ontario
---
What's Inside
---
This Month's Meeting Preview
All About Yorkville Sound
Yorkville design engineer Tom Wood will host a discussion on the development of Yorkville's first digital audio console. After several years of development the project is nearing completion with the first working prototype only a few months away.
The 24x8 console under development features A/D and D/A conversion on board, extensive channel equalization, VCA style grouping, and flexible bus assignment. The entire console setup may be stored internally or on an external memory card for later recall. Designed for mass market consumption, this affordable console is targeted at the main stream professional audio market with the initial offering being configured for primarily live applications.
Yorkville Company Profile
The Company:
Founded in 1963 in downtown Toronto with President- Jack Long; General Manager - Steve Long
The Building:
Built during late 1992 and early 1993 (occupied during March'93) - 66,000 sq. ft. w/22 ft. ceilings on 5 acres (potential to 95.000 sq. ft.) Custom design &amp layout by Leeswood Design Build
The People:
150 employees (Canada only) - General Manager - Sales Manager, Export Manager, 3 outside sales, 2 inside sales - Credit Manager &amp 2 A/R staff, Accounting Manager &amp 1 staff - Materials Manager &amp 3 Purchasing agents - Personnel Manager - 15 engineering staff - 10 Factory Managers &amp Supervisors - 100 factory employees - Shipping Supervisor, 5 shippers, 2 receivers
Distribution:
In Canada, Yorkville Sound; In the USA, Yorkville Sound Incorporated, Niagara Falls, NY - General Manager &amp 6 staff

Outside Canada &amp USA, Yorkville's manufactured products are represented by independent distribution companies. Yorkville has current representation in 25 countries. Major countries include Mainland China, Taiwan, France, Sweden, Germany, Austria, Switzerland, Italy, New Zealand, Australia, and some unusual notables where we do very well such as Tahiti, Iceland, Cuba &amp Israel.
Major Machines:
Universal 20 station radial insertion system - Universal 60 station axial insertion system - Universal 72 station I.C. insertion system - Electrovert programmable wave solder machine - 2 Marconi circuit board testers - 3 Wessell CNC circuit board drills - Master Etch board etching system - Nobal Circuit board scrubber - Artos CS26 wire stripper - Weidemann 34 station CNC turret press - Edwards 4' 10 gauge powershear - Promecan 25 ton programmable break press - Pierce All 10 station manual turret press - Wysong 90 press break - Timesaver conveyorized belt sander - Pemserter stud insertion system - NUARC silk screen exposure unit - Paintronic chasis painting system - Gibben Indexing panel saw - SCM CNC router - Tatry Double radial arm saw - Wadkin &amp EMA shapers - Devilbiss cabinet painting system - Overhead Conveyor System - Formtech vac-forming machine - Adroit computerized material cutter - LMS computerized QC &amp design system - Audio Precision computer testing system
Cad/Cam:
Many of the above machines use CAD/CAM technology to greatly reduce programming time. Most of the implementation code was written right here at Yorkville. In fact, we have even shown several of our machine suppliers how to use CAD/CAM technology on their machines.
Computers:
Yorkville is a very computer rich environment. Most office staff and many factory supervisors have a PC computer on their desk and know how to use it. Most are DOS based 386's running Windows 3.1 applications such as Word, CorelDRAW!, Excel. The major CAD packages used in the lab are Cadkey and P-Cad. Graphics are done using CorelDRAW! or DESIGNER.
Products:
Our major manufactured products include speaker cabinets from 50 to1000 watts, power amplifiers from 150 - 2400 watts, powered and unpowered mixing consoles mixing consoles from 4 to 20 channels, a full line of instrument amplification, and several lighting products.

In Canada, Yorkville is also the exclusive distributor for Gibson, Epiphone and Steinberger guitars and accessories, ART Signal processors, Gallien &amp Krueger Instrument amplifiers, Audio- Technica Pro Series Microphones and Accessories, RCF and B&amp C raw frame professional P/A loudspeakers and Celestion instrument amplifier speakers.

Yorkville also has a non-exclusive arrangement to sell Dean Markley strings in Canada, and also sells a complete line of third party stands, cables, microphones and accessories under the Yorkville name.

What's Inside
---
Last Month's Meeting Review
CBC Canadian Broadcasting Centre Tour Review...
A whirlwind tour through the labyrinths of the new Canadian Broadcasting Centre
If you had attempted to tour the facilities of the Canadian Broadcasting Corporation's Toronto operation as recently as two years ago, you would have needed to set aside at least one week, a good portion of which would be spent travelling from department to department. CBC Toronto had no one central place to call home, and instead was spread over the downtown of Toronto in such unlikely places as the one-time girl's finishing school on Jarvis Street, complete with covered over decaying swimming pool, and radio spirits and rodents walking the halls late at night (or so we were to believe according to one famous radio host).
The 250 members and guests who attended the December meeting of the AES experienced a superbly organized overview of many of the audio facilities and some of the television facilities in the new Centre. For myself and many others, this was the first time that we had an impression of the television and audio sections of the CBC as being a part of a single entity.
For those of you who could not attend, or for those of you who did attend, but reached information saturation mid-way through the evening, the Bulletin will now unabashedly use a CBC New Technology report originally prepared by Rosalie Jones, CBC Radio Technical Operations Centre, and further revised and expounded by Tom Shevlin, to summarize what you saw or would have seen.
STUDIO 41 and CONTROL ROOM
Studio 41 is, for the moment, perhaps the most "visible" component of the Broadcast Centre. It is from here that Friday Night with Ralph Benmergui, and the Royal Canadian Airfarce are broadcast. Complete with all necessary lighting appliances, suitably impressive "hip" sound system and seating for 250, this studio, which boasts its own ozone layer, is one of three large studios located on the top floor of the Broadcast Centre.
The audience P.A., as well as the stage monitor system, use Electro-Voice speakers and subwoofers (Delta-Max technology), with power by QSC amplifiers. Consoles are from Yamaha, with 80 inputs available on both the house consoles (PM4000s) and the stage monitor mixers (PM2800s). The entire system can be broken down into road cases and transported to remote sites for special events.
The Control Room viewed in our tour is used for both Studio 41, as well as the adjacent very large (still unfinished) Studio 40. Although it contains a large 72-input Neve VR console, this is only the second-largest audio control room size class in the building. There is an identical control room on the south end of the 10th floor, still under construction, serving Studio 42.
The main recorder is the Sony 3348 48-track digital machine used in all of the Centre's multi- track rooms. There is a good selection of outboard signal processing gear, and a Macintosh computer is used extensively to produce graphic stage setup drawings and mic lists. Monitoring is via SOTA 750 speakers powered by Bryston amplifiers.
These audio components of the control room give us hope that television is prepared to embrace the more stringent demands that soon to come digital/HDTV (or whatever) broadcasting technologies will place on audio quality.
STUDIO 100 - CBL
Studio 100 is the new home of CBL, the local Toronto area station formerly housed in the Parliament Street Theatre. The layout, with the announce desk in the midst of an open production office, is unique among the Radio studios here, but was directly inspired by the former site.
The Control room is much more representative of the Centre's network Radio production and on- air facilities. It features a Studer 962 console, Studer analogue tape decks and a variety of DAT machines. Like all other such rooms, it is connected to Master Control via AES/EBU digital audio lines.
Studio 100 is connected into the adjacent lobby so that public events in that space can be easily picked up. Its neighbour Studio 101 facing the Atrium has similar interconnection into that space.
RADIO MOBILE
The large Radio Mobile has been designed with major programming events in mind, particularly live music recording from venues remote to the Broadcasting Centre.
The mobile, having received a new chassis several years ago, was refit with all-new electronics in Summer '93 after an illustrious 14-year career beginning as a 16-track unit.
The new recording console is a Neve VRM Series, with 48 inputs and outputs, full dynamic processing and Flying Fader automation. Recorders are a Sony PCM-3348 48-Track digital recorder, and two Sony PCM-7030 DAT recorders. Three digital reverb systems are installed, an EMT 245, and AKG ADR68K, and a Yamaha REV-5. Monitoring is by Genelec S-30 NF main monitors, with Tannoy PBM 6.5 nearfields, or a choice of headsets. Complete talkback and foldback facilities are provided, as is a video monitor and remote-controlled color camera.
Two 40-pair snakes are used to interface the unit with the venues, carrying both the microphone signals and foldback.
The mobile is parked in its own bay off Wellington Street, and can be interfaced via multi-PR cables to the Atrium of the Broadcasting Centre (for recording live events). It can also be used as a multi- track mix-down facility.
PROLOG
Prolog was developed to facilitate program logging, so that CBC Radio will have a record of the content of all programs, regional and network, that is put on the air. It is the main computer program that all CBC Radio programmers will be using in the future. Prolog provides a set of tools to assist programmers both before and after broadcast.
Before broadcast, record library holdings can be browsed from programmer workstations with an easy-to-use search facility to, for example, find out what is in the library and whether or not it is available at that moment. Program contents can be "clash-checked" to see if there is a overlap with other CBC programs. Prolog will assist programmers in the preparation of their show's lineup, and will keep a running tally of item durations as well as Canadian music content.
No rekeying of music or items is needed since Prolog provides a messaging system for information exchange.
After broadcast, Programmers will be able to respond quickly to audience and programmer queries about what was heard on their program. Even better, Audience Relations will have the capacity to do the same queries, so that programmers will no longer need to take time out of their day to respond to these requests. Separate music clearance reporting is no longer necessary once programmers begin logging regularly.
Programmers can browse logs themselves to respond to CRTC requests, to complete Canadian content monitors and to do multicultural research, etc.
The demonstration showed how to use Prolog to research the record library holdings, browse logs, prepare a lineup, file a log, send a message... and also gave us an insight on some of the quirky recordings contained in the CBC library system.
STUDIO 212 - Drama/SFX
The Drama Studio has been designed with five studio areas with different acoustics: these included the Dead Room, Kitchen, Isolation Chamber, Main Room, and neutral isolation room.
When the Drama control room is fully equipped, it will include a 24-track Sonic Solutions hard disk recorder/editor, and a state-of-the-art Neve Capricorn digital console. The Sonic Solutions editor will be connected to the SFX studios and to the Editing Suite via high speed fibre optic network, which will allow immediate access to any audio in a connected studio.
There will be two main Sound Effects studios (213-214) which will use Sonic Solutions editor/recorders as well as using samplers and synths for the creation of sounds. These control rooms will have specialized studio areas with different acoustics in which to record live sound effects.
There are two Sound Effects listening rooms, one of which will be equipped with a Sonic Solutions workstation, and these will be used in the selection and preparation of Sound Effects.
The SFX Library is stocked with various forms of pre-recorded effects. These forms include CDs, carts, records, and magnetic tapes.
STUDIO 221 - DIGITAL EDITING SUITE
Studio 221, the Digital Editing Suite, is used primarily for the music editing and final mastering of the compact discs which CBC Records produces and distributes around the world. All signal routing and all signal processing takes place in the digital domain.
Music from recording sessions is loaded onto computer hard drives and edited using the Sonic Solutions CD Pre-Mastering system. Once editing is complete, a write-once CD is cut and sent to the recording artist for approval and a PCM-1630 tape is made and sent to the CD manufacturing plant.
Studio 221 is also the home of our Peter Cook.
STUDIO 211 - POP MUSIC STUDIO
Studio 211 is the closest facility in the building to a commercial multi-track music recording studio. It was "opened for business" December 6, 1993.
The Pop Music Studio is equipped with a 48-track digital multi-track tape recorder and the all- digital, fully automated Neve Capricorn recording console. The console surface seen in the control room has no actual audio circuitry: all of the analogue and digital processing is done in rack-mounted units in the equipment room behind the control room. This console can control up to 256 inputs with only the 48 "strips" present here.
The control room is as acoustically identical as possible to those in the Radio Mixdown Studio, and Glenn Gould Studio (which have similar consoles), as well as Radio Drama and TV Music (with different consoles). The large monitor systems in all these room feature Canadian content, with SOTA CF2000 4-way speakers powered (as are all control room monitors in the building) by Bryston amplifiers (7B, 4B, 3B, 2B).
There are three separate recording rooms. The main studio will be used for recording large musical ensembles and recording musicians live off the floor. The two smaller rooms, a drum booth and a vocal booth, have been designed for acoustic separation of instruments and vocals. Both rooms have glass sliding doors opening to the main studio. The long wooden slats along the back wall of the main studio are used to diffuse the sound and to prevent the build up of standing waves.
RADIO MASTER CONTROL
Radio Master Control (MCR) is the nerve centre of the Radio Network. Audio distribution throughout the Radio service in the Broadcasting Centre is carried as an AES/EBU digital signal. The analogue audio originating from the various analogue consoles is converted to (or, from digital consoles, originates as) an AES/EBU signal within each studio and carried to MCR as a direct signal. The routing system located in MCR handles this signal as a bit stream and returns only to the analogue world when required to interface to the transmission companies and for monitoring. Most of the routing and conversion units come from Pro-Bel (UK).
As AES/EBU, when sent via twisted pair wire for more than a few dozen meters, demands cable with an exact 110-ohm characteristic impedance, a special type which looked and handled like standard audio cable, but which met the impedance spec, was commissioned. This is the purple-coloured cable, supplied by Delco, which is seen everywhere in the Centre. It is also used for analog audio transmission.
Selector panels in each studio allow control of the switcher to provide a choice of audio feeds without requiring MCR techs to patch them in as in the past. Patchable analogue and digital trunks between MCR and the studios are provided for backup.
EXPERIMENTAL AUDIO ROOM
The EAR (Experimental Audio Room) is an exciting new facility for people who want to create audio compositions which cannot be achieved in conventional studios. The EAR is a radiophonics workshop designed to help people across the CBC Network develop their more unconventional ideas and produce radio that sounds 'different.'
The EAR will allow a freethinking approach to audio production. Digital samplers and synthesizers will allow voices and sounds to be created, transformed and manipulated with great flexibility mainly through a MlDl keyboard. Digital effects include sophisticated reverberation and equalization systems, pitch shifting and chorusing of voices.
The electronic brains of the operation is a Macintosh computer (the real brains responsible for this room reside between the ears of Mr Lawrence Stevenson). The sounds and voices that comprise the composition can be assembled and viewed on the computer screen using up to 64 tracks. The console is automated, which means the sound mix can be controlled very finely and changes can be made easily as new ideas occur.
Because everything will be kept in the digital domain, the EAR will offer pristine first generation sound quality. It will be possible to work from original concept to finished CD.
DESKTOP RADIO
D-Cart is a networked digital audio recording, editing and playback system originally designed by the Australian Broadcasting Corporation to replace cart machines. Audio is stored on hard disk drives in digital format and the original quality is preserved through all further processes. ltems recorded into D- Cart can be edited, cued and delayed instantly by a number of users at the same time. D-Cart also stores text information (intros, extras, talent, time and date recorded etc.) with each audio item.
A D-Cart workstation is a terminal or PC connected to the centralized system with a simple serial connection and standard audio lines. An attached jogger wheel allows audio to be scrubbed to select any edit point with precision. Editing is not only rapid, but non-destructive, so the original material is always available.
Desktop Radio is the term used to describe a process in which D-cart is used in recording rooms and studios for recording raw items, and is also accessed from the PCs already on producers' and editors' desks. As items are recorded, they are instantly available for audition, editing and program line-up from any PC connected to D-Cart. The PCs can be used for scripting and accessing wire services at the same time.
As soon as the required operations are performed, the items are instantly available for playback in the studio. Multiple edited versions of a single item can be created simultaneously without any requirement for duplication.
STUDIO 320 (AS IT HAPPENS)
The popular current affairs show As It Happens originates from this small facility. The ability to gather phone interviews to be quickly edited or presented live-to-air is paramount for this show.
The console is a CBC-spec Studer 962, along with a battery of Studer analogue decks, various DAT machines, and an upcoming full connection with the tapeless Desktop Radio system. A selection of EQ and dynamics devices geared to cleaning up phone line artifacts is provided.
Special Thanks to all of the folks at CBC, especially Rosalie Jones, Tom Shevlin and Peter Cooke, to AOI Pro Audio for sponsoring a bus trip of attendees, and to all volunteers who helped "shepherd" the groups throughout the maze that the Broadcast Centre is to the uninitiated.

What's Inside
---
A Survey of the Opinions of Members of the Toronto Section AES Audio Community
Toronto has one of the largest and most dynamic sections of the AES. In order to continue, and improve the AES at the local level, we would like your responses to a few questions:
1) Do you attend AES monthly meetings? Sometimes Always Never
2) Do you attend the AES Yearly conventions? Sometimes Always Never
3) Do you read the AES journal? Sometimes Always Never
4) Do you read the monthly Newsletter? (Hello?) Sometimes Always Never
5) What recent meetings have interested you?_____________________________
____________________________________________________________________
6) What topics would you find interesting for section Meetings?
Equipment Presentations Very Somewhat Not Interested
Digital Technical Discussions Very Somewhat Not Interested
Recording Technics Very Somewhat Not Interested
Factory Tours Very Somewhat Not Interested
Installation Tours Very Somewhat Not Interested
Career planning, Discussions Very Somewhat Not Interested
Analog Technical Discussions Very Somewhat Not Interested
Other__________________________________________________________
______________________________________________________________
7) What topics would you find interesting for future Newsletters?
Equipment Announcements Very Somewhat Not Interested
Technical Discussions Very Somewhat Not Interested
Recording Hints &amp Tips Very Somewhat Not Interested
Classified Advertising Very Somewhat Not Interested
What Members are Up To Very Somewhat Not Interested
Other__________________________________________________________
_______________________________________________________________
PERSONAL INFORMATION
Area of Interest:
Recording, Sound Reinforcement, Consumer Electronics, Education, Research &amp Development, Acoustics, Other_______________________________________________________________
If you have any comments, criticisms, please use this time to direct it to us. Please Fax results to 416 569-3122

What's Inside
---
Previous and Next Issues

Back to December 1993

Forward to February 1994
---

Copyright 1993, Audio Engineering Society Toronto Section Bulletin

Articles may be used with the Author's Permission. Contact the Bulletin Editor: earlm@hookup.net

Editor: Earl McCluskie Assistant Editor: Anne Reynolds Layout Editor: Lee White

The Bulletin is prepared in print by Lee White, and on Horizons and the Internet by Earl McCluskie.
---