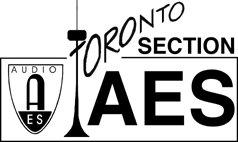 September 1993: Volume 2, Number 1
Princess of Wales Theatre/Miss Saigon
hosted by Acoustics Designer- John O'Keefe and Sound Man - Greg Connolly
---
Date
: Saturday, September 11, 1993
Time: 9:00 am
Place:
Princess of Wales Theatre
Address
: 266 King Street West, Toronto, Ontario
---
What's Inside
---
This Month's Meeting Preview
Sound Fit for a Princess
Miss Saigon is amongst a handful of late 20th century productions in a genre that has become known as a "mega hit". These musicals have production budgets that can rival the construction costs of the buildings in which they are performed.

So, when the Mirvish family of Toronto won the rights to produce this play in Canada, they agreed to build a 2000 seat theatre specifically for it. The Mirvish's own and operate The Old Vic Theatre, in London and The Royal Alexandra Theatre in Toronto. The latter was named for the consort of the day, Queen Alexandra.

It semed appropriate, therefore, that in January of this year, the current Princess of Wales granted the use of her title on the building. The official opening of the Theatre was on May 26, 1993.

The acoustic design of the theatre is based loosely on the nearby Royal Alexandra Theatre. The Royal Alexandra seats 1700 people, while the new theatre seats 2000. Both are located on the same street in downtown Toronto, opposite Roy Thomson Hall, and both have double balconies.

The presentation at the Princess of Wales will begin with a review of the acoustical characteristics of the theatre and what criteria were considered in arriving at the decisions which were made. Comparisons with other leading theatres will be presented, along with a discussion of many of the mitigating factors which make the Princess of Wales Theatre the superb theatre it is today.

The philsophies and responsibilities of the sound system designer, Andrew Bruce, will be presented, and the Miss Saigon sound system will be demonstrated, including a review of the system specifications and equalization, the wireless mic system, the orchestra micing set-up, Front of House equipment, and communications and video systems.

John O'Keefe, of the Toronto-based acoustical consulting firm Aercoustics was responsible for the acoustical design of the theatre. Mr O'Keefe obtained his Bachelors degree in Electrical Engineering at the University of Toronto in 1981, and his Masters degree in Sound and Vibration Studies in 1985 at the Institute of Sound and Vibration Research in Southampton, England, one of the few universities in the world that has a faculty dedicated to acoustics. His research was based at Cambridge University, where he participated in a major acoustic survey of British auditoria.

Since 1985, he has been working as an acoustical engineer specializing in architectural acoustics. Major projects that he has completed include the Princess of Wales Theatre, the Pantages Theatre, a 2200 seat theatre renovation and Theatre Aquarius, a new 750 seat theatre complete with rehearsal space. Projects he is curently woring on include the Gravenhurst Opera House, the 500 seat Summerside Performing Arts Centre in Prince Edward Island, and the Rimex Auditorium, an 800 seat hall in the King Fahad Medical City in Riyadh, Saudi Arabia.

Technical articles by Mr O'Keefe have been published in Canadian Acoustics and the Journal of the Acoustical Society of America and the Encyclopedia of Music in Canada. Pending publications for 1993 include Canadian Architect and Professional Sound. He is an asistant editor of Canadian Acoustics and sits on the Steering Committee of the Toronto Chapter of the Canadian Acoustical Association. He has also developed state of the art computer software to predict reflection sequences in auditoria. Mr O'Keefe is a member of the Institute of Acoustics and is often called on to perform peer reviews of scientific articles to be published in acoustical journals.

In his spare time, Mr O'Keefe is an amateur musician, and sings bass with the Mississauga Choral Society, a 70 member semi-professional choir performing both sacred and secular classical repertoire. His work as an archictectural acoustician is based on a firm scientific foundation, a good catalogue of similar projects and first hand experience as a user.

Greg Connolly is Head of Sound for the production Miss Saigon, currently running at the Princess of Wales theatre.

Mr Connolly's past experiences have included 6 years as sound man at the O'Keefe Centre, 2 years sound mixer for Cats at the Elgin Theatre, a year as sound designer at the Shaw Festival, 3 years on the road as sound designer and monitor mixer for RUSH, and 3 years at Westbury as technician.

Mr Connolly worked closely with London, England-based Andrew Bruce, and Mark Menard in New York, the sound system designers, as the system was installed and implemented. His first-hand knowledge and experience of both the design and operation of the sound system will undoubtedly be very enlightening.
---
Guest Editorial
Upon becoming Chairman of the Toronto Section of the AES for this new season, I find myself relecting on the year 1973 when I first attended section meetings. The Chairman then was my employer of the time, Jack Bier, whom many of you will remember. Jack was a true audio renaissance man, who ran an active multi-faceted business, although already past normal retirement age. While Jack is now ailing, he managed to stay in business for another 15 years. In these hard times, how many of us will be around in audio for so long?

At Section meetings in 1973, members identified themselves by name tags as we do today, but the tag was a card which fit the breast pocket of a suit (!) jacket. "Suits" dominated both the meetings and the committee, neither of which would have regular female representation for many years.

In the professional audio scene of the time, there was still much vacuum tube gear in use (consoles and recorders, not just mics and EQs!), reverbs were plates or springs or rooms, 16-track recording was de rigeur, sectoral horns and Acousta-Voicing were state-of-the-art in installed sound reinforcement systems, and the best club PA was the Shure Vocal Master (6 inputs, 100 watts, 2 columns). DSP, digital recording, console automation and 1200-watt power amps were all in the future.

What was the same then as now was the dedication of AES members to our half-art, half-science. We have a shared fascination with the wildly complex matrix of variables that is professional audio. The fact that financial rewards and even respect are sometimes hard to come by does not quench the thirst of audio practitioners for ever-more knowledge and insight to bring to their craft.

The Executive Committee of your section hopes to help you in this quest as it has for so many years in the past.

As usual, any assistance from the membership in this effort will benefit all of us. Here's hoping for another successful season for our section.

In Toronto, Tom Shevlin
---
Last Month's Meeting Review
The June 15 meeting of the AES featured a presentation by Ronald Genereux of his company's new DSP filter, which can analyse the acoustics of a room, and then create digital filters to correct the problems at a given seating position.
The presentation provided an opportunity for AES members to hear how Mr Genereux had determined the process the filter follows in order to achieve its effects.
An impressive demonstration was set up in the partially completed Glenn Gould Recording Studio, with Claude Fortier's august CF 2000 studio monitors as the guinea pig.
Dan Mombourquette gave a brief remark on his year as chairman and wished new chairman Tom Shevlin the best of luck.
Afterwards, the Toronto Section's annual Year End Social followed, with plenty of opportunities to discuss impressions of the presentation and demonstration, and to view and informally tour the CBC Broadcast Centre, where the presentation was held.
---
Features
Thoughts on Electrical Noise
Electrical interference in audio systems is a thorny topic, with lots and lots of design and application issues needing time and attention.

The following are a couple of items which you may wish to ponder next time you plan a project, or hanker for some thought provoking material.
Foil Wrapped Cable
Most audio cable intended for permanent installation uses an aluminized mylar product to provide a conductive covering (shield) around the twisted pair signal cables within. The shield is comprised of aluminum on one side and mylar on the other. Specifications for these shields often quote 100% shield coverage, which may lead some to think that all cables are equal from the aspect of providing shielding, and thus, Electro-Magnetic Interference (EMI) control.
However, this number is only a statement about the physical coverage, with the 100% figure meaning that there is no open area. (Braid shields, for example, typically have less than 100% coverage.)
It is a given fact that an electric shield with an opening is less effective. What I can't resolve is the effect of the opening or slot created where the seam is formed in the foil wrap. At the end of the wrap the aluminum on one side lies against the mylar on the other side. (It may help if you draw this or look at an actual cable.)
This non-conductive gap has caused manufacturers to resort to a couple of tactics to solve the problem. Belden (using a patented process) folds the edge of the foil causing an aluminum to aluminum mating. Other manufacturers provide a wide piece of mylar so that there is a large overlap providing a half to a full turn of overlap. Other manufacturers provide only a quarter turn overlap. Unfortunately the specification don't state the amount of overlap (overwrap?).
If you carefully take apart various cables, you will see the differences. How significant are they? I don't think there is any hard measured data: only speculation and experience with products that work. It's difficult to say if it is advisable, from an EMI perspective, to use some of the cheaper products with less overlap.
To further complicate the selection of aluminized foil shields, it appears that the thickness of the aluminum is an issue. While I have only heard it unofficially, I believe the CBC, in doing testing for the new Broadcast Centre, determined that a thicker aluminum shield was important in controlling EMI - particularly where digital signals are present. Once again, the industry really does not have good information on this subject. (Incidentally, if you want to have some fun, call your cable supplier and ask for the thickness of the aluminum shield!)
Ground Currents in Shields
The general thought in grounding shields at one end only is to prevent ground loops and currents. Currents in the shield, we understand from physics, create electrical noise in the signal wires within. However the ground loop created by a shield grounded at both ends creates currents in many other ground conductors forming part of this loop. Even if there isn't a ground loop, there will be electrical noise on any shield, as it acts like a radio antenna and causes currents in other ground conductors. The ground wires may also be the ground reference for sensitive audio circuits and so noise on these may also create noise in the system.
The million dollar question is: which is more significant _ the current in the shield or the current in the ground conductors?
I've discussed this question with Neil Muncy and we agree that it is the currents in the ground conductors which are of concern. Assuming this to be the case, improvements can be made by routing any potential shield ground currents away from circuit ground conductors. This concept can be applied to a single piece of equipment or an entire rack of equipment.
In the case of a rack or system, for example, incoming cable shields might be taken to ground at an intervening terminal block with a dedicated ground bus and wire as opposed to directly at the equipment input. This could be a significant EMI control for a large routing switcher with many inputs and outputs.
So, don't forget, if a ground current should occur due to a shield grounded at both ends or due to RFI pick- up, and the ground conductors servicing it are not common with any sensitive electronic equipment, its impact on the overall system noise will be minimal.
In Toronto, Phil Giddings, P. Eng.
---
When a Lectern is More than just a Lectern
During last spring's finishing of the Princess of Wales Theatre, a need was felt for a cordless mobile speech reinforcement system for meetings anywhere in the building. This lectern also had to match the decor and be simple to use (by anyone who needs it).
A call to Xecon Technologies uncovered a new all-Canadian design (the Letros Lectern), just introduced at the "Inspiration 93" trade show, and suitable and customizable for the Princess of Wales Theatre.
Letros was conceived by an architect, Gerald Robinson and his engineer friend, John Fourdraine, for use in churches.
Available in 16, 64 and 260 watt RMS versions, the 64 watt model was chosen, with twin microphones. Xecon added an acoustic output pattern (narrow/wide) switch and a maximum output power selector switch (small/med./large hall) to ensure its adaptability.
Since the microphone(s) on Letros are only 24-30" away from the loudspeakers, it was necessary to design in a flat response microphone and loudspeaker array, to avoid feedback peaks. To reduce reverberation and battery power use, the loudspeaker line array is time-aligned, and very directional vertically, but broad horizontally. Thus the sound field is absorbed in the audience.
To further optimize power use, a level-limiter is included, which permits peak power to be only one dB below clipping. The maximum output switch mentioned above sets the limiting levels to 1, 6, and 11 dB below clipping. The limiter also permits inclusion of a loudness display on the lectern top, which shows green (-8 to -3 dB), yellow (-3 to -1 dB) and red (-1 to +22 dB of nominal), so that a novice user only needs to be instructed to "keep it green, sometimes yellow, but red is OK". This ensures good audience coverage, by using the compressor.
Letros' circuitry is all-analogue, so that no beat frequency interference can occur while using wireless microphones and/or wireless links to other equipment. There is room inside Letros for two wireless sets and their antennae. Its internal wiring is RFI-proofed.
The running time is aproximately 5-10 hours per battery charge, depending on intensity of use. The green power indicator LED starts flashing when an hour of run time remains. Recharge is overnight, using its automatic charger. Letros can be run from the charger, if needed.
The user only has volume, treble and bass controls, and "on/off", "sound pattern" and "hall size" switches.
Extra inputs and outputs permit connection to auxiliary equipment, and a third microphone.
The twin microphones pick up a swivel-headed speaker by auto-switching. All signal levels are set inside Letros, so that it is nearly tamper-proof. Therefore, the volume control only has a 20 dB range; this limits a "no sound" condition to the on/off switch. A low-battery circuit shuts off Letros after an hour's warning, to prevent over-discharge of the battery,and possible malfunction due to low voltage. A flashing red LED indicates shutoff. Internal fusing is auto-reset with an LED indicator for each circuit. This enables most any audio buff to check out Letros, or add options, after reading the manual.
In Toronto, John Fourdraine
---
Copyright 1993, Audio Engineering Society Toronto Section Bulletin

Articles may be used with the Author's Permission. Contact the Bulletin Editor: earlm@hookup.net

Editor: Earl McCluskie Assistant Editor: Anne Reynolds Layout Editor: Lee White

The Bulletin is prepared in print by Lee White, and on Horizons and the Internet by Earl McCluskie.
---