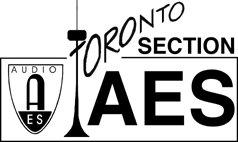 MicView
Microphones - The State of the Art

An Overview of Microphone Technology and Techniques
A presentation of the Toronto Section of the AES
Moderated by special guest John Eargle, Recording Engineer and author of The Microphone Handbook.
Representatives from Audio-Technica, AKG, Bruel &amp Kjaer, Neumann and Sennheiser will give educational seminars and present their latest and best in microphones
A panel of experts will discuss their special Tips and Techniques on how they use their microphones on the Stage, in the Theatre, on the Set, in the Lab, in the Studio and in the Concert Hall.
Date: Saturday, April 22, 1995

Time: 9:00 am - 5:30 pm

Place: Ryerson Eaton Lecture Theatre, Rogers Communications Building, Ryerson Polytechnic University

Address:80 Gould Street (Dundas Subway), Toronto, Ontario
Please Register in Advance by calling National Mailbox at (416) 922-8122
Admission is $4.50 Members, Students, Seniors $10.00 Non-Members

Outline of Events
Microphones and microphone techniques: these are favourite topics for many recording engineers. And these are the topics of this year's Toronto AES Section day long event.
Audio Renaissance man John Eargle will be on hand to guide us through the day's events and to add his own special insight. John has written a number of seminal texts related to professional audio. He is a highly respected recording engineer specializing in both classical and jazz recording. He returns to our section after March '93's highly successful meeting on The Acoustics of Musical Instruments.
Juergen Wahl, Applications Engineer and National Sales Manager for Neumann/USA provides an excellent overview with his multimedia Introduction to the World of Professional Studio Microphones .
Topics to be covered

review of audio environment in which mics are typically used

analysis of the diverse programme material we encounter

types of microphones available

operating principles

construction

behaviour in different environments

significance of specifications

overview of different recording techniques and their advantages
Kelly Statham, Development Engineer for Audio-Technica U.S., Inc will focus on automated measurements using the Audio Precision.
Gary Baldassari will represent B & K.
Paul Gonsalves will represent AKG.

The Experts - Practical Applications
A panel of experts from various disciplines in the audio industry will talk about their work and share their tips and techniques. Following the individual presentations there will be time for questions from the floor.

Confirmed at this time:
Classical &amp Jazz: John Eargle

Film: Denise McCormick, Independent

Studio: Jeff Wolpert, Chief Engineer, McClear Pathé

Television Audio: Simon Bowers, TV Post Production Audio Engineer, CBC

Click here to view a poster for MicView. Please feel free to print and post this poster.

MicView was made possible due to the efforts of the Executive of the AES Toronto Section,
the support and finances of AES International, and the enthusiasm of the participants.
Special thanks to Art Gruber, AES Sections Chairman.
MicView Committee:
Co-Chairpersons: Peter Cook, Janine Walton
Facilities Coordinator: Anne Reynolds, John Fourdraine
Technical Coordinator: Dan Mombourquette
Stage Manager: Glenn Specht
Stage Crew: Paul Reibling, Denis Tremblay
Audio Coordinator: Devy Breda
Public Relations: Peter Cook, Anne Reynolds, Janine Walton
Program: Peter Cook, Earl McCluskie, Lee White
Reviews Coordinator: John Fourdraine, Tom Shevlin
Membership: Peter Cook
---
Previous and Next Issues

Back to March 1995

Forward to May 1995
---

Copyright 1995, Audio Engineering Society Toronto Section Bulletin

Articles may be used with the Author's Permission. Contact the Bulletin Editor: earlm@opentext.com

Editor: Earl McCluskie Assistant Editor: Anne Reynolds Layout Editor: Lee White

The Bulletin is prepared in print by Lee White, and on Horizon and the Internet by Earl McCluskie.
---