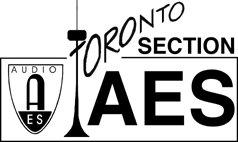 November 1994: Volume 3, Number 3

Loudspeaker Evaluations: What Influences the Results, and How to Make Them More Reliable
Sean Olive and Floyd Toole of Harman International Inc, Northridge, California, will present two papers on the subject of loudspeaker evaluations.

Date
: Tuesday, November 22, 1994
Place:
Harris Institue for the Arts
Address
: 118 Sherbourne Street, 3rd Floor, Toronto, Ontario
---
What's Inside
---
This Month's Meeting Preview
The November meeting of the Toronto Section of the AES will feature two well-known native birds who flew south to participate in the great Canadian Conspiracy. The fact that Canadians constitute a formidable and influential presence in entertainment-related industries in California is a testament to the quality of technical expertise which Canada is capable of fostering and producing.
Floyd and Sean have continued their work begun at the NRC on loudspeaker evaluations, and their refinements are now beginning to bear audible "fruit" at Harman International companies.
For the November meeting, they will present two papers fresh from the San Francisco AES Convention, along with inside revelations about top secret projects soon to be announced at Harman. (Just kidding, natch').
Hearing is Believing vs Believing is Hearing, Blind vs Sighted Listening Tests, and Other Interesting Things.
by Floyd Toole and Sean Olive
Although it is taken for granted that many factors influence listeners as they form opinions of sound quality, it is interesting to actually put them to the test, and to assess the strength of the factors. These experiments had several objectives. On the subjective side, they were to determine the extent to which listener's opinions about loudspeaker sound quality are affected by not seeing (blind tests) and seeing (sighted tests) the loudspeakers being evaluated, to examine the performance of listeners with and without experience in critical listening, and to examine the influence of the sex of the listener. On the product side, the objectives were to evaluate the differences among three high-quality expensive loudspeakers and a high-performance, small, inexpensive system which would serve as an "honesty" check for listeners in the sighted tests. The results contain some reassurances and some surprises.
A Method For Training Listeners and Selecting Program Material For Listening Tests
by Sean Olive
Special attention to he training and selection of listeners and program material can lead to more reliable and efficient listening test measurements. To this end, we developed a self-administered, computer-automated training program designed to improve a listener's ability to reliably identify and rate different types of spectral distortions added to different program material.
The results show significant differences among the listeners in their abilities to reliably identify and rate these distortions. Most of the intra-subject variance is due to the program material. This information can form an objective basis for selecting the most reliable and skilled listeners, and the most revealing program material.
Dr Floyd E Toole studied electrical engineering at the University of New Brunswick, and then moved to the Imperial College of Science and Technology, University of London, where he received a Ph.D. Upon graduation in 1965, he joined the National Research Council Canada, where he remained until 1991, reaching the position of Senior Research Officer in the Acoustics and Signal Processing Group. In November 1991, he joined Harman International Industries Inc, where he is now Corporate Vice President Engineering. In this position, he works actively with all Harman International companies, such as JBL, Infinity, Harman Kardon, Lexicon, AKG, Pyle, DOD and Soundcraft.
Dr Toole's research activities have focused primarily on the acoustics and psychoacoustics of sound reproduction. He has been especially involved in the general problem of loudspeaker/room/listener interactions. Most notably, he has established methods of subjective and objective evaluations which have been used to clarify the relationships between technical measurements of loudspeakers and listener's perceptions. For a paper on this subject, he received the Audio Engineering Society (AES) Publications Award in 1988.
More recent work focused on the perception and measurement of resonances in audio devices, for which he shared the 1990 AES Publications Award with Sean Olive. All of this work was directed towards improving engineering measurements and objectives for loudspeaker design and production control, and to techniques for reducing variability at the loudspeaker/room/listener interface.
While at the NRC, he initiated the Athena project, a collaboration with an audio industry consortium to develop psychoacoustically-optimized adaptive digital techniques for improving the performance of loudspeakers in rooms.
At Harman International, he coordinates engineering activities throughout Harman International companies and directs the Harman Research and Development Department, a central resource for technical and subjective measurements in support of product research, development and manufacturing. Dr Toole has published several papers in the journals of the AES and Acoustical Society of America (ASA), chapters in two audio engineering handbooks, and numerous articles in consumer audio publications.
He is a member of the ASA, and a Fellow and Past President of the Audio Engineering Society.
Sean Olive holds a Bachelor of Music degree from the University of Toronto, and a Masters degree in Sound Recording from McGill University in Montreal. From May 1985 to March 1993, he was a guest research scientist at the Acoustics and Signal Processing Group in the Institute of Microstructural Sciences, National Research Council of Canada in Ottawa. From 1989 to March 1993, he served as a psychoacoustician for the Athena Project, a joint research effort between the National Research Council and the Canadian Audio Research Consortium to develop a room-adaptive, so-called "smart" loudspeaker.
In March 19993, Sean joined the R&amp D group of Harman International Industries Inc in Northridge California as Manager of Subjective Evaluation. Part of his research responsibilities include implementing standards for subjective measurements used by Harman companies world-wide.
Sean has presented and published several papers in the JAES on such topics as the detection and measurement of resonances and reflections, the evaluation and measurement of microphones, and other research related to listening tests and loudspeaker/room interactions. He received the 1990 AES Publication Award as co-author for the paper "The Modification of Timbre by Resonances: Perception and Measurement", and is chairman for the "Hearing and Psychoacoustics" session the this month's 1994 AES conference in San Francisco.
Mr Olive is a member of the Audio Engineering Society, and the AES Working Group on Listening Tests.

What's Inside
---
Editorial
I need to explain something.
Surveys we periodically conduct of our membership seem to indicate a passive approval of the meeting topics and guests we organize. And the fact that the meetings are well attended also seems to provide proof for the Toronto Section Executive that we are on the right track.
But perhaps some of you are wondering, in our inimitable Canadian way... passively, how the meeting topics we do choose come to be chosen.
We have a strong Executive committee: we have a willingness on the part of our members to get involved and take on a small part of the responsibility of running the section (booking rooms, acquiring donuts, arranging technical needs, and so on), and a curiosity to find out what's going on in the audio community and initiate a way to bring this information to the AES membership.
It's actually a self-motivated process. Meeting topics I initiate, for example, are ones that I have some sort of interest in. The diversity of backgrounds in our Executive... technical, research, sales and operations... ensures that a balance of interests is presented.
And we get a chance to meet and work with the people responsible for leading edge or just plain interesting audio-related topics... from state-of-the-art broadcasting facilities to ingenious speaker protection devices. These people are far to busy to sit down and chat with Joe Audio-on-the-Street (although I'm sure many would love to, if only they weren't so busy), but they always have time to address the AES. Cool.
What a way to expand your mind, meet people with similar interests and have a good time.
This Bulletin is a result of this process, and an idea to establish an AES Toronto Section presence on the Internet that is just beginning to hatch in the minds of some Executive members is another.
And heck, when I feel the need to explain something to somebody, I have a ready-made outlet.

What's Inside
---
Last Month's Meeting Review
The October AES meeting was devoted to Avid Technologies and its Audio Vision workstation product in particular. The meeting took place in George Brown College on King Street. The presentation was organized by Jim Cox, of Sheridan College, who also, incidentally provide training for Avid products. Jim introduced the guest speakers, David Greene, John Hazon and Jeff Krebs.
David Greene from Magnetic Music, described the role of the Digital Audio workstation in today's recording studio. He discussed the conceptual differences between multitrack tape recorder and multitrack non-linear digital editing systems. One major difference he focused on is the difference between the storage mediums: generally speaking, one cannot easily swap a full hard drive as is possible with a roll of audio tape. The problem becomes even more evident when dealing with non-linear video editing... here, the amount of storage required is huge by PC, Macintosh or any other computer platform's standard.
John Hazon, Sound Editor, shared his experience with Audio Vision as it was used to edit sound for a feature film. He is very enthusiastic about the system, and told the audience wonderful stories about it many great capabilities. He concentrated on the ease of tracing back sound from edited picture to location tapes. Another object of his admiration was the powerful ADR (Automatic Dialogue Replacement) component of the Audio Vision software.
Jeff Krebs, with the Canadian division of Avid Technologies, confirmed everything John had said by simply giving a demonstration of a functioning workstation set up at the front of the lecture hall. Using clips from Star Trek VI recorded on hard disk, and played back over a big TV screen and sound system, he walked the audience through the features of Audio Vision.
Briefly, the Audio Vision workstation has 24 virtual audio tracks, 8 independent inputs and outputs with cross-fades and level control. It still needs a mixing board and other external gear if more complex processing (eg. equalization) is required.
Equally important is Audio Vision's ability to import and work with digitized video, thus eliminating annoying waiting for video tape to search and wind.
A coffee break was announced to help the audience get ready for the last part of Jeff's presentation... ADR. Jeff successfully replaced Mr Chekhov's line 'Guess who is coming to dinner', to the amusement of the audience, while showing how intelligent take management helps to streamline the whole ADR process.
This concluded the official part of the presentation, and question time commenced. This gave Jeff and the other presenters a chance to outline the whole Avid product family. He also shed some light on future developments, notably the Silicon Graphics Challenger-based video server, allowing multiple users access to audio and video stored on one hard disk.
After the questions, the audience had a chance to play with Audio Vision. People started to form small discussion groups, and also to leave. Very slowly, the AES Toronto Section October 1994 meeting dissolved.

What's Inside
---
Special Features
AUDIO CAMPFIRE TALES
Whenever audio people get together, a favourite past time is the swapping of work- related horror stories. You, the reader, are hereby invited to send along your favourites to be printed in this esteemed forum. Here are a few examples to kick things off. For some reason, these, like most audio horror tales, involve life on the road. In honour of the usual cuisine at such gigs, we will toss another cold, dead cheeseburger on the campfire and get started...
Back in 1977, my sound company was traveling with a disco band who had had a big instrumental hit. They were booked on a late-night talk show on an unnamed Canadian public network which featured Canada's answer to Johnny Carson, Peter Gzowski. I was asked to bring my recording console and do the broadcast mix for the band. As I had done little TV sound at the time, I requested a standard small speaker for mixing. The technical producer assured me that I should just bring monitors I knew well, and "the boys upstairs" would make all the appropriate corrections for the network feed. I mixed the band with the usual Do-the-Hustle thumpa-thumpa of those days, and we all retired tot he green room to party. Listening to the delayed playback to the network, all seemed quite well. Mind you, the TV in the green room was using a 6-foot tall speaker enclosure.
I was rudely awakened from my well-deserved rest the next morning by phone calls from nearly everyone I knew. IT seems that the processing equipment "upstairs" between my 55 Hz-rich console output and the national network consisted of... one patch cord. In those pre-home theatre days, my mix was bottoming out 2-inch speaker cones al over Canada. One "friend" claimed he thought he was going to have to scrape the cone off the back wall of his living room.
A few years before, I was mixing PA for a large outdoor bluegrass festival. In those days, the console position was much closer to the stage than now, based on the odd theory that one should mix for the good seats rather than the cheap ones. All of a sudden, the system went into massive, uncontrollable feedback. It turned out that a security guard, using the CB radio walkie talkies popular then, had leaned back against the mixing tower and opened up his mike... which heard the speakers... which broadcast themselves into my early-1970s non-RF filtered console... which rectified beautifully into accurate audio... an almost perfect feedback loop. Rest assured we debugged that console using another CB set at zero distance.
This suggests a solution to a modern problem: the ever popular "boom cars." For those who are not fond of driving beside 195 dB SPL worth of Snoop Doggy Dogg's kick drum, perhaps an aimable shotgun mike feeding a CB with a "Convoy Special" linear amplifier might recreate my old experience. After all, amid all the "quantity over quality" amps and equalizers used in those rolling torture chambers, at least one is bound to pick up and rectify CB frequencies. With any luck, one might be able to vapourize the offending vehicle, or at the very least give the driver a truly memorable audio experience!

What's Inside
---
FOCUS
What Ever Happened to Hayward Parrott?
by Janine Walton and Anne Reynolds
Two years ago, Hayward Parrott was an integral part of the thriving Toronto audio recording industry...now you may only catch his name in the industry magazines. So what happened to this guy who spent more than twenty years in the hustle and bustle of the Toronto music and commercial scene? Well, a year and a half ago Hayward found his way back to his roots.
Hayward Parrott was born in Winterson, Trinity Bay, Newfoundland in 1950 but his family moved to Toronto a year later.
Hayward began his professional career in 1969 at RCA Studios, Toronto where he remained until 1976, at which time he was hired by Manta Sound (now Eastern-Manta) to take over the job of Chief Engineer. During that period he engineered a wide range of projects including film scores such as Agnes of God and Last Winter, and album projects with Frank Mills, Liona Boyd, Chris deBurge, The Canadian Brass, Bryan Adams and Lisa Dal Bello. In 1985, Hayward engineered Tears Are Not Enough produced by David Foster. This project featured 62 top Canadian artists including: Neil Young, Gordon Lightfoot, Bryan Adams, Anne Murray and Joni Mitchell to name a few, as part of the relief effort for the people of Ethiopia.
In mid-1985, Hayward returned to the RCA site (now McLear Place) as V.P. and General Manager. His expertise over the years led to a partnership with Larry Trudel and Eric Robertson, forming Hands On Productions Music House. In 1991, Hayward became involved with Ross Carlin and his mission to revitalize the national anthem. Hayward recorded and produced this remake, which featured top Canadian musicians in a contemporary fashion and a symphonic version. He was the Executive Producer and Post Production Supervisor for the one hour television special With Glowing Hearts hosted by Michael Burgess. Between 1990 and 1992, Hayward was audio consultant on the Tommy Hunter Show.
In May of 1993, Hayward and his family moved to Halifax, N.S., where he went into partnership with Bob Quinn and Russell Brennan of Solar Audio Studios. Hayward, V.P. and General Manger of Solar Audio, has introduced many changes to the studio since his arrival, including adding a second studio to accommodate post-production, as well as updating the 24 track studio to digital.
Since arriving in Halifax, Hayward has been involved in a wide variety of recording projects including the top ten classical recording Celtic Mass for the Seas, Reel and Roll by the Celtic rock band Rawlins Cross, Joel Feeney's Life Is But A Dream and Roger Wittaker's last three albums.
The new post-production room has also kept Hayward busy overseeing television ad campaigns for the Department of Tourism and Sobey's, the east coast grocery chain. He is also working on the television series Street Cents for the CBC and a pilot for the American series Video Pen Pals.

What's Inside
---
What's New
Professional Sound Magazine
presents an intensive one-day seminar for engineers, producers and musicians on "Advanced Studio Recording". This event will take place November 19 and 20 at one of Canada's hottest studios, The Metal Works Recording Studio, Mississauga, Ontario.
For more information, please contact Maureen Jack at 905/641-3471
Yuri Gorbachow
at Aesthetic Developments recently opened a new personal work environment. The suite is located in the 181 Carlaw building. The acoustically treated room highlights 2 Macintosh based editing systems sharing 7 Gigabytes of hard disk storage, 1.3 Magneto- optical backup, DA-88 digital multitrack, as well as a number of processing devices. Please call Yuri at 416/461-9697.
Adcom Electronics Audio Group
welcomes Andy Cox as a new sales representative. Andy will be responsible for servicing the existing client bas in broadcast and production fields, as well as focusing on large sound reinforcement projects.
The newly formed Toronto section of SPARS presents:
Audio on the Information Highway: What is it... and do I really want to know?
A panel discussion, featuring a cross section of perspectives from the Toronto audio community, will attempt to answer the question: "Is there life after analogue?" The discussion will focus on the effect of current technology as a community, as well as potential implications of proposed technologies.
Time and Place: Tuesday, November 8, 1994, 7:00 pm, Harris Institute for the Arts, 118 Sherbourne Street, Toronto. For information, contact Anne Reynolds, Magnetic Music, 416/367-3600.
If you have an upcoming event of interest to AES members, contact Patricia Carr at Soundcraft 416/488-3081
WHY THE APPLICATION FORM?
This month, we are enclosing an AES membership application form with your regular newsletter. Most of us know someone who would benefit from an AES membership but who just has not gotten around to applying. We wanted to make it easy for those people to join up so . . . pass the enclosed form on to a needy friend!
Your membership fee helps to pay for the activities of the AES, be it the Journal, conventions, this Bulletin, or the fabulous (!) monthly meetings of your local section. We all benefit from a larger membership base.
If you or someone you know needs more application forms please contact me with the details. Thanks for your help.
Peter Cook
Membership Secretary
Phone: 416-205-2317
Fax: 416-205-5931
email: pcook@io.org

What's Inside
---
Previous and Next Issues

Back to October 1994

Forward to December 1994
---

Copyright 1994, Audio Engineering Society Toronto Section Bulletin
Articles may be used with the Author's Permission. Contact the Bulletin Editor: earlm@hookup.net
Editor: Earl McCluskie Assistant Editor: Anne Reynolds Layout Editor: Lee White
The Bulletin is prepared in print by Lee White, and on Horizons and the Internet by Earl McCluskie.
---