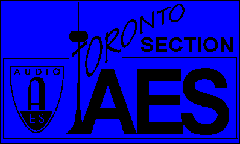 April 1996: Volume 4, Number 8

JITTER IN DIGITAL AUDIO SYSTEMS:
The implications for audio quality, digital transmission, and measurement techniques
Presented by Graham Boswell, Prism Sound, Cambridge, UK
---
Date: Tuesday, April 23, 1996
Time: 7:30 pm
Place: Ryerson Eaton Lecture Theatre, Rogers Communications Building, Ryerson Polytechnic University
Address:80 Gould Street, Toronto, Ontario
Corner of Gould and Church, one block east of Yonge Street (Dundas Subway)
Pre-Meeting Dutch treat dinner at the Pickle Barrel, corner of Edward and Yonge in the Atrium

What's Inside
---
This Month's Meeting Preview
The Topic:JITTER IN DIGITAL AUDIO SYSTEMS
The implications for audio quality, digital transmission, and measurement techniques
What You Will See and Hear
When talking about digital audio the word "jitter" gets tossed around a lot. It's a very hot topic these days. And a widely misunderstood one. It can have a profound affect on the quality of your audio. But sometimes jitter is blamed for problems when it should have no effect at all. So what is going on here?
To help us get to the bottom of things, the Toronto Section has invited Graham Boswell of Prism Sound, Cambridge, UK to our April meeting. Read about Mr. Boswell and Prism Sound below and you'll see why we're very happy he has agreed to talk to us.
But first here's an outline of the topics to be covered:
What is Jitter?
The digital audio interface; timing recovery
Mechanisms for the introduction of jitter
The effects of timing jitter on data conversion; some relationships.
PLL design criteria; some myths
Relevance of masking theory
Examples and demonstrations:
Interface data errors; bit error rate checking
Various examples of distortion resulting from jitter

And Finally . . .

A look at research into the rumour about sonic differences between CD's pressed or produced in different facilities; suggestions for some tests; consideration of jitter in the context of CD transports.
SPECIAL NOTE: If anyone has some digital gear they would like to have tested as part of the presentation, please feel free to bring it along! Devices with D/A conversion and AES inputs are easiest to work with.
---
Who the Presenter Is
Graham Boswell joined the audio industry in 1982 as a contract engineer at Neve in the UK. He wrote the firmware for the control surface of their first generation DSP multitrack consoles.
Following this and other projects he became project manager for the Digital Transfer Console. The product had good-quality analogue ports in addition to AES3 and SDIF digital I/O and one of the first examples of snapshot automation with smooth cross-fade capability.
The unit became well known among the high-end mastering facilities in Europe and the USA. The project was completed in 1986 and many of the units are still in service.
Mr. Boswell left Neve in 1987 to start Prism Sound with another Neve engineer; one year later Ian Dennis had joined the company. The following year Prism Sound moved to Cambridge and started to recruit other specialists for the consultancy contracts in which the company was specializing at the time. One of the first staff members to join was Julian Dunn, whose name is now a familiar feature on the lists of authors at AES conventions both in Europe and the USA.
At Prism Sound, Mr. Boswell developed a digital equalizer which was connected to Neve's DTC by means of an insertion point and which was controlled by means of customized software from the Neve EQ panel. The Prism Sound DEQ2400 unit was fully integrated with the Neve automation system and provided an additional 4 bands of EQ with greater flexibility and range than was offered by the now rather old-fashioned 2900 series processors.
Since then, Mr. Boswell has concentrated on sales and marketing and has travelled to many venues around the world to give presentations about digital audio issues and in particular about the new range of Prism Sound products.
Prism Sound has developed into a mature business with offices in the UK and in the USA and is be best known in pro-audio circles for its high-quality recording and digital audio test and measurement equipment.
The company also makes a networkable digital voice logging recorder; a recent example was a 176-channel digital recorder for BBC World Service used for news gathering, based on 11 networked server-recorders and a small number of operator workstations.
Prism Sound also conducts selected research and development contracts; examples include the development of a digital intercom system in 1991 used by the BBC for co-ordination of its coverage of the 1992 Olympic Games in Barcelona and more recently the development of the hardware for the current range of CEDAR digital noise-reduction processors and design and production of DSP sound cards for the London Underground railway.
Prism Sound has also had recent involvement in contracts involving digital Ambisonics processing including tetrahedral mic to B-format with pan/rotate and zoom in/out, B-format mixing, B-format to encoded stereo and vice-versa and B-format to 8-position speaker decoder.

What's Inside
---
March Meeting Review
Condenser Microphone Diaphragm Refurbishing
About six years ago, Doug Walker had collected several high-quality but derelict condenser mics which nobody knew how to fix. Recognizing an opportunity, Doug embarked on a five-year voyage of experimentation, with samples of metal-coated Mylar from the NRC. This resulted recently in the Walker Microphones business. Doug essentially re-invented how to build a good condenser mic capsule, using modern materials.
Most condenser mics die from known causes, in a predictable manner:
Relaxation of the diaphragm, resulting in it sticking to the backplate.
The gold coating flakes off the old Mylar during cleaning.
The gold coating cracks spontaneously, on PVC diaphragms (used from 1920 to about 1960).
Dirt coats and shorts the diaphragm.
Cut diaphragm, from abuse.
Various other electrical and mechanical failures, elsewhere in the mic.
Doug's methods deal with 1 above by using the best (tempered and heat-stabilized) Mylar, first coated with a 3 Angstrom thickness of nickel, followed by 150 to 300 Angstroms of gold, to deal with problem 2. This then permits gentle cleaning with a soft brush and water.
A typical rebuild starts with ultrasonic-bath cleaning of all capsule parts and the rest of the mic, when feasible. Custom-made diaphragms are then assembled, using special epoxy, jigs and weights, for fixing the correct tension. Clean-room practices apply, because of the tiny gap (around 44 microns, or 1.7 thou) between diaphragm and backplate. Q.C. consists of measuring the nominal (48 to 60 V biased) capsule capacitance, to determine the Mylar tension and backplate spacing with great precision. An anechoic frequency response test is run, using a calibrated reference speaker and mic pair (1 m on-axis) and a PC-controlled MLS test set. If any of the various results are off, the capsule must be stripped and rebuilt again. Long practice permits Doug to usually get it right the first time, in one day.
By using 1.5, 3, 6 or 10 micron Mylar thickness, Doug can offer to retain the exact original (bump at about 8 - 12 KHz) response curve, or flatten it, by using thinner material. One size thinner also begets a 1.5 dB sensitivity boost. To avoid shorting by dirt (problem 4 above), exposed metal around the capsule edges is dielectric-coated. An atmospheric equalizing vent is added to those old mics that came without. Rebuilt capsules are tested at 90 to 135 V to check that they won't collapse (stick). Doug usually applies 1/3 or 1/6 octave smoothing to his response curve printouts, and guesses that those decades-old super-smooth curves everyone is familiar with, probably used one-octave smoothing!
Several rebuilt mics were shown, a Neumann U67, an M7 capsule, an AKG C12, a Telefunken U47, and samples of uncut 3 and 6 uM Mylar diaphragms impressed us with their strength. Many questions were answered throughout the presentation. Doug is apparently one of only a handful of people, worldwide, who do serious rebuilding of treasured heirloom condenser mics. And no, he does not do electrets....
You can reach Doug Walker at <dsw@mgl.ca>.
Reviews by John Fourdraine, Toronto

What's Inside
---
| Previous Issue | Next Issue |
---
| Toronto AES Home | Current Bulletin | Future Meetings | Back Issues | Search |
---

Copyright 1996
Audio Engineering Society
Toronto Section
Articles may be used with the Author's Permission. Contact the Bulletin Editor:earlm@opentext.com
Editor: Earl McCluskie
Print Layout Editor: Lee White
Markup by Peter Cook
---
This page was created Friday, April 12, 1996 at 11:59 PM.
This page was updated Mon, Sep 30, 1996 at 23:56.
Please contact TorontoAES@vex.net to report any problems.