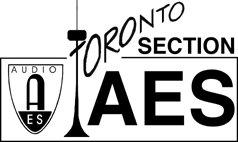 February 1996: Volume 4, Number 6

What's Inside
---
This Month's Meeting Preview
DVD: Digital Versatile Disc
The State of the Technology with Denis Tremblay
What You Will See and Hear
Denis Tremblay will provide an overview of the technology of the hi-density compact disc. He will discuss the modulation scheme to be used, the physical parameters of the disc, pit jitter, coding schemes and mechanical tolerances. As well, manufacturing differences from the existing technology will be considered, and a discussion of the potential source material that could be distributed on the discs, and the changes in playback equipment needed.
In December 1995, specifications were announced by the nine manufacturers working on the new digital videodisc, now to be called the Digital Versatile Disc. The two-sided disc will hold 113 minutes of video and audio (4.7 gigabytes on each side). This standard only covers video players and DVD ROM computer drives. Units should be on the market starting in the fall of 1996.
A standard for audio-only players is being developed by manufacturers, and the AES has initiated an ad hoc task force, headed by John Eargle and Tomlinson Holman, with the main goal being to present potential advanced audio systems for DVD, and to involve "members of the community, including artists, recording engineers, producers, record companies, development engineers and manufactureres" in the deliberation process.
Who the Presenter Is
Denis Tremblay is well known to AES Toronto members as a long standing member of the Executive committee, and last year's Chairman.
A former resident of Sudbury, Denis has been involved in Consumer and Professional audio since the early seventies. After leaving Radio College of Canada in 1975, Denis worked for several Sudbury based companies, where his work ranged from automotive sound to musical instrument repair to PA system installation. He is a former Technical Director of the Northern Lights Festival Boreal (Sudbury) where he made several field recordings in genuine fields.
During the '80s Denis worked at Capitol Records (now EMI Music Canada), maintaining the tape duplicating plant, as well as designing and building machinery and electronics for the facility.
Among his many projects was the design and construction of a stand alone multi-standard Digital to Analog converter.
Currently, Denis is Quality Assurance Specialist at Sony Canada, where he is responsible for the quality control of the CD duplication process.
Denis's personal interests are music, books, writing computer software, and the quest for the perfect loudspeaker. His current loudspeaker project is a servo controlled subwoofer system with a low frequency corner of 12Hz.
This system has been shown to be very effective at shaking dust off house plants and is part of a loudspeaker product that has been recently purchased by a major record label for use in its boardroom.

What's Inside
---
Editorial
It's here. Sort of.
The long awaited DVD specification is settled as far as the video and DVD ROM folks are concerned, and all that remains is to determine the minor specification for the audio-only disc... at this time being referred to as the hi-density compact disc.
A brief conversation with John Eargle, who with Tomlinson Holman is heading up an AES committee to develop some consensus on this topic, revealed the variety of options being explored, including coding schemes, numbers of channels, and listening test methods used to determine the final standard.
Consensus, not to be confused with constriction or communism. The capitalist argument has always been to allow products to battle it out in the market place, with the best rising to the top and dominating. The world's most powerful consumer electronics manufacturers have twice now proven that this theory doesn't exactly work this way, and hence, the current long delay in bringing a technology which is far from new or revolutionary to the marketplace. Consensus is not always easy to achieve.
But rumbling underneath all of this activity and lobbying lies the information service provider. Be it cable, telephone or satellite company, somebody is going to soon take the plunge and offer an electronic information service, where the consumer simply downloads the information they require, be it entertainment, news, education or business.
Already, beta testing is being done in Canada and elsewhere throughout the world. Some predict that such services will be readily available within two years.
It may be that the big consumer electronics guys are about to learn another lesson... if you don't get a new product to market on time, someone else will come up with something even newer, and beat you to it.

What's Inside
---
January Meeting Review
Peavey Media Matrix Demo and Applications (or, the future of pro audio)
Ken Valentine, from Peavey Electronics Corp, Meridian, Mississippi, first gave all 60 of us a full set of Media Matrix data sheets and application examples, then outlined the system basics. Briefly, Media Matrix consists of an industrial 486 PC and a full set of 56002 DSP-based audio processors, selectable via a Windows-based, semi-automated point and click CAD routine, in a sequence as you would hook up the desired audio system, which then compiles itself to configure that system in its DSP engine. System design is from on-screen lists, by placing function boxes (such as a 32-band equalizer) in the required sequence on the PC display, followed by the "rats nest" connections in between. This results in the system block diagram, which can be morphed into a control panel, and zoomed to 9 other levels of increasing detail. The controls can be simplified or customized (using the resident CAD, or from external files) and operated in real-time via a mouse, keyboard, external voltages, potentiometers, switch closures, or the PC external I/O ports.
Compiling a new setup takes a few seconds (small system), to a minute (large system), and 25 of these can be saved, to permit quick comparisons or add-ons, at any time. Anything done can be undone, saved, or printed. A functioning system can be manually controlled and tested by one person, from the audience areas, using a wired or wireless remote PC to finalize all settings.
The DSP engine is modular, and can be one plug-in card (up to 250+ functions, up to 32 inputs and outputs), or up to 12 cards, 192 I/O, depending on the mainframe model.
System I/O is via interface boxes with 8 balanced line level ins and outs, plus 8 control ins and outs, with A-D and D-A via 18 bit Delta Sigma converters; processing is 24 bits wide.
Phil Giddings (Engineering Harmonics), then shared his experiences with a Media Matrix 55-microphone automatic mixer system, the heart of the multimedia system in the main boardroom of a major bank, where the video switching follows the audio. Some custom software was required, to sequence the people who want to speak. This system was very compact and easy to test, due to the lack of dozens of standard processing boxes, their cabling and separate controls.
Dave Clark (Engineering Harmonics), described the simplified sequence of consulting, engineering, construction and testing/tweaking of the final Media Matrix system in an arena. The working documents are simply handed to the other teams as a PC floppy disk, and are quickly created or updated by the system itself, with reduced drafting, paperwork, errors, or misunderstanding.
Martin VanDyk (PA Plus), next related his experience with that same system, from a contractor's viewpoint. The greatest benefit is from very quick installation, add-ons and changes (as testing reveals the need). Testing is also faster, mostly on-site, but also by modem, from his office. Some failure modes tested, such as interrupted PC Windows operation, or DSP failure cause no audible effect, or a somewhat "graceful degradation".
Ken Valentine closed with a demonstration of the Media Matrix integrated into an Alcorn-McBride multimedia show control system, controlled via its PC serial port, which could be a minimal configuration, where the keyboard and unneeded Windows files are locked-out. He also announced a round of price reductions and some new models.
Audience questions were answered throughout the presentations, and the consensus was that we have seen the future of professional audio systems, for reasons of flexibility, audio performance, compactness, ease of use, reliability, and future upgradability.
by John Fourdraine, Toronto

What's Inside
---

---

Copyright 1996
Audio Engineering Society
Toronto Section
Articles may be used with the Author's Permission.
Contact the Bulletin Editor:earlm@opentext.com
Editor: Earl McCluskie
Print Layout Editor: Lee White
Markup by Peter Cook
---
This page was created Wednesday, February 14, 1996 at 2:05 AM.
Please contact TorontoAES@vex.net to report any problems.