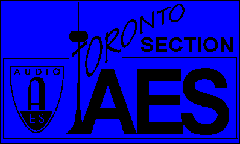 June 1996: Volume 4, Number 10
---
IMAX Sound: Past, Present, and Future!
Presented by Tim Archer, Chief Engineer at Master's Workshop

Date: Tuesday 25 June 1996
Time: 7:30 pm
Place: Master's Workshop
Address: 306 Rexdale Boulevard, Suite 7

Rexdale, ON
North-west corner Martin Grove and Rexdale
TTC: Kipling Subway Station, then Northbound Martin Grove Bus

What's Inside
This Month's Meeting Preview
---
The Meeting
At the June meeting we'll get a look behind the scenes at Master's Workshop. Tim Archer, Chief Engineer at Master's Workshop will share with us some of his substantial experience with mixing sound for IMAX® films. Following Tim's talk (IMAX Sound: Past, Present, and Future) we'll get to hear some of his work. Tim has prepared a demonstration of some of the more spectacular clips from IMAX films he has mixed.
---
IMAX Sound
IMAX. You hear the word and you picture incredible images projected on a huge screen. With an image ten times the size of a conventional 35mm frame and a screen eight stories high, it certainly makes a lasting visual impression. But as with all good motion picture systems, sound plays a huge role in the impact of the film experience. IMAX takes it's sound very seriously.
"Sound is critical to the IMAX experience. The IMAX six-channel, high-fidelity motion picture sound system, with sub-bass, is manufactured by Sonics Associates Inc., a world leader in sound system design. The Sonics Proportional Point Source (TM) Loudspeaker system specifically designed for IMAX theatres, eliminates variations in volume and sound quality over the theatre seating area. This allows all members of the audience to experience superb sound quality regardless of where they may be seated. The IMAX Personal Sound Environment System (IMAX PSE) provides the audio complement for the strong visual effects of IMAX® 3D and IMAX Solido® films."
IMAX is a Canadian success story. The system has its roots in EXPO '67 in Montreal where multi-screen films were the hit of the fair. A small group of Canadian filmmakers/entrepreneurs (Graeme Ferguson, Roman Kroitor and Robert Kerr), who had made some of those popular films, decided to design a new system using a single, powerful projector, rather than the cumbersome multiple projectors used at that time. The result was the IMAX motion picture projection system which would revolutionize giant-screen cinema.
Follow these links to other sites for more info on IMAX.
---
Master's Workshop
Master's Workshop is the undisputed leader in the production of complete soundtracks for large screen formats such as IMAX. They handle audio production from sound design, editorial, and Foley to the final digital six channel mix and distribution masters.

Among the "firsts" for Master's Workshop:
First computerized IMAX mix in an actual IMAX theatre (1984)
First digital IMAX soundtrack (1988)
First digital IMAX Solido soundtrack (1990)
First digital edit and mix in IMAX HD for a simulator attraction (1994)
Recent credits from Master's Workshop include Dallas Signature Film (1996), Africa: The Serengeti (1994), Asteroid Adventure (1994), Fires of Kuwait (1992), and Mountain Gorilla (1991).
The facility features two main mixing theatres. T1 is the IMAX mix room, T2 is a 1500 sq ft multipurpose stage room , T3 is a television mix room. There are 6 edit suties, a foley stage/recording studio, and an ADR studio. Equipment includes 64 and 56 input Neoteks, and 3 Sony 3324's (24 track digital).
---
It's that time again. Anyone interested in serving with the AES Toronto Executive for the 1996-97 year should contact Earl McCLuskie at (519) 888-7111 ext 330, or earlm@opentext.com. It's your opportunity to have some input on organizing section meetings and spending the section's money. We would be pleased to have you on board.

Elections will be held at the meeting (if necessary) and next year's exec will be announced.
---
More than the usual donuts and coffee! Bring your family and friends. We'll be celebrating another successful year. It's a great chance to socialize with members of the Toronto area audio community.
---
---
---

Copyright 1996
Audio Engineering Society
Toronto Section
Articles may be used with the Author's Permission. Contact the Bulletin Editor:earlm@opentext.com
Editor: Earl McCluskie
Print Layout Editor: Lee White
Markup by Peter Cook
---
This page was created Tuesday, May 28, 1996 at 1:31 AM.
It was last updated Sun, Jun 16, 1996 at 12:38 PM.
Please contact TorontoAES@vex.net to report any problems.