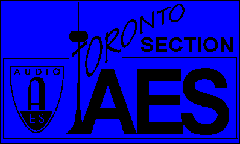 SurroundView 96
Bringing Surround Sound Home
---
Brad Hohle
Brad Hohle is the Film Applications Engineer for Dolby Laboratories in New York. He is responsible for technical support and licensing for Dolby's licensed productions on the US East Coast and for all of Canada.
---
---
| TORONTO AES HOMEPAGE |
---

Copyright 1996
Audio Engineering Society
Toronto Section
---
This page was created Sunday, May 19, 1996 at 1:55 PM.
Please contact TorontoAES@vex.net to report any problems.