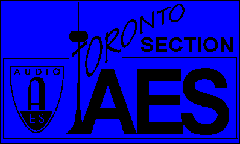 SurroundView 96
Bringing Surround Sound Home
---
Why Attend SurroundView 96?
Surround sound is coming home . . . big time. Home Theatre is without question the fastest growing segment of the consumer audio industry. Dolby Labs tells us there are over a half a million surround sound decoders in the Toronto area alone, and 20,000,000 worldwide! Audio professionals are taking note . . . this is a huge market.
For several years matrixed surround sound has been available to consumers via stereo soundtracks on VHS and Laser Disc and a variety of television network programming. DVD-Video is scheduled to arrive this fall, promising to bring 5.1 discrete channels of audio accompanying video into our homes. A DVD-Audio format has the potential to move the music industry toward full bandwidth, uncompressed discrete surround sound.
What does all this mean for the pro audio industry? To help us answer that question the Toronto AES Section has put together a programme of presentations and demonstrations by some of the most influential people in the surround sound industry.
---
We are especially pleased to have Tomlinson Holman and John Eargle at SurroundView96. They are heading up the AES's ad hoc task force on DVD-Audio and recently co-chaired a well-attended symposium in Los Angeles called The International Alliance of Multichannel Music '96.
Tomlinson Holman of THM Corporation and the inventor of THX is our MC for the day. Mr. Holman will make two presentations: "How Many Channels?" and "What Multichannel Audio does for Music".
John Eargle is Director of Recording at Delos. Delos is a classical music label already recording projects in discrete surround and currently releasing CDs with matrixed surround sound. Mr. Eargle will discuss "Production Techniques for Surround Sound Music".
Brad Hohle is a mixer and a surround sound consultant for Dolby Laboratories. Mr. Hohle will explain the technology which is bringing surround sound home: the matrixed Dolby Surround format and the new discrete AC-3 or "Dolby Digital".
Ian Masters writes about audio and video for Stereo Review, Sound & Vision, and The Toronto Star. He will be on hand to give us the reality check of the consumer's perspective on Home Theatre and the surround sound revolution.
Neil Muncy of Neil Muncy Associates will discuss "TV Broadcast/Transmission Issues". For the past several years Mr. Muncy has been collecting data on the quality of audio signal transmitted by cable companies, as compared to off-the-air reception and the original source material. Can the cable companies compete with the new media and distribution channels? Mr. Muncy demonstrates the problems and identifies the solutions.
Paul Smith of DTS developed the algorithm for the DTS encoding scheme. He will explain DTS's goals vis-a-vis the music industry's movement toward surround sound and play new discrete surround mixes of songs by Seal and Boyz to Men.
Paul Barton, founder of internationally acclaimed PSB Speakers, has worked with Dolby in presentations of their AC-3 technology, and is in tune with the demands and habits of the consumer market. PSB is providing equipment for the consumer reference rooms used in our demonstrations.
---
Demonstrations:
Dolby Matrixed Surround versus Dolby Digital (AC-3)
Discrete surround sound recordings of classical music
DTS discrete surround pop music mixes
Home Theatre
Transmission problems
---
---
| TORONTO AES HOMEPAGE |
---

Copyright 1996
Audio Engineering Society
Toronto Section
---
This page was created Thursday, May 16, 1996 at 1:02 AM.
It was last updated Thu, Jun 6, 1996 at 10:42 PM.
Please contact TorontoAES@vex.net to report any problems.