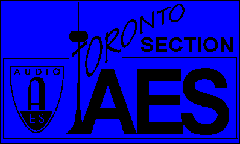 SurroundView 96
Bringing Surround Sound Home
---
Paul Smith
Paul Smith graduated from Queen's University of Belfast with a first class honours B. Eng. in Electronic Enginnering in 1987.

In 1990, Mr. Smith joined APT to carry out research into acoustic echo cancellation algorithms and low bit rate coders. He was primarily responsible for the development of a real time DSP based system to demonstrate a 64kps coder, and in 1991 he became Research and Development Manager in APT, eventually heading up a team of seven engineers.

Mr. Smith co-founded AlgoRhthmic Technology Ltd. which became a joint venture partner with DTS Technology in 1995. Since then, he has been jointly responsible for the development of the DTS Digital Surround Sound.
---
---
| TORONTO AES HOMEPAGE |
---

Copyright 1996
Audio Engineering Society
Toronto Section
---
This page was created Sunday, May 26, 1996 at 8:38 PM.
Please contact TorontoAES@vex.net to report any problems.