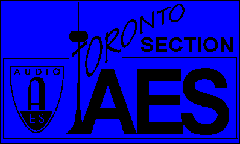 SurroundView 96
Bringing Surround Sound Home
---
John Eargle
John Eargle is no stranger to the Toronto Section. This was his third appearance in four years. In April 95 he was the MC and a presenter at MicView, our day-long overview of microphone techniques and technology. In March 94 he talked to us about the acoustics of musical instruments. When we started discussing who to invite for a seminar on surround sound it quickly became obvious that John was someone we had to hear from. He is at the forefront of a movement to get the music industry, and the classical music industry in particular, on board the surround sound movement.

Here he is writing in the liner notes for a recent recording for Delos.
"Whether we know it or not, we are at a new golden age in sound recording. Since the days of the victrola, the recording industry has been saying that you will have the artist in your home. Now, through technology you first heard in the motion picture theater, the promise is indeed fulfilled. The artist is virtually in your home."
John Eargle holds degrees in engineering and music from the Eastman School of Music (B.M.), University of Michigan (M.M), University of Texas (B.S.E.E), and Cooper Union (M.E.), was with the quality control department of RCA Records, and served as Chief Engineer for Mercury Records. During the seventies he worked for the Altec Corporation and formed the firm JME Consulting Corporation.
Since 1976, Mr. Eargle has been associated with JBL Incorporated, Northridge, California, in the areas of product development and application. He is a Fellow and honourary member of the Audio Engineering Society, and is a past President of the AES.
Mr. Eargle is a reviewer for the AES Journal, is a member of the Acoustical Society of America, the SMPTE, the National Academy of Recording Arts and Sciences, and a senior member of IEEE. He has published extensively in technical and popular magazines, as well as penning standard reference books on audio, including Sound Recording, Handbook of Recording Engineering, The Microphone Handbook, and Handbook of Sound System Design. He is active as a recording engineer, having now engineered and/or produced over 60 Compact Discs, and much of his work can be heard on the Delos label.
He has recorded such artists as Carol Rosenberger, Bella Davidovitch, John Browning, Arleen Auger, Janos Starker, Richard Rodney Bennett, and Garrick Ohlsson. Among the ensembles he has recorded are the Seattle Symphony, London Symphony, Dallas Symphony Orchestra, Helsinki Philharmonic, Orgeon Symphony, New Jersey Symphony, Mostly Mozart Orchestra, Los Angeles Chamber Orchestra, New York Chamber Orchestra, Chamber Music Society of Lincoln Center, Scottish Chamber Orchestra, the Roger Wagner Chorale, the Westminster Choir, and the Ascension Music Group of New York. In jazz, he has recorded such notables as Joe Williams, Red Holloway, Ruth Brown, Clark Terry, Tommy Newsom, and Etta James. Albums by Joe Williams and Ruth Brown have won Grammy awards in their respective jazz categories.
Mr Eargle has received two Grammy nominations in the category of Best Classical Engineering. He is a fellow, honorary member, and past national president of the Audio Engineering Society, and in 1984, won the Society's Bronze Medal. Mr Eargle joined the faculty of the Aspen Audio Recording Institute in 1980, and has served the Aspen Music Festival and School in the capacity for the past 16 years. He is a member of the Corporate Board of the Music Associates of Aspen. Mr Eargle is a member of the National Academy of Recording Arts and Sciences as well as the Academy of Motion Picture Arts and Sciences.
Long an experimenter with surround sound, Mr Eargle was involved in the recent Los Angeles Conference sponsored by the International Alliance for Multichannel Music. He is presently recording all large ensemble sessions on multitrack with the eventual goal of releasing them in a surround sound format to the consumer.
---
---
| TORONTO AES HOMEPAGE |
---

Copyright 1996
Audio Engineering Society
Toronto Section
---
This page was created Saturday, May 18, 1996 at 7:13 PM.
Please contact TorontoAES@vex.net to report any problems.