Toronto AES Seminar 2018: The State of The Sound
Sep 23-24, 2018 | Special Event
Join us in celebrating the 50th Anniversary of the Toronto Section of the Audio Engineering Society
The Toronto AES is celebrating its 50th year as a section of the Audio Engineering Society, and we're holding a special two day long seminar to mark this special milestone!
We've invited some of the AES's best friends to join us, with presentations and interactive panel discussions that will highlight the state of the audio industry in Toronto, and show off some of our best achievements.
Fulcrum Acoustic, Shure, Neumann, CTV Bell Media, Yorkville, GerrAudio, Solotech, HHB Canada, Contact Distribution,  AcoustiGuard, Lectrosonics, SonoTechnique, Professional Sound, AKG Harman, Music Marketing, CBC, Outboard UK, Technicolor are just some of our guests, along with a who's-who slate of independent technologists and engineers.
This event will also provide a fantastic opportunity to network, socialize and expand your career opportunities.  Join us at Sheridan College's Screen Industries Research and Training Centre (SIRT) in the state-of-the art  Pinewood Toronto Studios located in the heart of the city's film and television studio district.
We are celebrating who we are,  where we have been and where we are going: here's to the next 50 years! 
When: Sunday September 23 and Monday September 24, 2018
Time:  9:00 am – 5:00 pm (Sonic Circus Reception: Sunday 6:30 pm – 10:00 pm)
Where:  Screen Industries Research and Training Centre (SIRT)
Pinewood Toronto Studios, Stage 10,
225 Commissioners Street,
Toronto, Ontario, M4M 0A1
SEE MAP BELOW.  PARKING INSTRUCTIONS INCLUDED WITH YOUR TICKET
ALL EVENTS ARE BEING HELD AT SIRT.
LUNCH WILL BE PROVIDED BOTH DAYS AS PART OF YOUR ADMISSION PRICE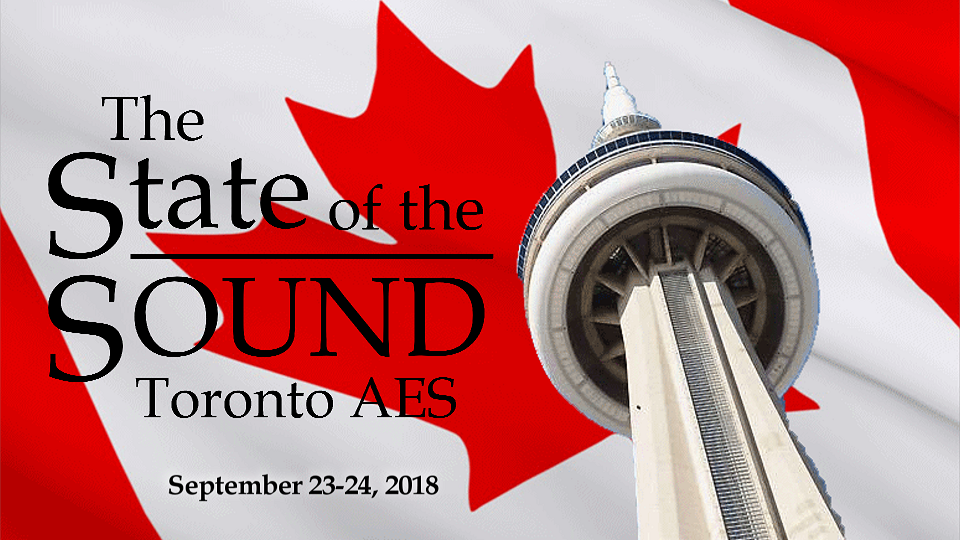 AES Members (Full, Associate): $75 | Non-Members: $150
AES Students: $30 | Students (Non-members): $50
DAY ONE | SUNDAY  

REGISTRATION | 8:30 am

---
OPENING REMARKS | 9:00 am

---
Panel Session 1 |  9:15 am
Recorded Music Production: Studio Owners and Managers, Recording Engineers, Producers, Musicians
Recording has emerged consolidated from fallout of the last decade and a half, now less focused on direct sales, and more on 360. Streaming is emerging as the dominant revenue generating market, labels are tentatively re-establishing A&R activities, the industry is growing again.  What are the lessons learned the hard way, how can you future proof your recording assets?
MODERATOR: Jeff Wolpert (Juno rec eng 1992, 2000 and 2003)
PANELISTS: Richard Chycki, Riley Bell (Juno rec eng 2018), Jason Dufour (Juno rec eng 2017), Alf Annibalini, Hayward Parrott (Juno rec eng 1985), Glenn Fricker
---
SPECIAL PRESENTATION | 11:15 am
Spatial Reinforcement and Immersive Audio | Dave Haydon, Outboard UK
---
LUNCH | Box Lunches Provided
---
Special Keynote Presentation |  1:00 pm

Where We Were, How We Survived and Where We Are Going
Josh Tidsbury, App Frameworks Evangelism Manager, Media Technologies Evangelist, Apple Inc.
---
SPONSOR PRESENTATION 1 | 2:30 pm
The IsoAcoustics speaker stand story |Dave Morrison, ISO Acoustics
---
Panel Session 2 | 3:00 pm
Technology: Loudspeakers, Consoles, Amplifiers, Processing
Behemoth companies and off-shore manufacturing have altered local industry, boutique and nich companies have emerged as the primary drivers of our vibrant audio tech development and manufacturing.
MODERATOR: Anthony Kuzub (Ward-Beck Systems)
PANELISTS: Denis Tremblay (Norfolk and Jarvis Audio Technologies), Dave Haydon (Outboard UK), Jeff Shorthouse (Yorkville Sound), Morton Lave (Independent), Dave Gunness (Fulcrum Acoustic)
---
SUNDAY EVENING 
ON-SITE AT SIRT
"SONIC CIRCUS" Reception | 6:30 pm
This is your chance to…  Meet the Presenters | Social Networking Event
"Sonic Circus" is a fantastic opportunity (as is the entire seminar) for audio professionals and students to network, meet the main players in Toronto's audio industry and boost their careers. And of course, we are Celebrating Toronto's Audio Future. 
 The reception will start at 6:30 pm, and includes light fare and refreshments, and resume after the presentation.
A SPECIAL CBC PRESENTATION
The State of the Sound at CBC |  7:00 pm
Canada's public broadcaster has been at the forefront of implementation of digital technologies in the television, radio and Internet broadcast services.
Ron Searles, Senior Post Production Audio Engineer at CBC Toronto, will be joined by CBC colleagues to give us an insiders' perspective of these exciting changes.
DAY TWO | MONDAY  

REGISTRATION | 8:30 am

---
OPENING REMARKS | 9:00 am

---

Panel Session 3 | 9:15 am
Live Sound: theatre/concert soft seat, corporate boardrooms, big stadiums, festivals, small/medium clubs
Live sound has dramatically improved in quality and fidelity, new technologies have dropped cost, improved effectiveness, even small venues now have world-class audio: how does Toronto compete with other major live entertainment centres in NA?
PANELISTS: Bob Snelgrove (GerrAudio), Mark Radu, Senior Audio Systems Engineer (Solotech), Trevor Nash, (Technical Consultant d&b audiotechnik Canada), David Cyrenne (Production Supervisor – Audio Eng. Caesars Windsor), Rob Sandolowich (Westbury National Show Systems)

---
SPONSOR PRESENTATION 2 | 11:15 am
Immersion Technology for Live Reinforcement, A Meyer Sound Perspective | Bob Snelgrove, GerrAudio
---
SPECIAL PRESENTATION | 11:30 am
Sound System Performance with Complex Signals | Dave Gunness, Fulcrum Acoustic
---

LUNCH | Box Lunches Provided
---
Panel Session 4 | 1:00 pm

Delivery:  Broadcast and Film Production, VR audio, webcast and live streaming
Broadcast quality and fidelity has improved dramatically, music and sports, gaming audio, immersive film audio and live and on-demand streaming have become financial viable mediums. 
MODERATOR: Michael Nunan (Bellmedia)
PANELISTS: Ron Searles (CBC), Anthony Montano, (Bellmedia). David Midgley (Bellmedia), David Rowe (Corus Entertainment), Damian Kearns (Independent Post Contractor)
---
SPONSOR PRESENTATION 3 | 3:00 pm
Things you should know about Networked Audio | Jeff Johns, HHB Canada
---
SPONSOR PRESENTATION 4 | 3:15 pm
Immersive audio creative tool from Flux:: Spat Revolution
#EmpowerCreativity | Hugo Larin, Flux Audio
---
Panel Session 5 | 3:30 pm
Acoustics, Architect and Installation :  Concert halls, stadiums, clubs, studios, corporate spaces
Architecture/acoustical design/sound installation now go hand in hand, often with in-house expertise. Canadian companies are at the head of the game in many of the design, architectural and installation fields.
MODERATOR: Terry Medwedyk (Group One Acoustics)
PANELISTS: Jeff Bamford (Engineering Harmonics), Dave Clark (Dave Clark Consulting), John O'Keefe (O'Keefe Acoustics), John Swallow (Swallow Acoustic Consultants), Arthur Skudra (SightSound Consulting)

Our SPONSORS and SUPPORTERS
The Toronto AES gratefully acknowledges the following companies: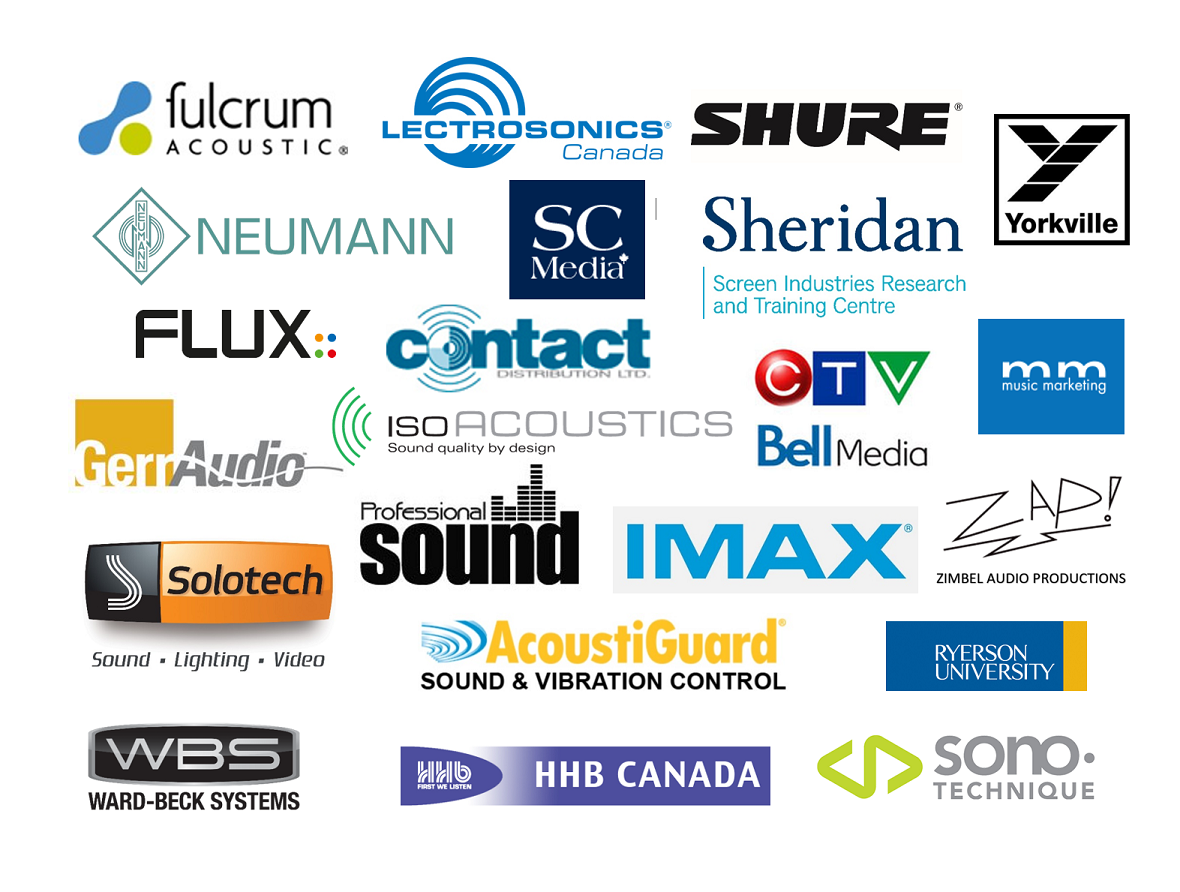 HOTELS and RESTAURANTS
_
Restaurant/pub/cafe
The two closest options to buy dinner are the
Cherry Street Diner (275 Cherry Street, 416-461-5111)
or
TNT Grocery (222 Cherry Street, 416-463-8113).
Both are approximately a 10 minute walk/short drive from Pinewood.
A couple of minutes further is
Keating Channel Pub & Grill, 2 Villiers St.There are also options for fast food (Burger King, McDonald's) going east down Lakeshore if
you are driving.
Hotels
Hilton Garden Inn Toronto Downtown, 92 Peter St, Toronto, ON M5V 2G5
Hyatt Regency, King Street West, Toronto, ON
Hotel Novotel Toronto Centre, 45 The Esplanade, Toronto, ON M5E 1W2
Seminar 2018 Organizing Committee
Chair: Mike Nunan
Event Coordinator: Earl McCluskie
Treasurer: Jeff Bamford
Sponsorship: Blair Francey
Committee Members: James Boutilier, Alan Clayton, Anthony Kuzub, Bob Snelgrove