Toronto AES Seminar 2018: The State of The Sound
Sep 23-24, 2018 | Special Event
Recollections & Reflections on the 50th Anniversary of the Toronto Section of the Audio Engineering Society
On September 23 and 24, 2018 the Toronto AES presents Seminar 2018:  The State of our Sound. Much like our Seminar 2008: The Roots of Our Toronto Sound event, this event will profile the many audio industries that are the leaders in our current audio economy.
Also in 2018, the Toronto section of the AES celebrates its 50th anniversary, while the international Audio Engineering Society marks its 70th. Both milestones will be observed at this event, with special guests to be announced.
We are celebrating where we have been and where we are going:  here's to the next 50 years!
When: Sunday September 23 and Monday September 24, 2018
Time:  9:00 am – 5:00 pm (Saturday Banquet 6:00 pm – 10:00 pm)
Where:  Enoch Turner Schoolhouse, 106 Trinity St, Toronto, ON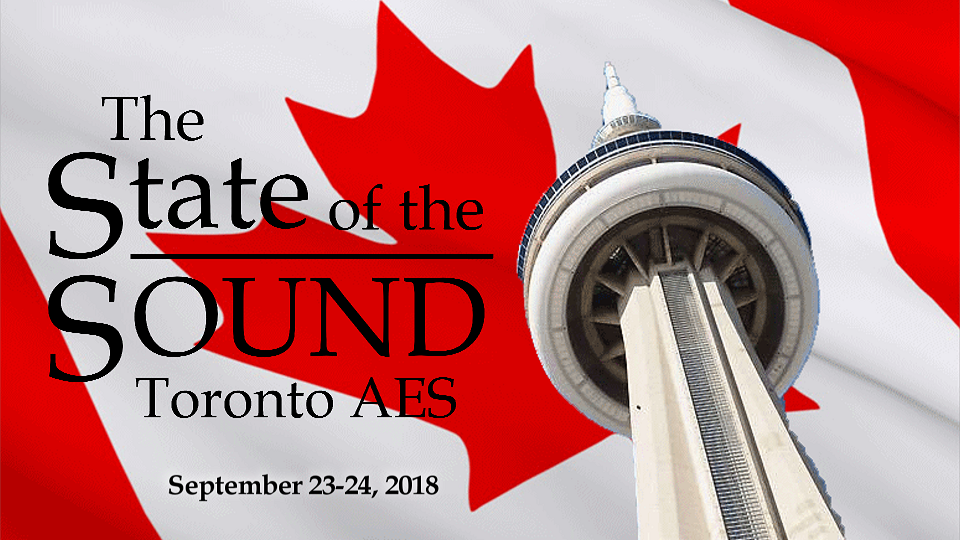 DAY ONE
Session 1
Recorded Music Production: Studio Owners and Managers, Recording Engineers, Producers, Musicians
Recording has emerged consolidated from fallout of the last decade and a half, now less focused on direct sales, and more on 360. Streaming is emerging as the dominant revenue generating market, labels are tentatively re-establishing A&R activities, the industry is growing again.  What are the lessons learned the hard way, how can you future proof your recording assets?
Session 2
Technology: Loudspeakers, Consoles, Amplifiers, Processing
Behemoth companies and off-shore manufacturing have altered local industry, boutique and nich companies have emerged as the primary drivers of our vibrant audio tech development and manufacturing.
AES President's Global Address
Special Keynote Presentation
Where We Were, How We Survived and Where We Are Going
 Josh Tidsbury, App Frameworks Evangelism Manager, Media Technologies Evangelist, Apple Inc.     
Session 3
 Live Sound: theatre/concert soft seat, corporate boardrooms, big stadiums, festivals, small/medium clubs
Live sound has dramatically improved in quality and fidelity, new technologies have dropped cost, improved effectiveness, even small venues now have world-class audio: how does Toronto compete with other major live entertainment centres in NA?
SONIC CIRCUS Cocktail Reception/Banquet
Meet the Presenters | Social Networking Event
Celebrating Toronto's Audio Future
DAY TWO
Session 4
Delivery:  Broadcast and Film Production, VR audio, webcast and live streaming
Broadcast quality and fidelity has improved dramatically, music and sports, gaming audio, immersive film audio and live and on-demand streaming have become financial viable mediums. 
Session 5
Acoustics, Architect and Installation :  Concert halls, stadiums, clubs, studios, corporate spaces
Architecture/acoustical design/sound installation now go hand in hand, often with in-house expertise. Canadian companies are at the head of the game in many of the design, architectural and installation fields.
Poster Sessions
 A "Poster Session" is a way of giving the opportunity for members who have achievements of limited interest and which are not suitable for the formalities of a conference to communicate their message in an informal manner.
CHECK BACK FOR MORE DETAILS COMING SOON
Seminar 2018 Organizing Committee
Chair: Mike Nunan
Event Coordinator: Earl McCluskie
Treasurer: Jeff Bamford
Sponsorship: Blair Francey
Committee Members: James Boutilier, Alan Clayton, Anthony Kuzub, Rob Poretti, Bob Snelgrove