AES Field Trip to El Mocambo
When: Tuesday, December13, 2022
Time: 7:00 pm
Where: 464 Spadina Ave. (just south of College St.), Toronto
Apace is limited, so please register. Only those on the list will be allowed in.  Be on that list.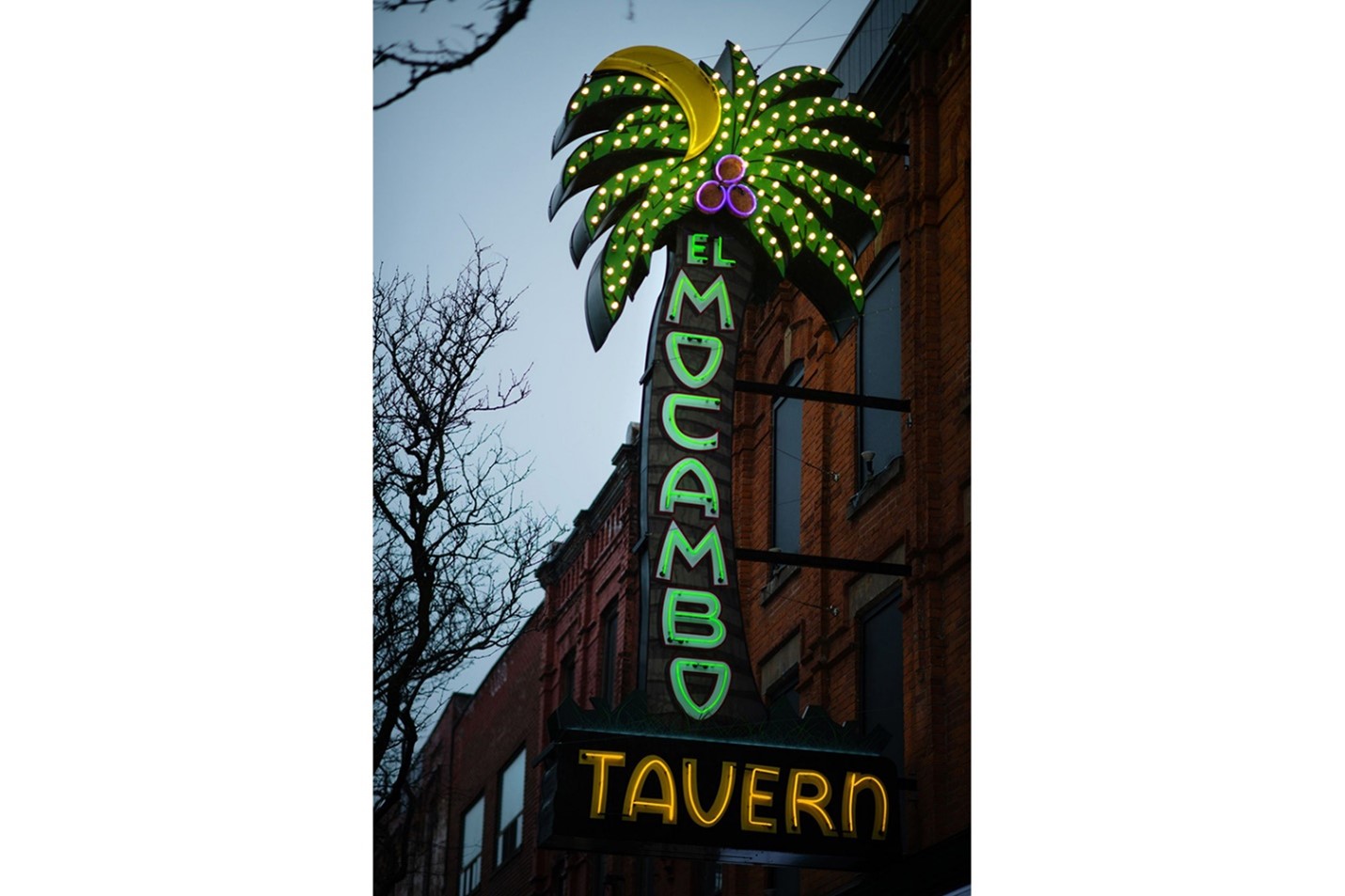 Pre-Meeting Dinner
5:00 pm
New Ho King,
410 Spadina Ave., Toronto
Our AES Toronto section event for December will be a field trip to Toronto's legendary El Mocambo.
Described as a state-of-the-art TV studio with a liquor license, the El Mocambo has hosted everyone from the Rolling Stones to Stevie Ray Vaughan to Blondie. Owner Mike Wekerle spared no expense in making this club the envy of the world and we are privileged to be able to visit and get a behind-the-scenes tour.
Doug McClement, founder of LiveWire Remote Recorders and lead recording engineer at the club, will be on hand to show us around the control room with its SSL console, ATC monitors and killer Pro Tools rig.
Doug is also a member of a classic rock band called The Mid-Century Modernes. The band will be on stage for a set of "pre-Internet" music that's guaranteed to please. The set will be recorded in 4K video and 24/48 digital audio and there will be ample opportunity to tour the audio and video control rooms and meet the talented engineers who make the magic at the venue.
André Doucette, production manager and technical director for the club will be mixing front of house and will be available to answer questions about the amazing systems that have been installed at El Mocambo.
Terry Walker will be heading up the video team for the evening.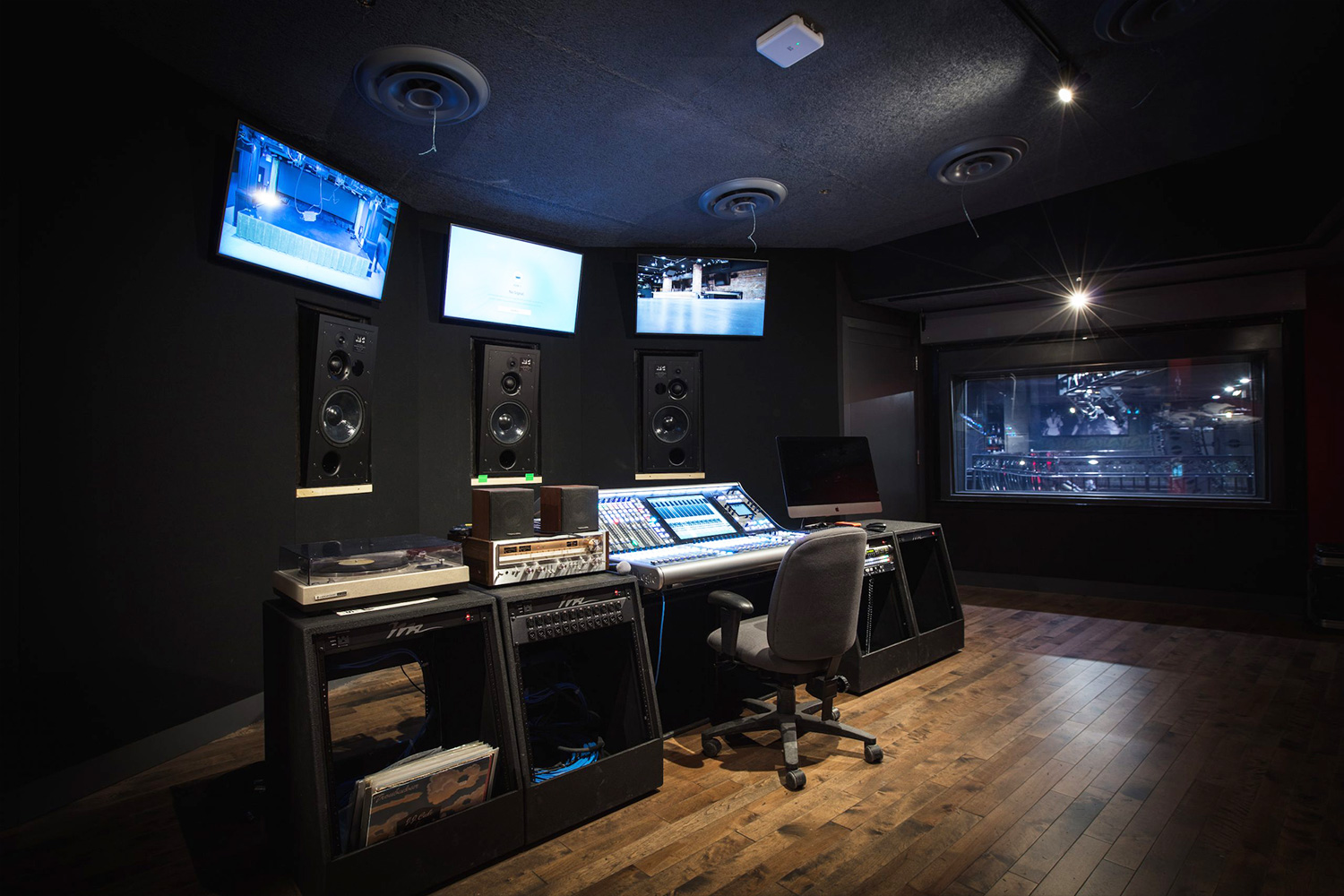 Doug McClement
Live Wire Remote Recorders
Doug McClement became interested in audio as a teenager, working in stereo stores and playing in bands around his home town of Kingston, Ontario. He set up Comfort Sound, a four track studio in his parents' basement in 1973, recording demos for local bands and songwriters.
After graduating with an Honours Bachelor of Commerce from Queen's University in 1975, he moved to Toronto, where he worked as a computer programmer for TD bank during the day, while running a home studio at night and on weekends. By 1978, the studio was busy enough for Doug to quit the bank, expand to eight track and go full time into recording. He also started to get requests from studio clients to record their bands on location. After a couple of years of taking gear out of the studio for these remotes, he purchased a cube van to accommodate the expanding live recording business.
Throughout the eighties, Comfort Sound expanded from eight to twenty-four tracks, and changed its focus from radio and records to music for television and film. Doug was hired by several television networks to engineer remotes outside Canada, in places like Nigeria, Jamaica, Germany, Cyprus, Spain and Kuwait. A portable multitrack system was designed specifically for shows outside the province. The remote side of the business grew to the point where Doug decided to sell Comfort Sound and go full time into live recording.
Doug set up LiveWire Remote Recorders in the summer of 1994, and has been doing location recording ever since, both with the truck, and with the portable airpack system. The system has expanded to 96 tracks.
Doug has been nominated thirteen times for a Gemini Award for Best Sound in a TV Variety Program, and won Geminis in 2003 and 2010 for his mix of the Juno Awards. He also been nominated for The Canadian Screen Award in the same category eight times and has won three times.  He has received platinum albums for engineering Blue Rodeo's 'Diamond Mine' and 'Five Days in July'; and 'Bargainville' for Moxy Fruvous. "Stevie Ray Vaughan and Albert King In Session", engineered by Doug, won the W.C. Handy Award from the Blues Foundation for Best Blues Album of 2000. He also won an ADISQ award (Quebec Juno) for his mix of a Richard Seguin concert television special for MusicPlus.
He has worked on the OBS (Olympic Broadcast Services) audio team for the past four Olympic Games: 2014 in Sochi, 2016 in Rio de Janeiro, 2018 in Pyeongchang and 2021 in Tokyo.
He is the chief recording engineer at Toronto's legendary El Mocambo club, doing livestream concerts from that historic venue.
Doug has been a member of the Audio Engineering Society since 1974 and was awarded an AES Fellowship in 2020. He is currently the Director of the Audio Production Program at The Harris Institute in Toronto, where he teaches part-time. Doug has also done guest lectures on remote recording at Harris' sister school, the University of West Scotland, as well as Fanshawe College in London, Ryerson University, The Ontario Institute of Audio Recording Technology (OIART) and the Recording Academy of Canada.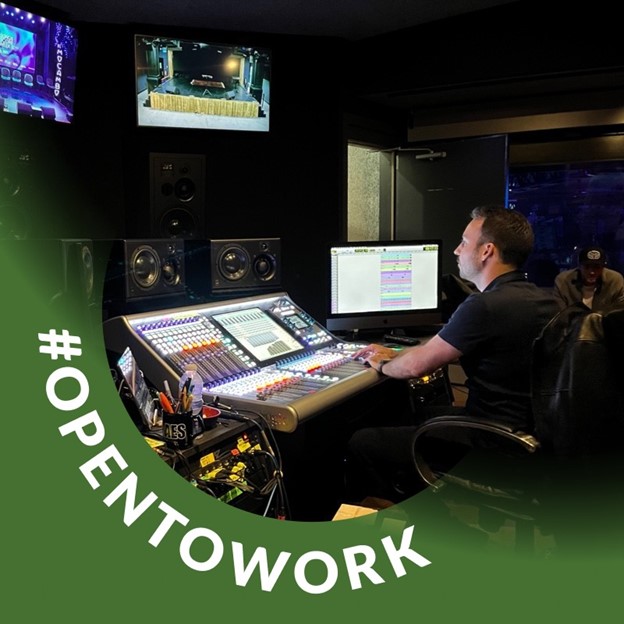 André Doucette
Over 20 years of experience in live event production, technical directing and studio engineering.
Production and tour management
Technical direction
Front Of House and Monitor engineering
Audio recording and broadcast engineering
Event management
Strategic planning
Facility management
Technical staffing
Pro tools, cubase, logic
SSL live certified

Terry Walker
With 30 years of (mostly) live to air multimedia broadcasting experience, (I can't believe it's been that long) ranging from
Broadcast Television
Venue Video
Audio production
Outdoor LED Digital Signage
Indoor digital signage and architectural lighting integration 
multi-camera live to air musical and other types of webcasting or IMAG productions.
"I have accumulated a wide range skills and knowledge to do most types of projects in these domains. I am a versatile, motivated professional with good creative/technical problem solving skills. This come from time spent designing systems, managing facilities, work flow training, technical producing and video directing, I have been involved in the design/re-design and renovation construction at the various venues listed. During these times I acquired the skills to design. implement and site supervise aspects of media within venues and studios plus provide training to operators on most types of systems."
Specialties: Live video director / venue assessments and recommendations, facility designs. Focus on infrastructure, interconnect, workflow.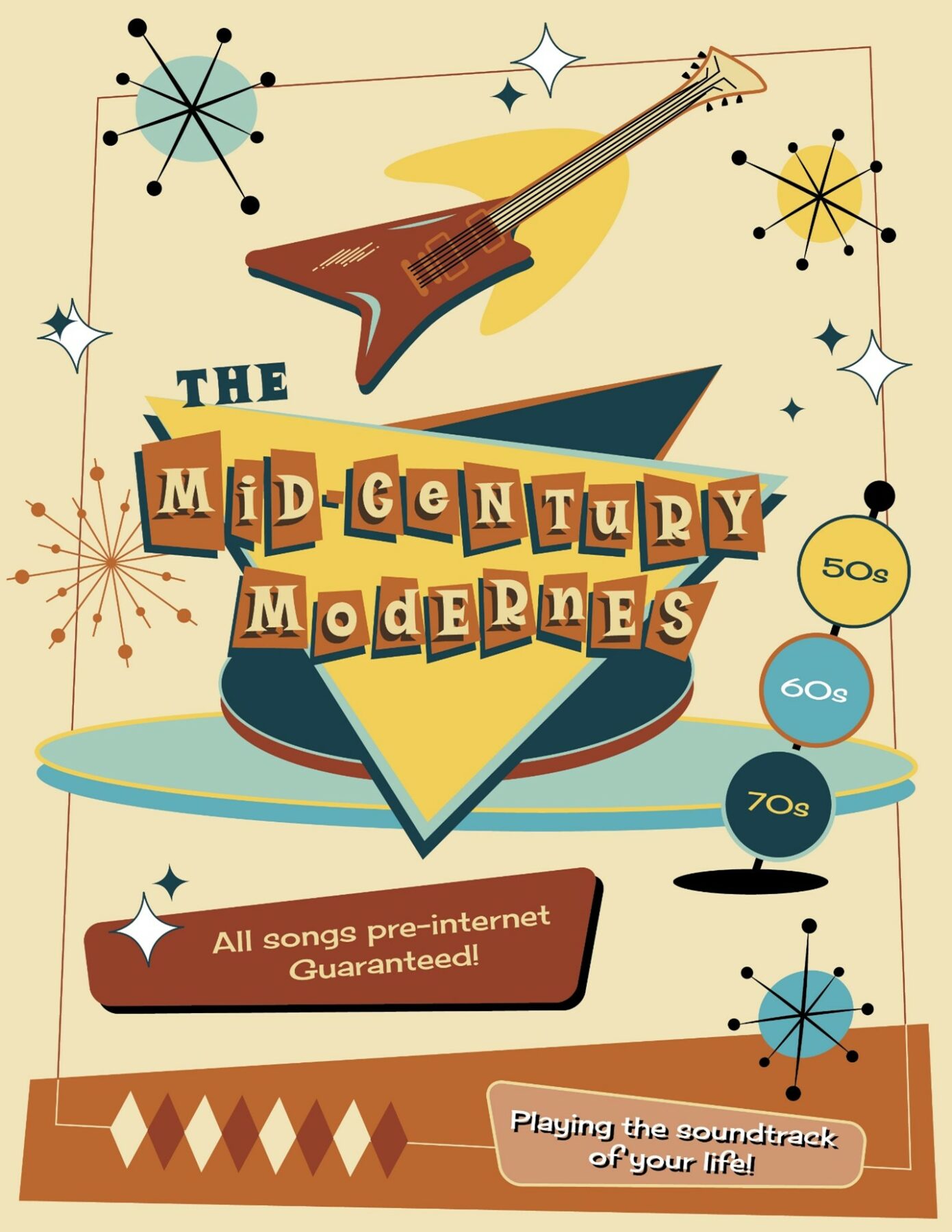 Mid-Century Modernes
We are the Mid-Century Modernes.
Our song list is an unbeatable cavalcade of songs with performances to match. We are a five-piece band, staying true to the "classic rock" sounds of the 1960s through late 1970s (and sometimes into the early 1980s just because!). Thanks to the scope of our collective experiences in the music world, we are encyclopedic on this classic rock canon, and treat our expertly curated repertoire with the utmost respect and insight. It's where we live. And we invite you into our home. Members include:
Jaime Valentine, cofounder of renowned New York Beatles band Obladi, founding member of the Palisades All-Star Revue with Lynda Kraar, vocalist, multi-instrumentalist and recording engineer – guitar, vocals
Lynda Kraar, founder of Toronto bands The Marksmen and Culture Shock, and various solo/duo/trio work in Toronto; and New-Jersey band Blue Moo, New-York band the Palisades All-Stars, the 100-year old New York chorus the Jewish People's Philharmonic Orchestra, the Renaissance group New York Continuo Collective, and veteran sideman on recordings and live – guitar, bass, mando-guitar and vocals.
Doug McClement, recording engineer/producer supreme, Director of the Audio Production Program at Harris Institute (Toronto), president of LiveWire Remote Recorders, founder of Comfort Sound Recording Studio – bass, vocals, and sarcastic remarks.
Kevin Bell, longtime session and live guitarist and actor in Toronto and the US – guitar, vocals
Rob Andrews, veteran recording and live drummer in the greater Toronto area – drums
We are a dedicated, approachable, unassuming and fun collective of dedicated music professionals who love to entertain and take the audience for a memorable ride of their life.
All songs pre-internet guaranteed!