Immersive Audio – The Next Frontier
Immersive audio for headphones
Date: Tuesday, October 26, 2021
Time: 7:00 pm
Where: Online meeting –
SEE YouTube VIDEO LINK BELOW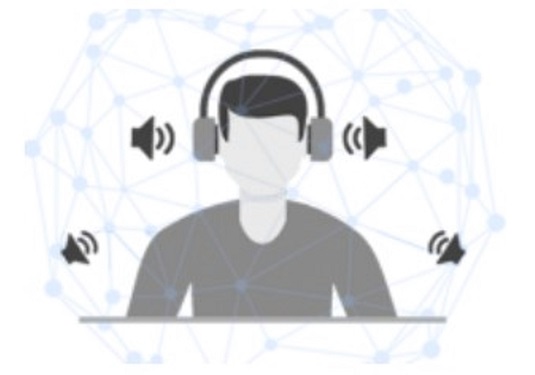 With the introduction of Spatial Audio in Apple Music immersive music has been in the spotlight of audio for the past year.
In this online event audio professionals will discuss their use of Dolby Atmos, Sony 360 and other binaural techniques for generating headphone immersive mixes.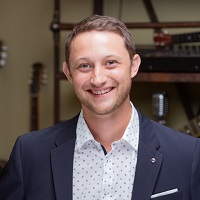 Matt Boerum
CEO & Co-Founder, Audible Reality, Inc.
Matt Boerum is an innovator in the field of 3D audio for music production & virtual reality. He is co-founder and CEO of Audible Reality, an immersive audio technology company from Montreal focused on improving music engagement through unique AI-driven 3D audio software. Matt is an Emmy award-winning audio engineer, as well as a singer/songwriter and educator with a PhD in Sound Recording and 20 years of experience working on the technical side of the music industry.
Matt earned his PhD from McGill University under Richard King and George Massenburg. His research focuses on 3D audio mix translation and specifically, on auditory listener movement in virtual audio environments, with a special interest in spatial perception and mixing. Prior to starting Audible Reality, Matt was an early researcher at MixGenius. He was also essential to the growth, design and success of American University's audio technology program which was nationally ranked in the USA as the #1 audio tech program in 2011.
Since 2000, Matt's work as a freelance engineer, educator and musician has led him to nearly every audio industry discipline. Of notable mention, he has worked with Grammy® award-winning artists Cee Lo Green and Dirty Vegas; Golden Globe® winning actor Stacy Keach; and public figures US President Carter and the Dalai Lama. In 2012 he was awarded an Emmy® for Outstanding Commercial – Single Spot and received front-page honors in the press by Audio Solutions.
He's also been featured in Forbes, Variety, Mix Magazine, American Songwriter, Financial Post and other industry publications, and continues to speak at industry conferences regularly.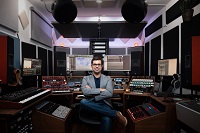 Justin Gray
Justin Gray is a prominent producer, mixing engineer and mastering engineer in the Canadian music community. Justin has had the pleasure of working with artists from across the globe in a diverse range of musical styles. Some of his recent clients include Carlos Santana, The Arkells, Valley, Crownlands, The Command Sisters, Francois Klark, Peach Pit, Forest Blakk, Ryland James, Locals Only Sound, Jaffa Road, Moskitto Bar, Lydia Persaud, Ventanas and Avataar.
As an educator, Justin is on faculty at Humber College in Toronto, where teaches audio production, composition and music performance.
Currently, Justin is emerging as a leader in the field of immersive audio mixing and mastering. Justin works with major labels (Universal Music Canada, Columbia Records, Warner Music Canada) and independent artists, helping to bring their music to life in the Dolby Atmos and Sony 360 Reality Audio formats.
As an engineer and producer, Justin works out of his own studio (Synthesis Sound / Immersive Mastering), which is one of the first certified Dolby Atmos music studios in Canada. Synthesis Sound & Immersive Mastering is equipped with a world-class playback system (7.1.4), and mastering grade conversion, analog/digital tools, headphones and measurement tools.
In his career, Justin has received a number of awards and distinctions, including: 2020 Canadian Folk Music Award Nominee (Best World Album), 2018 Canadian Folk Music Award Nominee (Best Solo Artist), 2017 Canadian Screen Award (Co-producer of Best Original Song), 2015 Toronto Arts Foundation Emerging Jazz Artist Award and 2015 CFMA Nomination (Best World Album).
Justin is endorsed by Audeze Headphones, Godfrey Guitars, Mark Bass Amplifiers, D'Addario Canada, Radial Engineering, Lava Cables and Source Audio Pedals.
www.SynthesisSound.com – Production & Mixing
www.ImmersiveMastering.com – Mastering
www.JustinGray.ca – Artist Page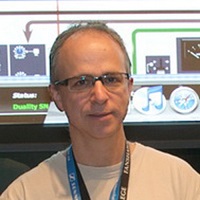 Jeff Wolpert
University of Toronto, Desert Fish Studios
Jeff Wolpert operates on the cusp of art and technology. It's an intersection he relishes. The award-winning sound engineer, mixer and producer has worked with some of the biggest names in the music industry during his 35-year career, including Aretha Franklin, Anne Murray, Loreena McKennitt, James Brown, Kris Kristofferson, Holly Cole, Great Big Sea, Natalie MacMaster and others. He's also worked in film and television, and after teaching on and off for 30 years he's now director of the Master of Music in Music Technology and Digital Media program at the University of Toronto.
During his 35-year career, Jeff has seen some big changes, but one thing has remained the same. "Music has only two ways into the brain – through the two ears on your head." The technology, however, has advanced and been enhanced. Desert Fish is one of only three Dolby-Atmos music studios in Canada. Dolby-Atmos is known as an 'immersive format' and is "the newest and coolest form of surround sound," according to Jeff. It's comparable to what you might experience with three-dimensional sound in a modern cinema. "I love Dolby-Atmos," he says. "It's a positional tool I never had in the early days. It has definitely expanded the palette."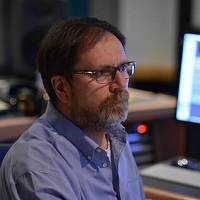 Ron Searles
Owner, Red Maple Sound, Senior Post Production Audio Engineer at CBC
Ron Searles studied Music Industry Arts at Fanshawe College (London, Ontario). After graduating in 1979, he worked as a recording engineer at Manta Sound in Toronto for fourteen years. Ron moved to CBC's Toronto Production Centre in 1995 where he is a Senior Post Production Audio Engineer.
While at Manta Sound, Ron earned more than 100 album credits, which included work with some of Canada's top producers and artists in genres as diverse as Post Punk, Pop Rock, Folk, Alternative, Country, Jazz and Classical. 
At CBC, Ron's mixing credits include many award winning documentaries, variety specials and feature film scores.
Ron's score credits include the films "IMAX – Blue Planet", "Sweet Hereafter", "Felicia's Journey", "Ararat", "Touch of Pink", "St. Ralph", "Child Star", "Skin Walkers", "How She Move", "Being Julia", "Capote", "One Week", "Adoration", "The Nut Job", "Life of Pi", "Remember" and "Manchester by the Sea", "On the Basis of Sex", and most recently "Percy" staring Christopher Walken and Christina Ricci.
Since 2004, Ron with his company Red Maple Sound has been doing specialized recording and mastering of chamber music, as well as live concert video recordings of solo and chamber music, working with notable artists including I Furiosi, Gabrielle McLauglin, Lucas Harris, Gallery Players of Niagara, Teng Li, Aisslinn Nosky, Winona Zelenka, LARK Ensemble, Toronto 
Consort, Trio Arkel, Eybler Quartet, Mike Herriott and Ofra Harnoy, and The Toronto Symphony Orchestra.
In 2016, Ron began building a dedicated mix room for Red Maple Sound. After attending the 2017 AES in NYC, it was decided to go immersive. Ron now works in Dolby Atmos music mixing with a few select clients in his full ATC  Monitor 7.1.4  studio. Ron's long term experience working in the surround format for film and TV made Dolby Atmos a natural choice going forward. 
 Awards and recognition:
The album "Free Flight, the Big Band" engineered, co-produced and mixed by Ron was nominated for a Juno in "Best Instrumental Jazz Album".
Ron engineered and produced Winona Zelenka's "Complete set of J.S. Bach's Suites for Solo Cello", which was nominated for a Juno in "Best Classical Album, Instrumental Solo or Chamber Music".
Ron has been honoured with ten Gemini nominations, a CSA nomination, and three Gemini Awards and one CSA award. 
IMDB http://www.imdb.com/name/nm0780728/
Ron's pastimes include playing violin and guitar, photography, sailing and driving a little black sports car.