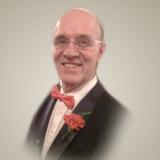 ​Jim Cox died at home with Joan, after suffering from leukemia. He will be remembered by his colleagues  as well as his many friends in the AES and former students.
After studying film at Boston University, Jim travelled for a year and then attended McMaster University for post-grad work., where he and Joan met in the McMaster Dramatic Society. After a brief stint at TVO, Jim started teaching film and audio at Sheridan College, staying there for over thirty years until he retired. His favorite course, which he created, was the History of Popular Music. He was also proud of teaching Audio for Film and said "I pulled out talent from my students." He remained friends with many of his former students and delighted in engaging with them.
He was a pillar in the AES Toronto section.  Along with always being informed on current audio issues, he never failed to arrive at Section get-togethers with a fresh set of (usually) good jokes, and he had a rare talent for lightening the mood in the midst of long, grinding event planning meetings.  He was always open for discussion, kind and supportive.  He will be missed.