The Sound Summit Toronto is a great opportunity for audio professionals to collaborate and discuss their favorite techniques and tools for capturing high-quality audio. With the cooperation of some of the industry's most well-respected audio professionals, attendees will benefit from a one-on-one, hands-on experience.
Note:  These events require pre-registration.  Please see links below.
---
DAY ONE
When?
 Tuesday, July 19
1:00 pm – 6:00 pm
Where?
---
DAY TWO
When?
 Wednesday, July 19
10:30 am – 3:30 pm
Where?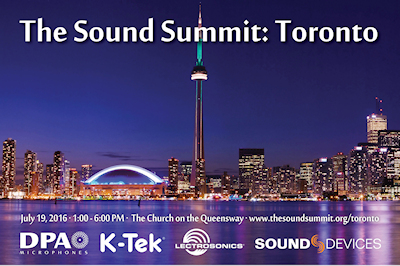 NOTE  There is no regular June Meeting.
About the Event
DAY ONE
On Tuesday the 19th of July "The Sound Summit / Toronto" (DAY 1) will be held at The Church on the Queensway. Industry people wishing to attend must pre-register at http://www.thesoundsummit.org/toronto/
This event is co-sponsored by four manufacturers (DPA, LectroSonic, Sound Devices & K-Tek) and is focused on Production Sound Pickup, Transmission and Recording for Broadcast, Film or Video. These manufacturers have held several of these "Sound Summits" in pockets of production (Atlanta, Los Angeles and several other cities) with great success.
The presenter for DPA at The Sound Summit is DPA Product Specialist Gabriel Antonini. The three other manufacturers are also bringing in their own Product Specialists.
DAY TWO
On the following day (DAY 2), Wednesday the 20th of July, GerrAudio and Noble Street Studios are sponsoring a DPA only microphone workshop to be held at Noble Street Studios. This workshop will be led by Gabriel Antonini. There will be two sessions and will be focused on Instrument Micing techniques for Studio Recording. Of course many techniques that successfully work in the studio are also applicable to live sound so we expect a mix of both interests to attend.
Industry people wishing to attend this session must register via the GerrAudio website http://www.gerr.com.
Toronto Chapter AES Members need to separately pre-register for the event they wish to attend and would be welcome at either or both.
Toronto AES Appreciates the Continuing Support of