Diversity in Audio | All about Inclusion
"Audio Spectrum" Women and Non-Binary in Audio
When: Tuesday, May 26, 2020
Time: 6:45 pm
Where: ZOOM Conference
With only 5% of pro audio professionals being women, and an even smaller percentage who identify as non-binary, our industry has historically given spotlight to male members of the community.
On Tuesday May 26th we will be hosting an online round table with women and non-binary members of our Toronto audio community to give spotlight to these underrepresented professionals! Our participants will share their experiences, their professional history, their mentors and allies, as well as creating incentives for an environment that encourages diversity in audio.
This online event is open to members and non-members of AES.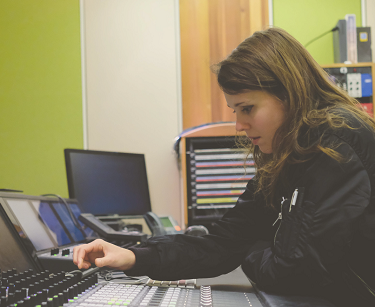 With an endless passion for everything audio, MCHC owner Mariana Hutten's expertise has ranged from recording pop, hip hop, rock, classical, and jazz music as well as mixing and mastering. Additionally to the world of music, Hutten has also done sound design, scoring, dialog editing and location sound for promotional videos and films (both independent and commercially released).
Hutten has worked in projects produced by respected producers such as Richard King, Eddie Kramer, Colin Lynden, as well as films produced by CBC, and promotional videos for respected organizations such as the Banff Centre for the Arts and Creativity and Playtime Trade Shows.
She is currently continuing to provide full-service mixing and mastering using via Internet for her clients.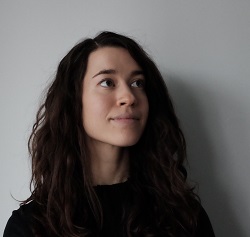 Allison Sokill
Allison Sokil (PhD) is a Joseph-Armand Bombardier CGS SSHRC-funded doctoral candidate in Ethnomusicology at the University of Toronto interested in intersections of popular music, sound studies, music technology, and critical theory. Her work explores feminist engagements with silence, space, embodiment, and affect in local, national, and international recording industries. In her doctoral dissertation, she explores the varied ways in which women and gender non-conforming music producers and audio engineers navigate careers in the technological fields of music-making in Canada.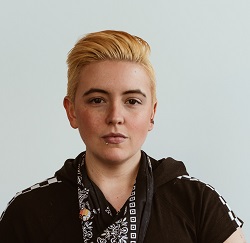 Cass Beauvais
Already acclaimed as part of the new generation of Toronto's most sought-after professional audio engineers and songwriters, Cass Beauvais is a leader in setting the standard for a new generation of music and audio experts. They have worked out of some of Toronto's top studios and are expanding their career in 2020 by writing and arranging music for brands and placement. Their list of credits can be found at https://www.cass43vr.work/credits .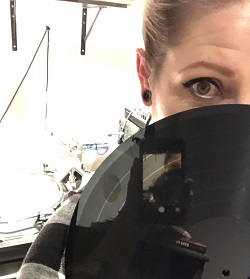 Robyn Raymond
I'm Robyn, I'm Canada's only female record cutting engineer. I moved from Calgary to Toronto in 2019 to work at Lacquer Channel Mastering, the oldest mastering studio in Canada. I've been apprenticing under Kevin Park. I have a T560 that was made for me in Germany, and I do short runs of PETG vinyl records. 
I came from the production and performance side of music. And after a brief hiatus, decided to go all in to record cutting. Not really knowing what I was doing or where I should start. Pure tenacity and will got me to where I am, with the kindness of anyone that was willing to talk records and gear.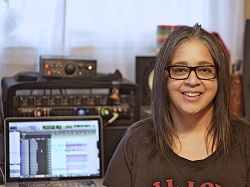 Annelise Noronha
Annelise Noronha is a Toronto-based producer, engineer, and composer.
Working her way up through Studio 306, Digital Music And Post, and Manta Eastern Sound, her music engineering credits are prolific, and include such artists as Jennifer Lopez, Dragonette, and Oscar Peterson, as well as working with producers Phil Ramone, and John Whynot. Manta also offered Annelise a wide variety of work in film scoring, advertising, and live-to-air studio recordings with many major label artists such as The Dixie Chicks, Blue Rodeo and Def Leppard.
In the past few years, her love of film scoring sessions, and recommendations from her peers, brought her together with Mychael Danna (Life of Pi, Moneyball), working as one of his house engineers, on such films as The Whistleblower, World Without End, and Atom Egoyan's Devil's Knot, and The Captive. Annelise also works composer Lesley Barber, as well as taking on a few albums each year.
Throughout this time, Annelise has also composed and has written music for placement in film and television, including Clement Virgo's "Lie With Me", Disney's "Virtual Mom", Nickelodeon's "Caitlin's Way", CTV's "The City", "Degrassi: TNG", and feature films "The Witness Files" and "A Life Less Gone". She has also scored two independent musicals, The Toronto Theatre production of "Two Lies & A Switchblade", and Rethink Breast Cancer's, "Boobs the Musical". As well as writing children's music for Treehouse TV and Nelvana (CORUS)
Annelise, who had humbly started out as a music teacher for the Ontario Conservatory of Music, recently returned to teaching. Teaching Mixing Techniques for a Women and Transgender Workshop as part of a Women/Trans Research Project presented by Heather Kirby, teaching a workshop titled "Engineering For Composers" to help composers gain a foundation in basic audio engineering, and teaching Protools at The Harris Institute.
Annelise currently divides her time working between Toronto, and Prince Edward County.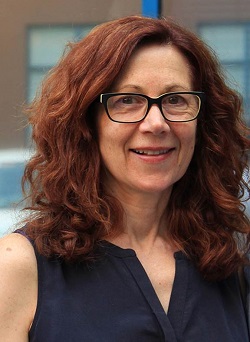 Jane Tattersall
JANE TATTERSALL is a creative post-production professional known for her award-winning sound work as well as her interest in film-making and other creative adventures.
Jane leads a team of talented sound professionals at SIM Post Toronto, aka Tattersall Sound & Picture. She is the recipient of over 150 awards and nominations, including three Emmy nominations, a BAFTA, several MPSE Golden Reels, and a shelf load of Canadian statues. She has worked with acclaimed Canadian filmmakers including Sarah Polley, Richie Mehta, Clement Virgo, Deepa Mehta and Michelle Latimer.
Her short film, Tuesday 10:08 a.m., co-directed with Thomas Pepper, received the 2017 DGC Award for best short film. An earlier short she wrote and directed, Hot Water, was the winner of the inaugural TIFF Talent Lab Emerging Filmmaker competition and later licensed by the CBC. Her producer experiences include the popular Canadian feature, One Week.
Currently working remotely, Jane is sound editing and managing the sound facility from home and taking time to record the neighbourhood's spring birds in the quiet city of Toronto.
This evening's event is brought to you by