Audio in the Pandemic Age
When: Tuesday, March 31, 2020
Time: 6:45 pm
Where:
ZOOM Conference
​We are living in exciting times.
The audio industry, so dependent on the music industry, has turned upside down, but the impacts are being felt in the broadcast world as well.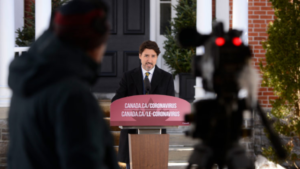 Many of us are reaching out to our clients, working with them to leverage Internet technology to, at the least, keep a relationship going with audiences, and in the case of broadcast, fulfilling an essential service mandate.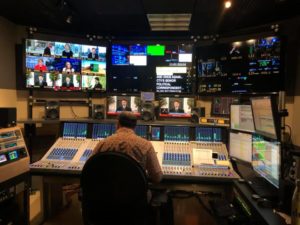 BellMedia's CTV Agincourt production facility normally has 1400 employees,but only 400 are currently in the building, and stringent best-practices are in place to prevent staff from becoming infected by Covid-19.
With their Pisces system and of course their recent Real-time musical collaboration over IP "experiment", showcased by Michael Nunan, Senior Manager for Broadcast Audio and Post Production Operations at Bellmedia at our recent Toronto AES Members Showcase meeting in February, Michael is potentially capable of running the National News from his living room (hasn't done so yet, but may soon come to that point) while much of the supporting production team operates collectively from isolated locations… and all of this has come together in actual practice in the last two weeks, wild-west Buck Rogers technology.
On Tuesday March 31, we're hosting an on-line Zoom Conference stream from CTV, who have graciously offered us access to their network ensuring that we have a big enough pipeline to handle the incoming connections.
Joining Michael will be members of his team to address specific issues.
This is the HOT topic of the decade, we are literally watching cutting edge technology, new work flows, etc develop right before our eyes.
Stay home, stay healthy and tune into to our webcast!!
Michael Nunan
Senior Manager for Broadcast Audio and Post Production Operations at Bellmedia
 He is Senior Manager for Broadcast Audio and Post Production Operations at Bellmedia


_

As well as heading up the team that delivered the 2010 Olympics in full 5.1 surround sound, together with Josh Tidsbury, he created the musical theme package for the event, working with a composer and writer and then executing the strings, brass, percussion and choir recordings before mixing and editing for the final musical score. The iconic "I Believe" music is synonymous with one of Canada's finest moments on the world athletic stage.
_
For over a decade, he has been Professor at Seneca College of Applied Arts and Technology, Adjunct Professor at OIART in London Ontario, and Adjunct Professor, Sound Department at The Banff Centre.
_
He recorded and produced David Newland's latest release "Northbound" which was nominated for Blues & Roots Radio Album of the Year.
_
He is an AES member, and a frequent presenter at Toronto AES section meetings, presenting overviews of the 2010 Olympics, the 2015 PanAm Games, and chairing the section's 50th anniversary celebration in 2018, to name a few.
And yet with all that, he puts his pants on in the morning, one leg at a time, just like the rest of us.
This evening's event is brought to you by