7th Annual MEMBERS SHOWCASE

When: Tuesday, February 25, 2020
Time: 6:45 pm
Where: Ryerson University,
Eaton Theatre, Room RCC204
80 Gould Street, Toronto, ON
Corner of Gould and Church, east of Yonge St (Dundas Subway)
NOTE THE NEW START TIME! RYERSON DOORS ARE NOW LOCKED AT 7:00 pm.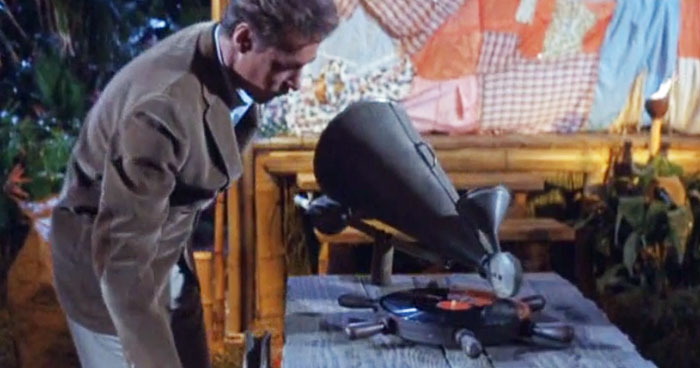 Pre-Meeting Dinner
4:45 pm The Pickle Barrel (corner of Edward and Yonge, just north of Dundas, in the Atrium)
We're expanding our networking time during the meeting, so you will have lots of opportunity to meet with fellow audio professionals while enjoying a light refreshment. But if you are having dinner beforehand and want to connect with other meeting attendees, this is an opportunity. 
_

We're not making formal reservations, that adds a 17 gratuity tax we have noticed, so just ask the servers for where people who have identified themselves as being AES members are sitting.

_

Be sure to plan to leave the restaurant with at least 10 minutes to get to the Eaton Theatre at Ryerson by 6:45 pm, our new meeting start.  At 7:00 pm, the building doors are locked.
About the Event
The Toronto section of the Audio Engineering Society is holding its seventh annual Members Showcase of Gadgets, Gizmos, Inventions and Technology on Tuesday, February 25, 2020.
Toronto AES members will be showcasing audio inventions, gear and software technology they have developed and created.
In the AES spirit of sharing knowledge, we will be taking this opportunity to honour, appreciate and admire some of the work our members create professionally, as hobbyists, developers, and inventors.
CALL FOR PRESENTATIONS
If you have a project or personal work you would like present to the membership, NOW is your chance to shine.
For example, if you have a piece of gear or audio software you've built, or helped create, or a recording or audio project that you'd like to share insight into, we'd like to see and hear it. All presentations should be limited to 15 minutes and can have an audio/visual component if necessary for the presentation.
This promises to be a fun night of discovery into the secret passions of your fellow AES colleagues, network with the audio professionals, and geek-out with no fear of reprisal.
Please submit your proposal to Rob DiVito for consideration this year.
THE PRESENTATIONS
Michael Nunan
Real-time musical collaboration over IP

Synopsis:
The experiment: 8 musicians, 3 locations. Performing together in real-time, supported by HD pictures, executed using standards-based IP.
Five Things to Know About Mike Nunan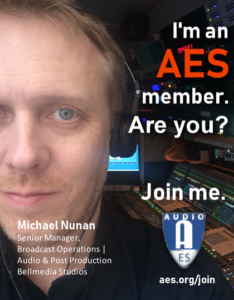 ---
Stephen Pitkin
Recreating an outboard signal chain using plugins: pros and cons, plus null test

Synopsis:
I recently had to recreate an outboard signal path using plugins in order to remove some artifacts from a mix.
Using the same plugs (maag EQ, SSL buss compressor and tape emulation) I was able to get a close proximation of the original mix to determine what caused the deterioration in the original outboard signal path and fix it within the digital realm.
Kind of a case for In-the-box processing, but also a springboard for discussion.
I thought the members might have an interest, since it is not always possible to do such a comparison. I would include a null test to point out the differences.
---
Doug McClement
Immersive Audio in a Mobile

Synopsis:
An overview of the challenges in designing and implementing the installation of height speakers in an existing audio mobile for recording and mixing while monitoring in 5.1.4
---
Peter Harper
Modern Acoustic Materials and Application

Synopsis:
My personal journey of using DeAmp Panels in Architectural Acoustics – The Holy Grail of a Transparent Absorber.
Polyethylene Terephalate (PET) – recycled pop-bottles as a cost effective and durable acoustic absorber.
Pseudo-Random, Maximum-Length Sequence Absorber / Scatterers.
How I implement the use of these materials in Architectural Acoustic applications.
Past Showcase Presentations
Check out presentations from past Members' Showcases.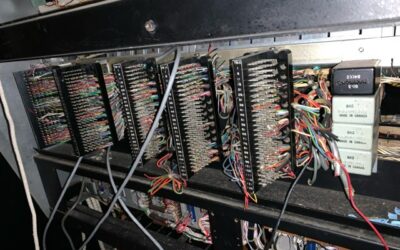 When: Tuesday, February 26, 2019
Time: 6:45pm
Where:
Ryerson University, Room RCC204, Eaton Theatre
80 Gould Street, Toronto, ON
read more
Event Location
Ryerson University
Eaton Theatre, Room RCC204
80 Gould Street, Toronto, ON