When: Tuesday, February 28, 2017
Time: 7:00pm
Where: Ryerson University, Room RCC361
80 Gould Street, Toronto, ON
Corner of Gould and Church, east of Yonge St (Dundas Subway)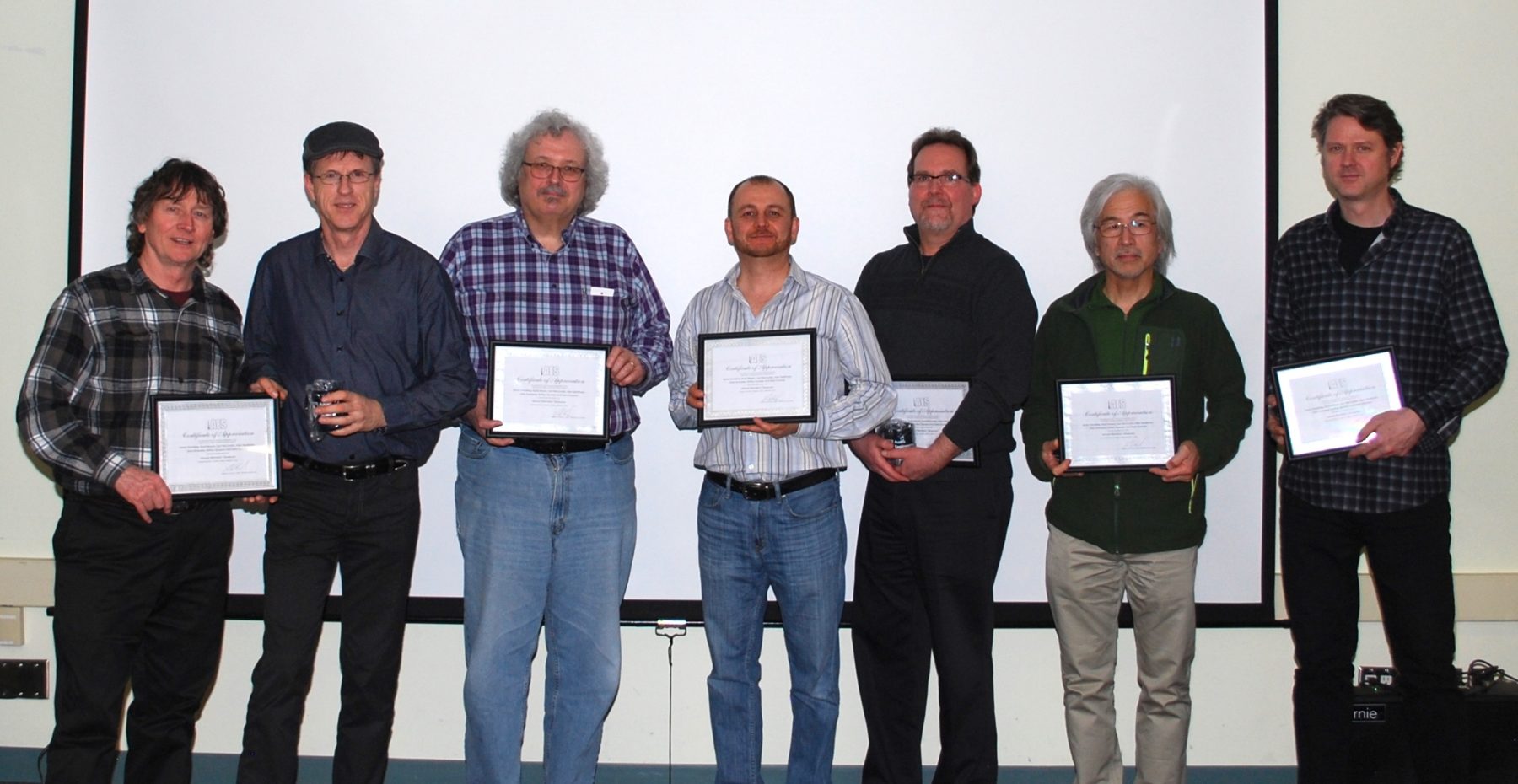 About the Event
The Toronto section of the Audio Engineering Society is holding its fourth annual Members Showcase of Gadgets and Projects night on February 28, 2017. Toronto AES members will be showcasing projects, hardware and work they have developed and created. In the AES spirit of sharing knowledge, we will be taking this opportunity to honour and appreciate some of the work that our fellow engineers do on a daily basis and as hobby projects.
This year's presenters include:
Bob Breen – Life beyond Audio School
Ike Zimbel – New product by Aurora Audio called the Aurora Stinger
Rich Wattie – SSL Duality installation at Eastman
Anthony Kazub – New WB pre amps
Ginn Anazawa – loudspeaker voice coil temperature sensing
Bob Snelgrove – Electronic product from the "Bob Snelgrove Hobby Series"
Buck Moore – Soundtrack Mapping – an extention of the D Curve
If you have a project or personal work you would like present to the membership, next year is your chance. For example, if you have a piece of gear you've built, or helped create, or a recording project that you'd like to share insight into, we'd like to see and hear it. All presentations should be limited to 10 minutes and can have an audio/visual component if necessary for the presentation.
This promises to be a great night to find out more about the work your fellow AES colleagues do.
Please submit your proposal to Rob DiVito before February 1, 2018 for consideration next year.
Pre-meeting Dutch treat dinner
5:00 pm at the Pickle Barrel
(corner of Edward and Yonge, just north of Dundas, in the Atrium)
Check out who presented at the Members' Showcase 2016.
Reviews by Karl Machat, Pictures by Karl Machat and Jeff Bamford.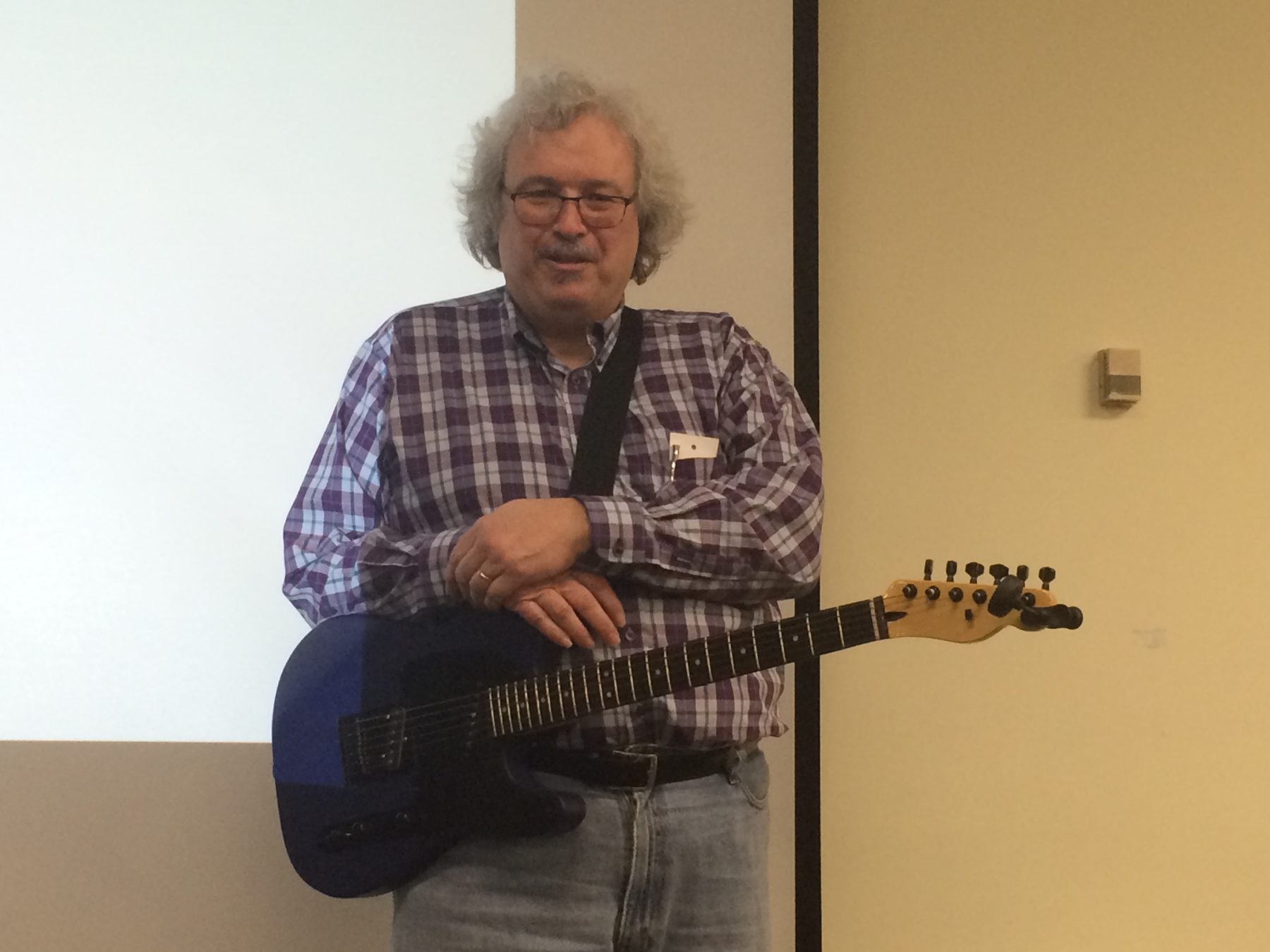 Denis Tremblay, Custom Guitar and Amp Design and Build
One of Denis' passions is guitars. He showed one he built from various pieces he purchased. The Telecaster type body blank was contoured and given a paint job without a polish simply because he liked the look without it.  He demonstrated through a "Bernie" amp which was built around Bell & Howell film projector sound amplifiers. The tone control is a Baxandall bass and treble control on a single shaft making it actually a tilt control. Some of the mods were: removing the pentode input stage; adding a 'proper' spring reverb; and adding a tremolo. Everything was genuine 1958 technology. He had an assistant demonstrate the guitar/amp combo while Denis could discuss the various aspects more easily.s.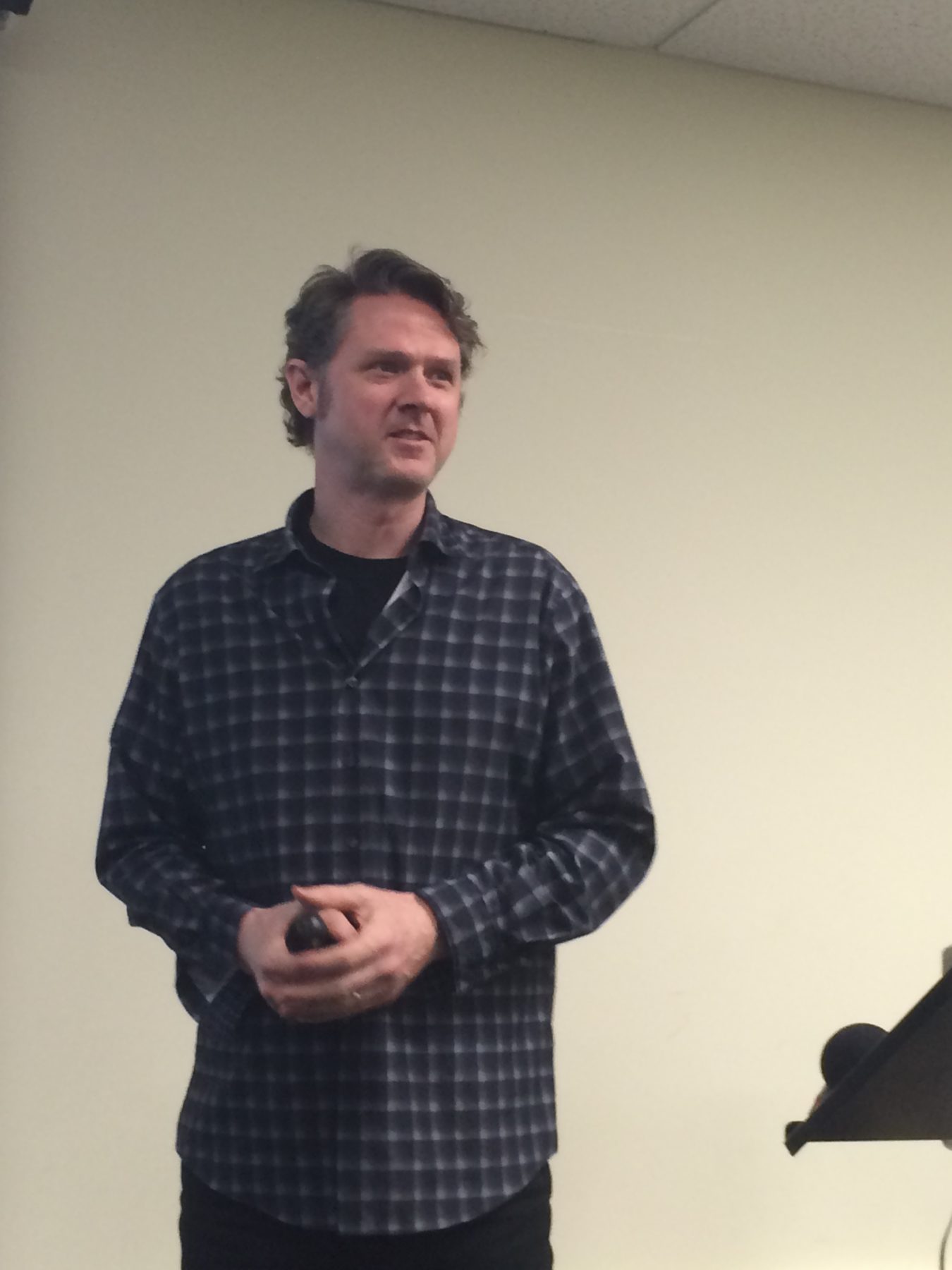 Buck Moore: "The D-Curve – The Anchor Element and Fishing the Human Voice Out of a Mix".
This is an EQ preset Mr. Moore developed for voice over the years (and after over 4000 shows) providing AV services for filmmakers and live events. The main aspect involves a 5 dB cut between 320 and 450 Hz with a not-too-wide bandwidth. It assumes the microphone is flat from 100 to 1k Hz. From there Mr. Moore will make adjustments adapting for the mic and venue.
He demonstrated the curve with some playback samples: without the D-Curve, with the D-Curve, D-Curve with compression, and finally D-Curve with compression and make up gain. His goal is to make things cut through a little better by providing vocal clarity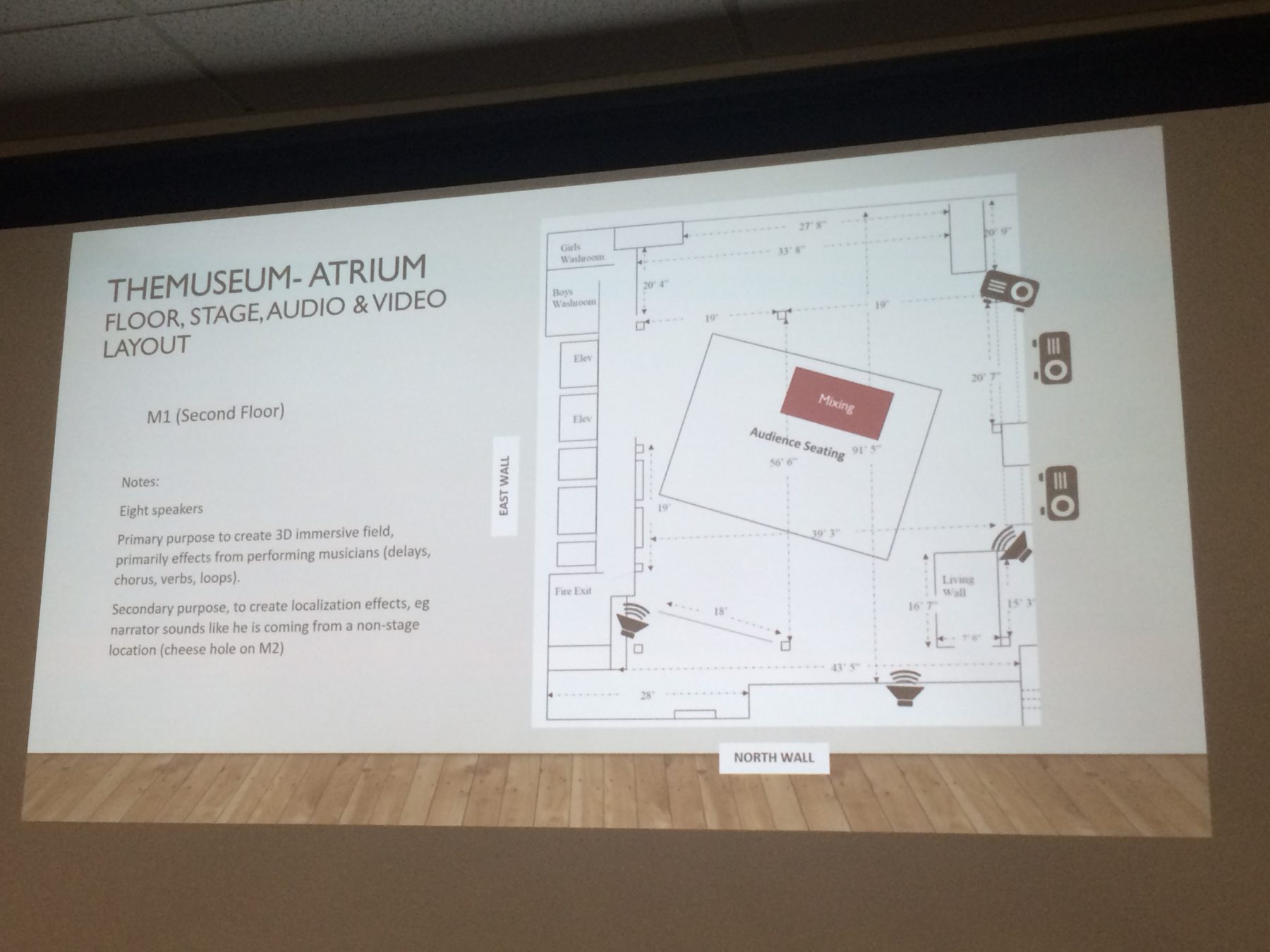 Earl McCluskie and Alan Hardiman: 3D Immersive Live Concert Audio and Video
Earl McCluskie and Alan Hardiman described a multimedia application where source-oriented reinforcement and sound design are combined with video projection mapping and lighting to create a dynamic 3-D immersive live concert experience for the audience.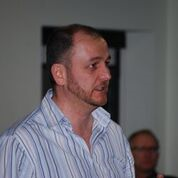 Artur Ayvazov, R2R Audio
Artur Ayvazov discussed his company R2R Audio. They utilize a "different approach to research, development and design of acoustic systems". Their two fundamental principles are: musical and vocal signals have nothing in common with a stationary sine wave signal; and impulse signals and a speaker's acoustic impulse response are the signals that should be used for measurements. One of their main products is a line of single, real, full-range loudspeakers.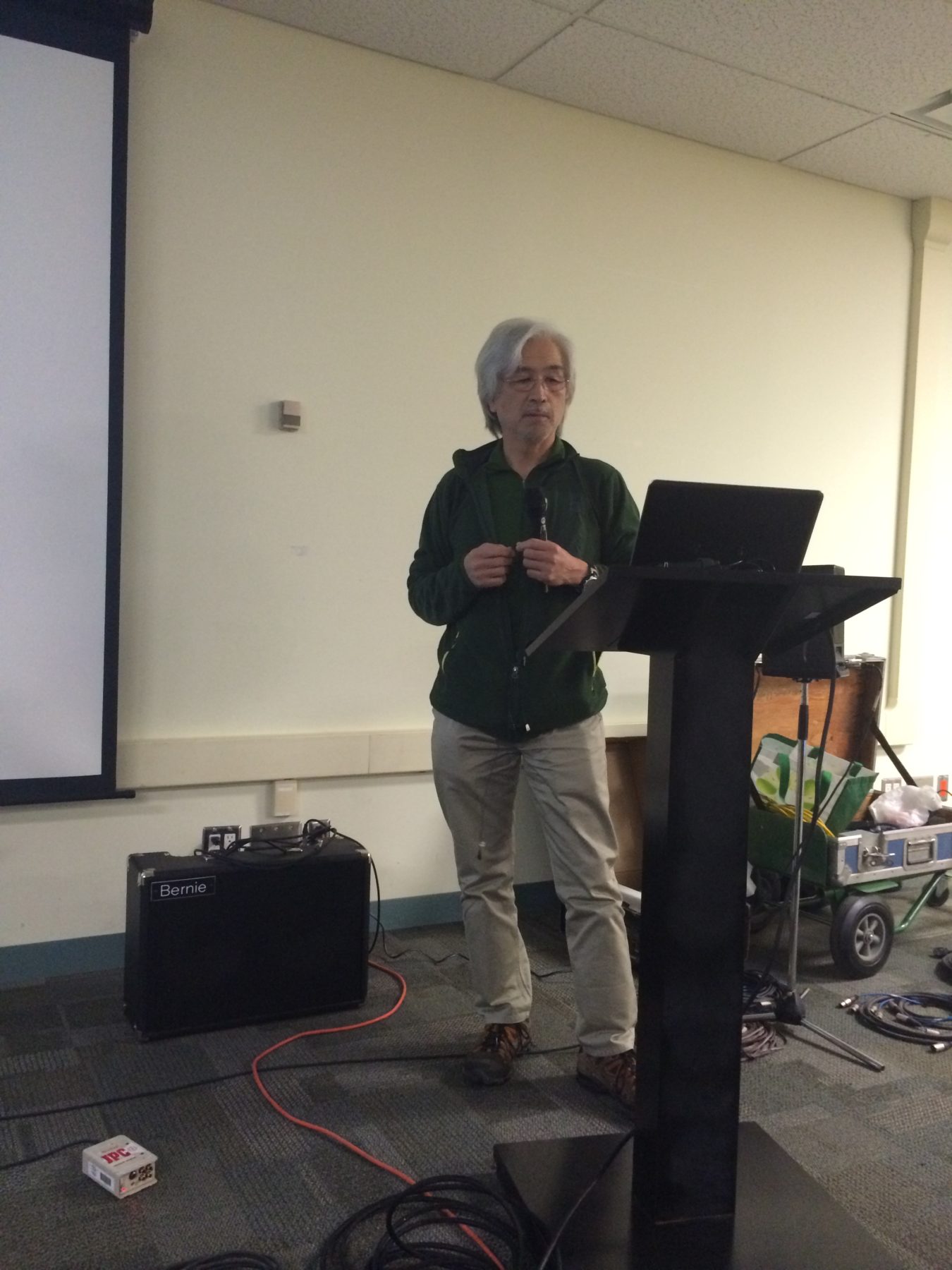 Ginn Anazawa
Ginn Anazawa's presentation was titled "Electrical performance of headsets designed specifically for cellular phones and other portable devices". He discussed EMI and crosstalk, transducer types, shielding, headset cable arrangement and different design solutions. He also went over measurement procedures and showed typical test results for different designs.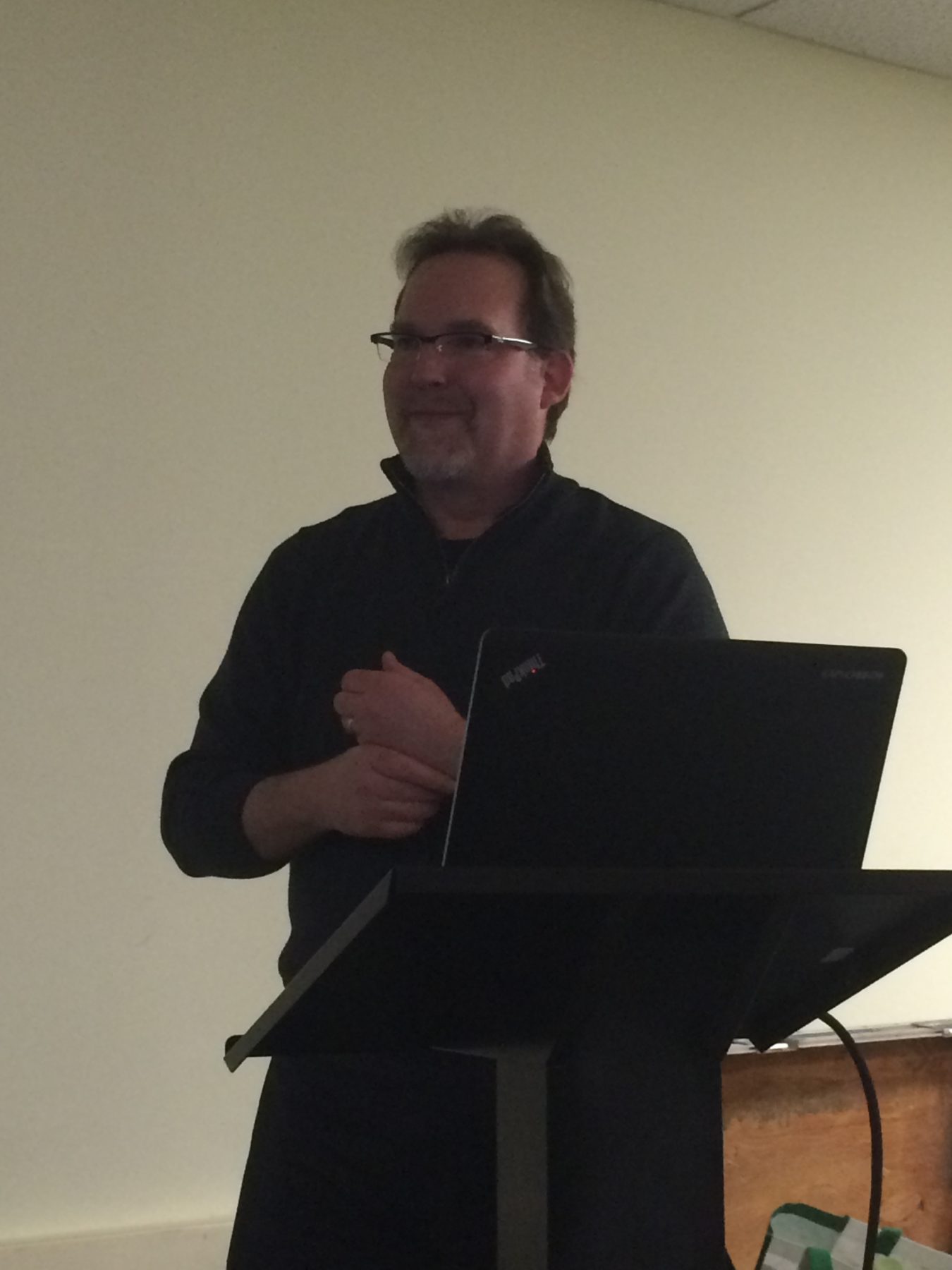 Dave Dusman, recording project
Dave Dusman is a classical recording engineer from Buffalo and his talk was titled "Classical Guitar: A Recording Session in High Resolution". He played samples allowing us to hear the various mic pairs and make comparisons, and followed that with a simple down-mix version.
Check out who presented at the Members' Showcase 2015.
Reviews by Karl Machat, Pictures by Frank Lockwood.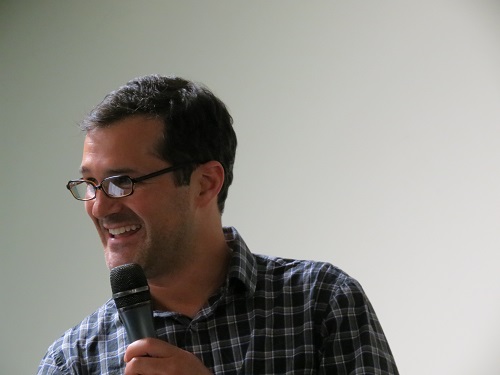 Rich Wattie and Eastman School of Music Percussion Ensemble recording
Rich Wattie, of Eastman School Of Music, is a graduate of the Peabody Conservatory of Music. He discussed the recording of a piece he produced (written by one of his professors, Michael Burritt) of the Eastman School of Music Percussion Ensemble. He displayed a video of the final edited performance, provided session highlights, and post production notes.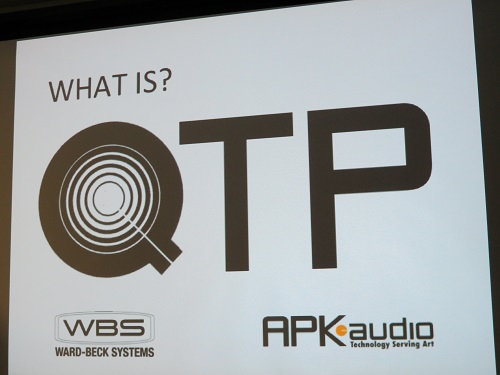 Anthony Kuzub (APK Audio) and Quad Twisted Pairs
Anthony Kuzub, of APK Audio, discussed a "new way of moving analog audio": Quad Twisted Pairs. The engaging presentation on cables involved trivia, background, reference to Neil Muncy's AES paper "Noise Susceptibility in Analog and Digital signal Processing Systems", as well as current problems, solutions and trends (current and growing – such as audio over I.P.)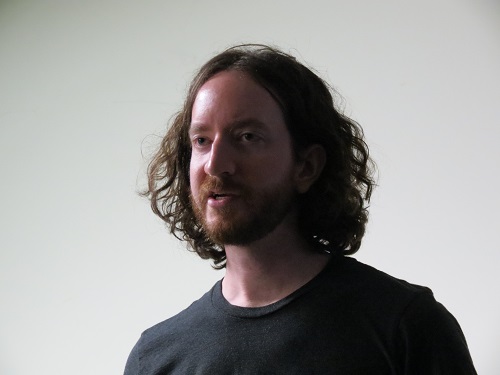 Matt Weston, Journey of a Home Studio Entrepreneur
Matt Weston, of Swamp Songs Recording Studio, presented a talk entitled 'Journey of a Home Studio Entrepreneur'. The presentation used a recent album project by The Dyadics as a focal point to illustrate this journey. His talk included slides of his evolving studio setups  over the past years. Audio playback of two versions of a mix (one from 2010 and the other just recently completed before the meeting) book ended the presentation.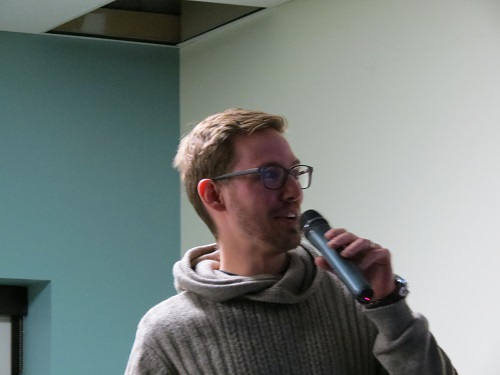 Cameron Britton, Ubisoft Toronto, sound design of the video game "Assassin's Creed Unity||
Cameron Britton, sound designer at Ubisoft Toronto, discussed sound design of the video game "Assassin's Creed Unity". His presentation traced the sound design process for video games, from conception to creation to implementation, using the example of one of the character's weapons: The Phantom Blade. This was done via audio samples. He discussed the difference between film sound and game sound (film: linear and controlled; games: adaptable). Game sounds have to be tolerable over an extended period of time.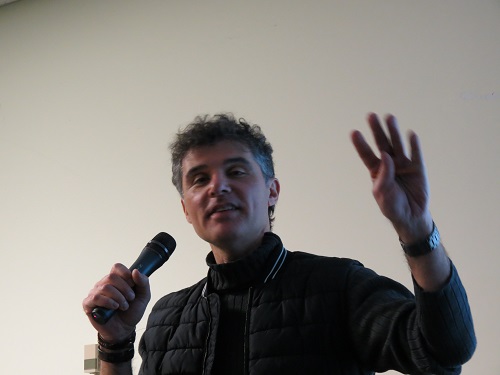 Rob DiVito, pianist Stewart Goodyear, Rachmaninoff Piano Concerti 2, 3
Rob DiVito, of Society of Sound, discussed a recent mixing project involving pianist Stewart Goodyear performing the Rachmaninoff Piano Concerti 2 & 3 with the Czech National Symphony. The process required importing 33 tracks from Protools to Rob's DAW of choice: Logic. The tracks were unidentified, with no session notes either.  Part of the project involved understanding the layout of the mic setup, which included many spot mics and a few room mics. Many types of software reverb, as well as post mid-side technique were used to get the final mix.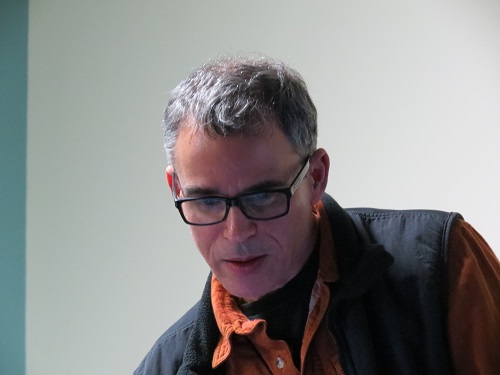 Ike Zimbel (Zimbel Audio) and audio interface devices with all-analog circuitry
Ike Zimbel, of Zimbel Audio, presented a line of audio interface devices with all-analog circuitry, inspired by the late Neil Muncy. Some of the uses: Replacement input module for the Ramsa WP-9000 series amplifiers; balancing kit for the normally unbalanced 2 mix insert return on Neotek audio consoles; interface and balancing device for the 1/8 inch output of various devices like iPod, iPhones, laptops, and toys;  adding balanced direct outputs to mixing consoles that did not originally have them; and Ike's featureless DI. Depending on the configuration, the systems start at around $195.00.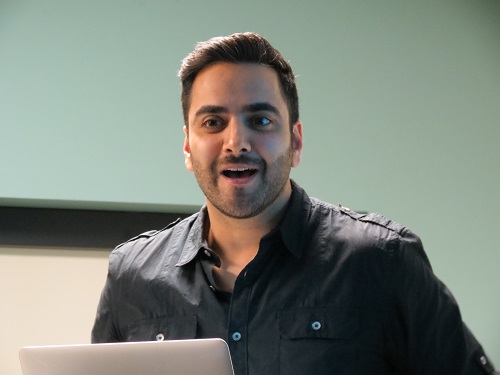 Kamlesh Lal, Notetracks
Kamlesh Lal is the Founder of Notetracks. Notetracks is an iOS App for audio professionals. It's designed like a DAW and allows audio pros and musicians to take descriptive notes on audio pieces. The note-taking is in the form of text, symbols and free hand sketch drawings. It's a mark up tool for audio. The complete notes can be exported in PDF format. It sells for iPad for $4.99. He closed the talk with a demo. In question period it was noted there was a slight resemblance to Soundcloud. Kamlesh acknowledged this but noted that Soundcloud emphasized a social media aspect.
Check out who presented at the Members' Showcase 2014.
Reviews by Karl Machat, Pictures by Frank Lockwood.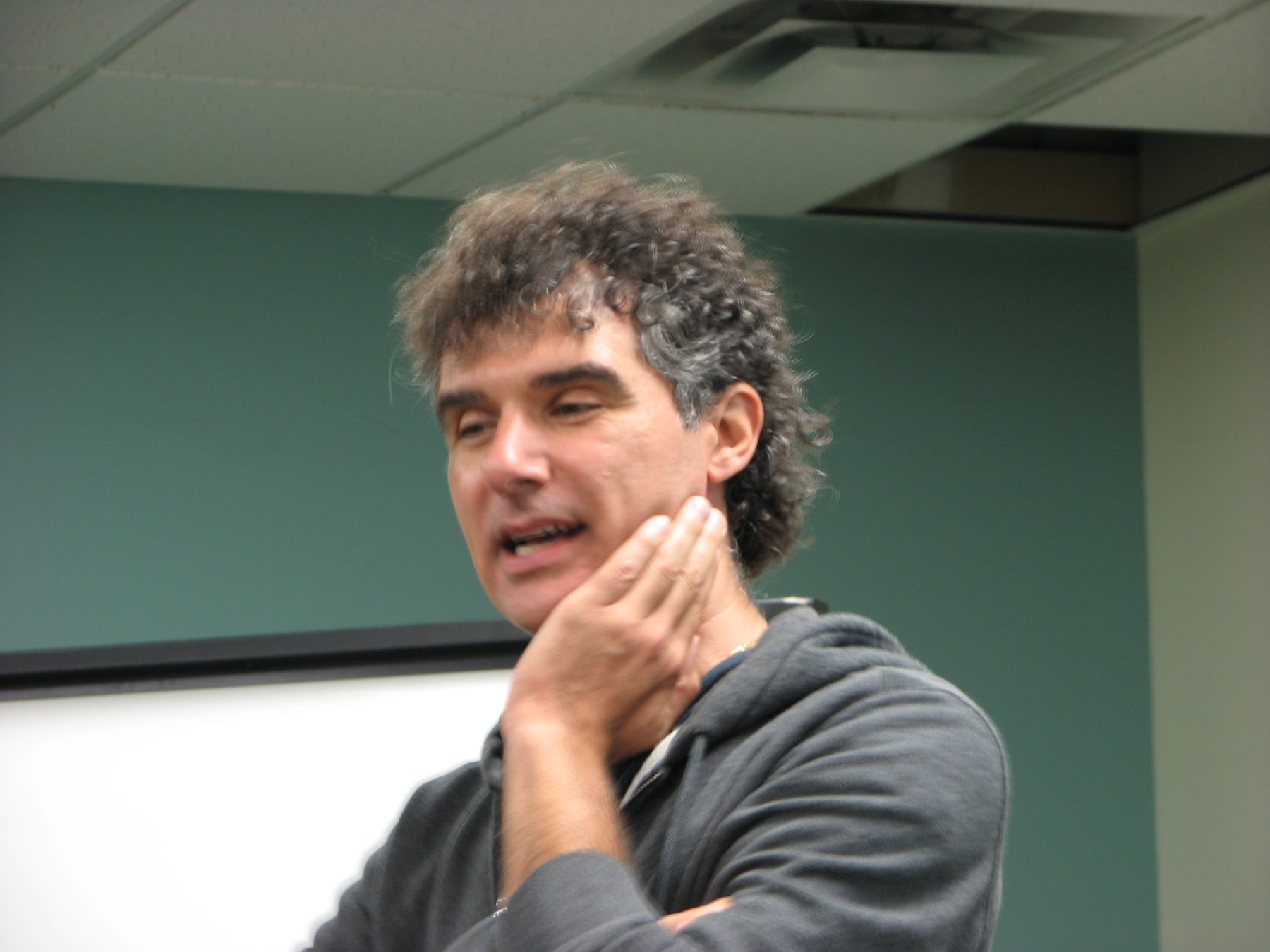 Rob DiVito and Elmer Isler Singers recording
Rob DiVito discussed his recent recording project with the Elmer Isler Singers highlighting his mic setup. He played some audio excerpts of the sessions and briefly discussed his miking setup with the aid of visuals.
Mike layout for Elmer Isler Singers recording project.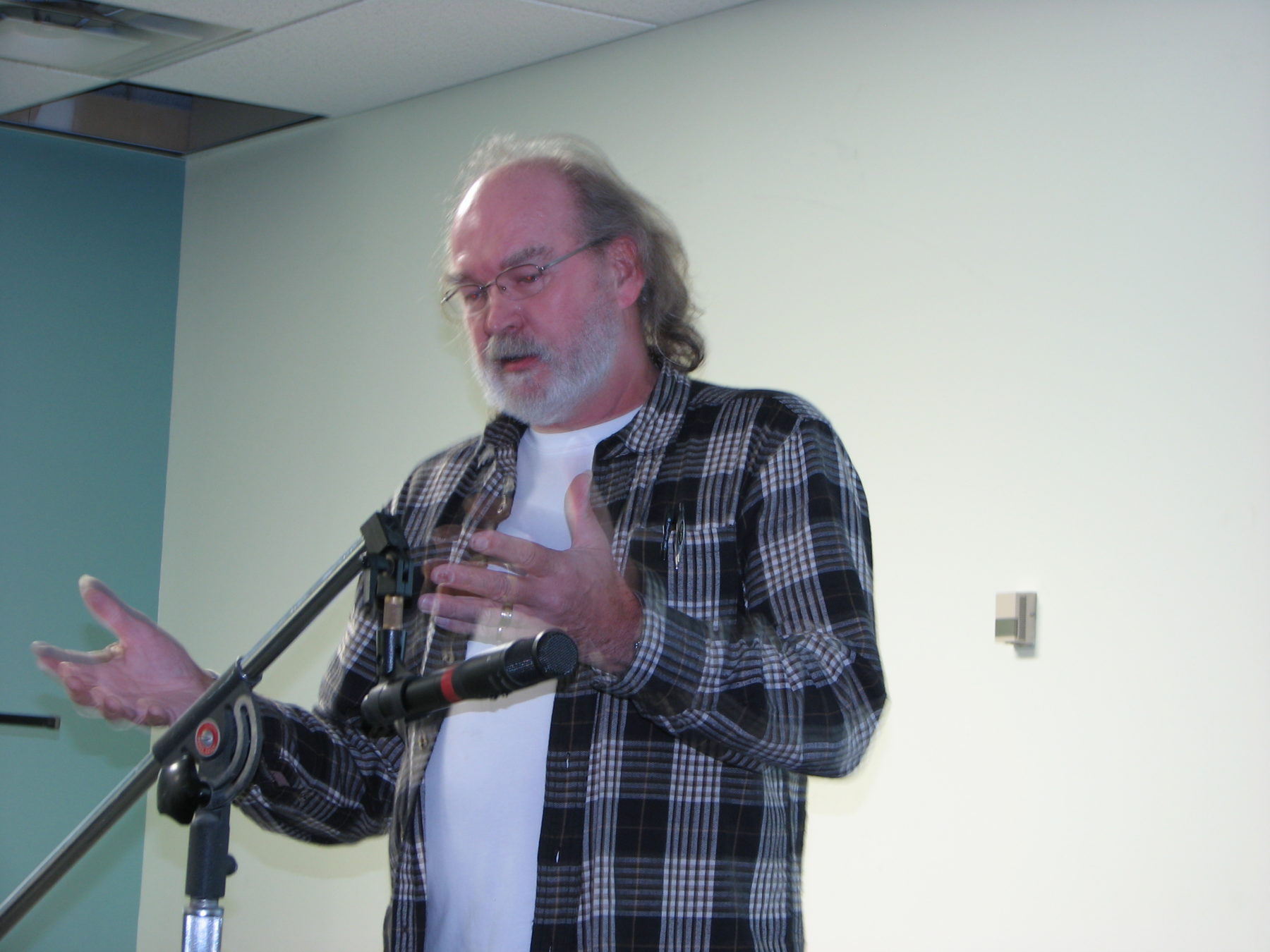 Sy Potma and Mic Pro swivel adapator
Sy Potma talked about his custom mic swivel adaptors which, amongst other things, permitted easy adjustments, positive locking, allows for quick changes and has no need for external tools such as screwdrivers, hex keys, etc. He has 3 models that match existing mic stands. His presentation comprised visuals and actual working models. When asked what was unique about them, another audience member replied "it works!"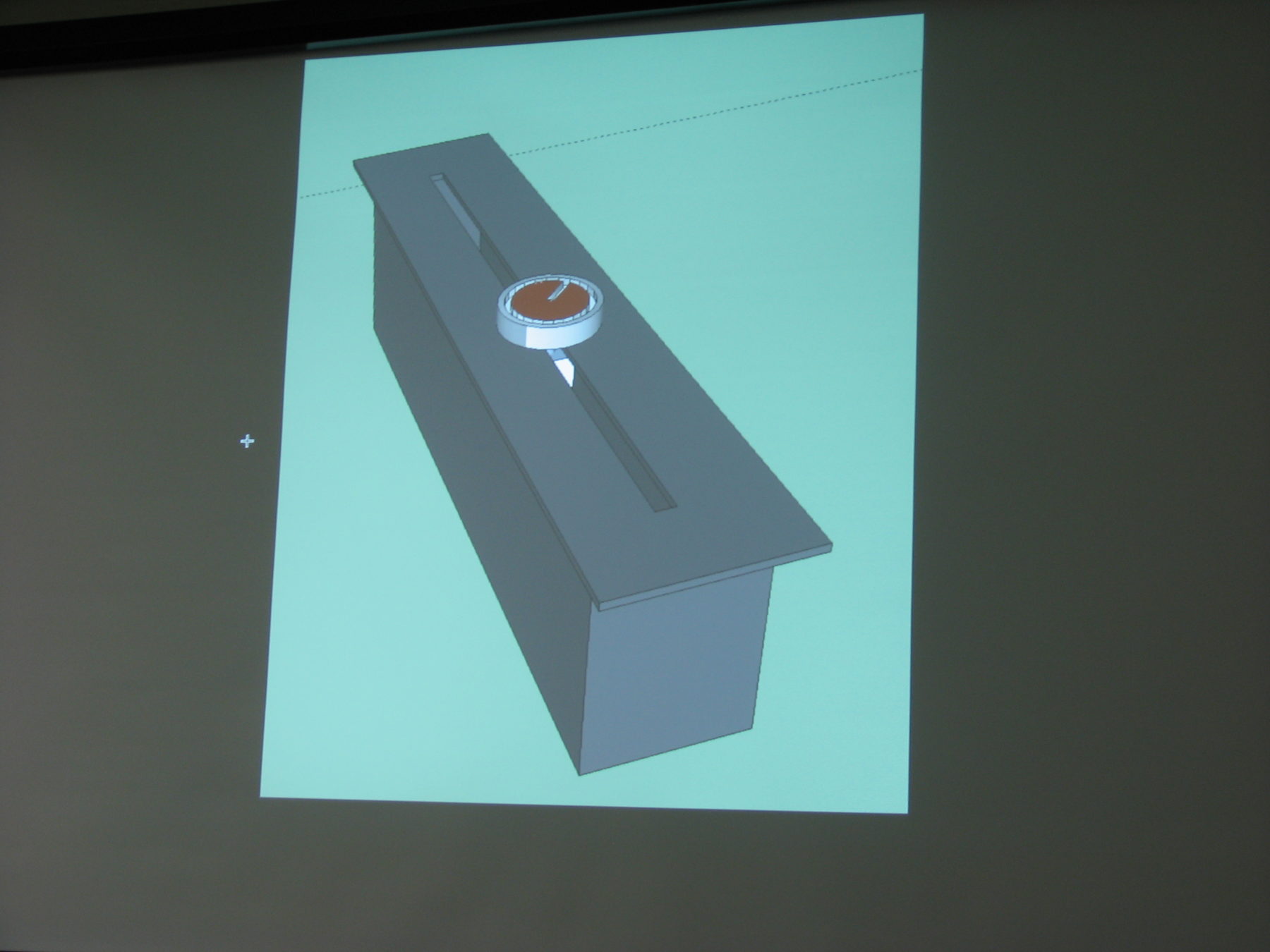 Anthony Kuzub, single point level-pan fader
Anthony Kuzub, of Revolution Recording, demonstrated his aid to quickly set up Dolby surround utilizing Pythagorean 3-4-5 triangles. He also discussed his single point level-pan fader. This was a fader with a rotary pan pot. This was a concept that had many applications including MIDI control, as well as surround control. He had demo models for the audience to experiment with.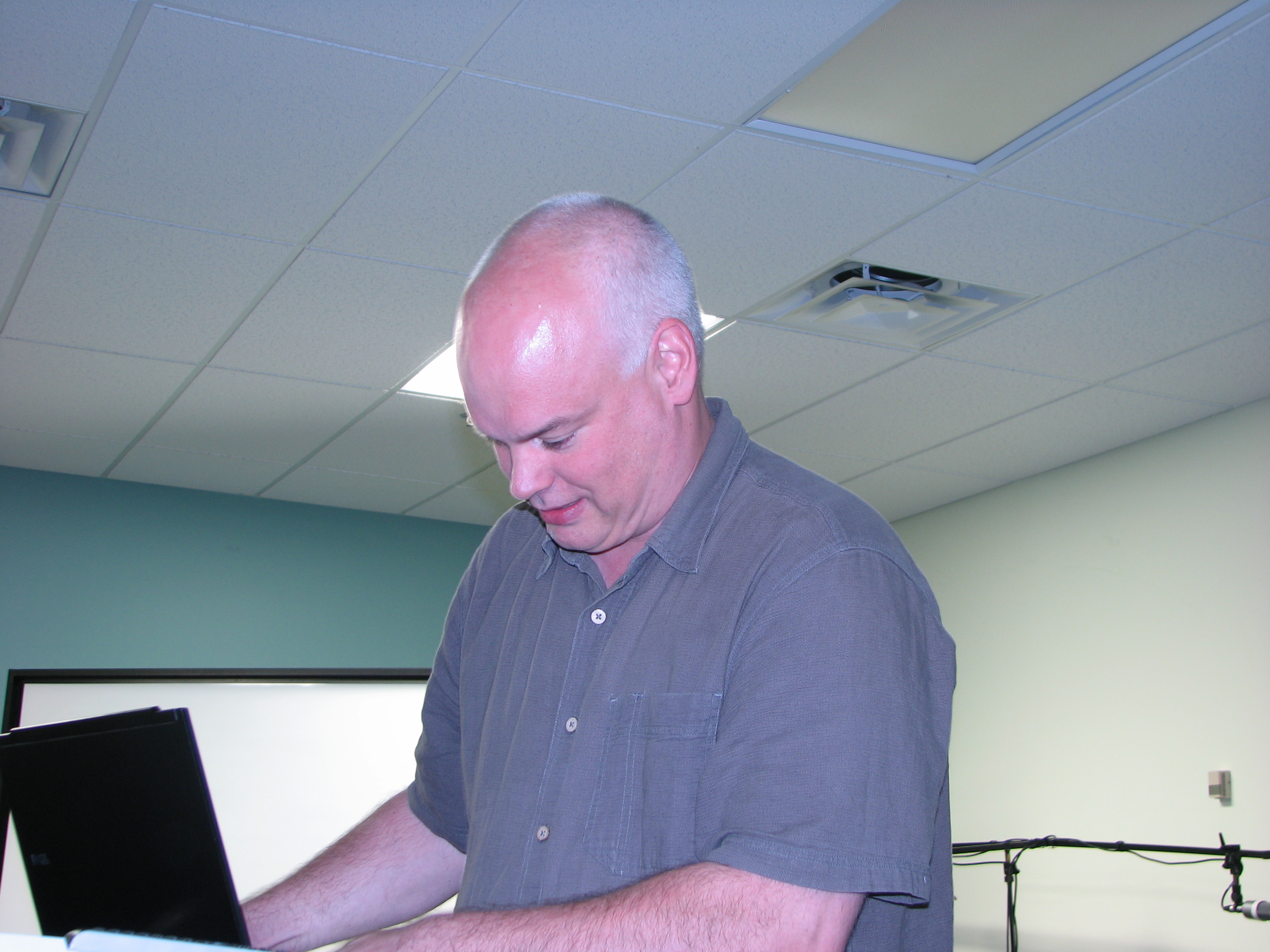 Ron Skinner remastered Done on Bradstreet's CD
Ron Skinner discussed his obsession with recording engineer Norman Petty who recorded 12 top 10 hits with Buddy Holly and the Crickets. This obsession led to a story about Done on Bradstreet, a band from Calgary that recorded with Petty in the early 70's. Ron ultimately re-transferred and remastered their less than stellar original digital transfers of those sessions from long ago. He utilized hardware and software from Universal Audio for the process. He had CD's to hand out for the audience members. Responding to a question: no post audio restoration was needed for the sound. The original session tapes had no tones however.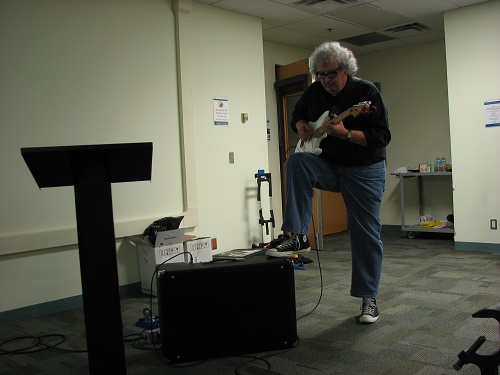 Denis Tremblay and a custom solid state tube-sound amplifier
Denis Tremblay discussed his 'unhealthy' obsessions with guitar amplifiers. Working with high resolution all day, he relishes the opportunity to work with something decidedly 'lo-fi' on his own time. He talked about the history of guitar amps and their design. He showed off his attempt at building a solid state guitar amplifier. There are a number of 'tricks' he used to get a 'reasonably' tube like sound which he didn't elaborate on!
The highlight was when he played his guitar to demonstrate the tone. After his performance, he demoed the tremolo levels, colour control on the reverb (which uses 3 springs instead of 2), and the built in compression circuit. In response to a question, the compressor is placed after all other effects are summed together. And, by the way, all the controls go up to 11!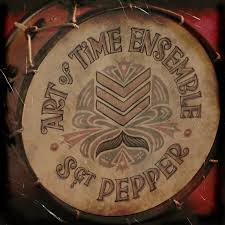 Earl McCluskie and Sgt Pepper live concert CD recording
Earl McCluskie presented a few tracks from the The Art of Time Ensemble which is a project he recently recorded and produced, involving hybrid pop-classical arrangements of the entire Sgt. Pepper album by The Beatles. He played the audience several samples including "Lucy in the Sky with Diamonds", "Lovely Rita", and "A Day In The Life".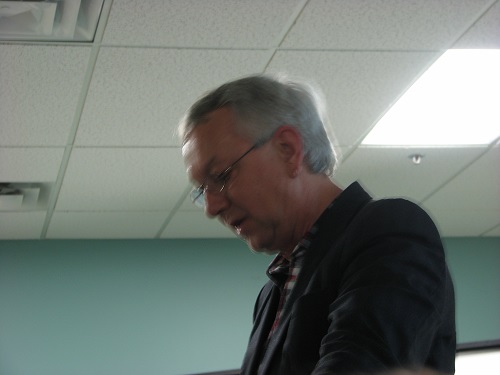 Ross Whitney and the Bucket of Volts
Ross Whitney of Plitron Manufacturing talked about a custom PA system comprising a number of pieces. One of them was a balanced power conditioner he called the "Bucket of Volts". The idea behind it is that the two secondary coils cancel out the common mode noise. Displaying a picture of the prototype produced laughs from the audience because the components are housed in an actual bucket!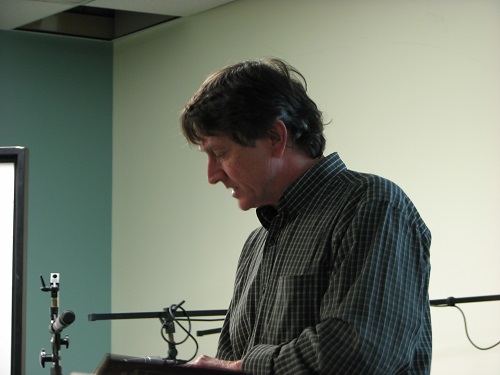 Alan Hardiman promotes respected book by Phil Giddings
Alan Hardiman, of Associated Buzz Creative, spoke about having set up a website for the sale of the republication of the long-out-of-print book by Phil Giddings "Audio Systems Design and Installation" which is being republished early October, after being out of print for more than 10 years.  The site is:
http://posttoronto.com/