6th Annual MEMBERS SHOWCASE

When: Tuesday, February 26, 2019
Time: 7:00pm
Where: Ryerson University,
Eaton Theatre, Room RCC204
80 Gould Street, Toronto, ON
Corner of Gould and Church, east of Yonge St (Dundas Subway)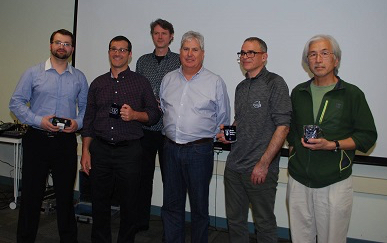 Presenters from Members' Showcase 2017
Pre-Meeting Dutch Treat Dinner
5:00 pm
The Pickle Barrel
(corner of Edward and Yonge, just north of Dundas, in the Atrium)
About the Event
The Toronto section of the Audio Engineering Society is holding its sixth annual Members Showcase of Gadgets, Gizmos, Inventions and Technology on Tuesday, February 26, 2019.
Toronto AES members will be showcasing audio inventions, gear and software technology they have developed and created.
In the AES spirit of sharing knowledge, we will be taking this opportunity to honour, appreciate and admire some of the work our members create professionally, as hobbyists, developers, and inventors.
CALL FOR PRESENTATIONS
If you have a project or personal work you would like present to the membership, NOW is your chance to shine.
For example, if you have a piece of gear or audio software you've built, or helped create, or a recording or audio project that you'd like to share insight into, we'd like to see and hear it. All presentations should be limited to 15 minutes and can have an audio/visual component if necessary for the presentation.
This promises to be a fun night of discovery into the secret passions of your fellow AES colleagues, network with the audio professionals, and geek-out with no fear of reprisal.
Please submit your proposal to Rob DiVito before February 8, 2019 for consideration this year.
SUBMISSIONS ARE NOW CLOSED FOR 2019
THE PRESENTATIONS
Alan Clayton
Innovative Sound System Installations

Synopsis:
A new speaker system for Rochester's East High School Auditorium.  |  Update of four Sound reinforcement systems in Wellsville High School.  |  Design and Deployment of a divisible multipurpose room with conferencing and voice lift at the New Headquarters of Tompkins Bank and Trust.
Bio: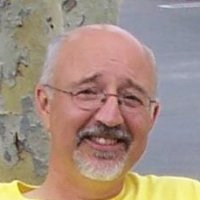 Alan M. Clayton has been a member of the AES since 1987. The Current Chairman of the Toronto AES, he has been a member of the Toronto Section since 1989. He has 30+ years of experience in the design and installation of commercial A/V systems.
He holds a Bachelor of Engineering Technology from The State University of New York College at Buffalo, and an MBA from Canisuis College. He currently works as a sales engineer for Solutionz Inc. the 7th largest A/V integrator in the U.S. (according to Systems Contractor News.)
---
Jim Cox
An Immersive Microphone Array: how it works

Synopsis:
This patented array of 30 pairs of microphones in an open sphere offers a unique opportunity to present a 360 degree by 360 degree sound field. The digital signal processing will be designed to provide live and recorded audio in broadcast and theatrical output formats, and in custom formats.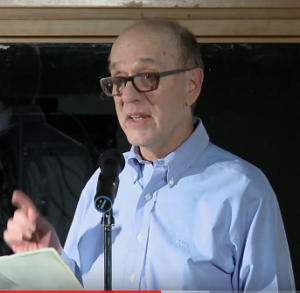 Bio:
Jim Cox is a retired Sheridan College Media Arts professor in film and audio, with a particular interest in sound design for film and broadcast. He attended the Eastman School of Music Summer Advanced Recording Institute, and is a life member of the Audio Engineering Society and a past chair of the Toronto Section.
---
Anthony Kuzub
Automated Audio Test and Measurement system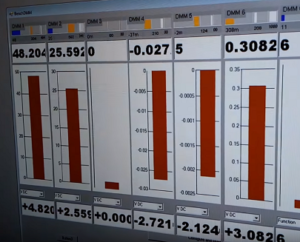 Synopsis:
Testing an analog mixing console requires hours of patching and un-patching. To avoid these efforts, Anthony created a custom Automated Audio Test and Measurement System for mixing console testing.
This presentation will cover how to automate thousands of measurements across dozens of channels of a mixing console or device under test. Combining programable Signal Generators, Power Supplies, Impedance Matching Transformers, Matrixing Routers, Oscilloscopes, Spectrum Analyzers, and Digital Multi Meters with a whole suite of custom made software; this system is a demonstration of how to test everything all at the same time.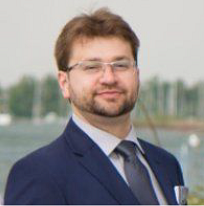 To see the system in action watch this youtube video: https://youtu.be/Gh3X7qfnVNc
Bio:
AES member profile: http://www.aes.org/aes/APK
---
Kevin Lyver
Ward-Beck Premo-221

Synopsis:
A quick live demonstration of what Ward-Beck has been working on over the last number of months, and why we've been working on them.
Ward-Beck Premo-221 controlled VIA windows computer running AES70 controller. The beginning to software defined networking, and software defined hardware.
Bio: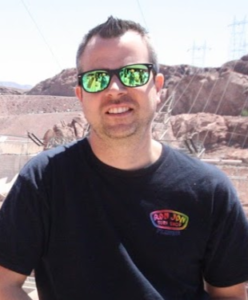 Kevin Lyver is President of Ward-Beck Systems, a 50+ year old Toronto company specializing in design and manufacture of audio solutions for broadcasting.  A 2001 graduate from the Fanshawe Business Marketing program, Kevin started in the stockroom in 2002 and worked his way up. He has attended many NAB, AES, IBC, and Infocom events and participated in IP Showcase events directed by  AIMS. He has experience with government funded programs such as SR&ED, IRAP, NSERC, ICTC SBDI, OCE, and MEDG. He directed the design and manufacture of SMPTE 2110-30 compliant devices and has injected a 'startup' mentality to the company. 
Kevin is a strong believer in standards for processes and equipment designed for IP broadcasting and supports the crossover between AES and SMPTE standards. As the father of two young boys, he enjoys woodworking, tractor time and forest walks with his family.
---
Ivan Popov
Humanizing non multi-sampled drums using Ableton Live tools

Synopsis:
I will use Max For Live tools to employ multiple techniques based on analysis of multi-sampled drums. Those techniques should result in slight continuous variation of percussive sounds that can be used in mixing environment to give non-multi-sampled drum samples a bit of variation during playback.

Bio:
Ivan Pop graduated from Waterloo in 2014 and started a small music studio specializing in video game and film music. I been doing mixing and mastering for about 3.5 years. I mix everything in the box, so I like to experiment with different techniques to make mixing not only easier, but also more human and exciting.
---
Bob Snelgrove
Factors influencing the low noise design of the RH1 PreAmp
Noise reduction in analog audio circuit design.

Synopsis:
Johnson Noise is a fact of life and influences everything analog. Two complimentary approaches to it's optimization will be presented and a practical implementation will be shown in the form of a Hi-Fi preamp design/build.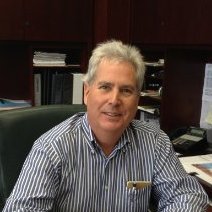 Bio:
Bob Snelgrove started life as an analog design engineer before things went horribly wrong. He has spent the last 45 years running GerrAudio Distribution and recently has found some time to revisit his former passion.
---
Denis Tremblay and Blair Francey
Custom Guitar/Amp Design and Build

Synopsis:
We are presenting two items:
The first is a solid body electric guitar crafted from a slab of aged pine barn floor estimated to be about 200 years old. The instrument is entirely shop made, even the magnetics pickups.
The second item is a third generation guitar amplifier that incorporates distinctive design elements.
The amplifier produces classic electric guitar tonalities and weighs but a fraction of the weight of competitive designs. Electrical efficiency of this design is remarkable in comparison to typical guitar amplifiers of similar capability.
Bio:
Denis Tremblay is President and Blair Francey is Co-owner and Treasurer/Secretary with Norfolk and Jarvis Audio Technologies Inc.  Check the website for full bios.
"I sought an enterprise to explore the more purely musical side of my technological soul. And here we are, building guitars, amps, and other worthy musical technologies.
Perhaps it will be history."  – Denis Tremblay
"We are motivated by a love of, a passion for, and a hands-on commitment to our personal vision of making the best affordable custom-made electric guitars and guitar amplifiers we can.
We believe we have succeeded in doing so, and we invite you to check out our instruments and amps and see if you agree." – Blair Francey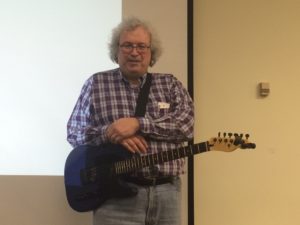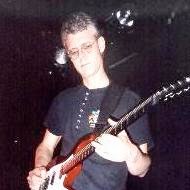 Past Showcase Presentations
Check out presentations from past Members' Showcases.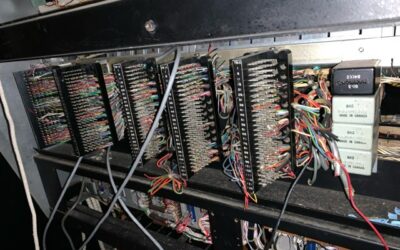 When: Tuesday, February 26, 2019
Time: 6:45pm
Where:
Ryerson University, Room RCC204, Eaton Theatre
80 Gould Street, Toronto, ON
read more
Event Location
Ryerson University
Eaton Theatre, Room RCC204
80 Gould Street, Toronto, ON