Members' Showcase 2014 Presentations
Reviews by Karl Machat, Pictures by Frank Lockwood.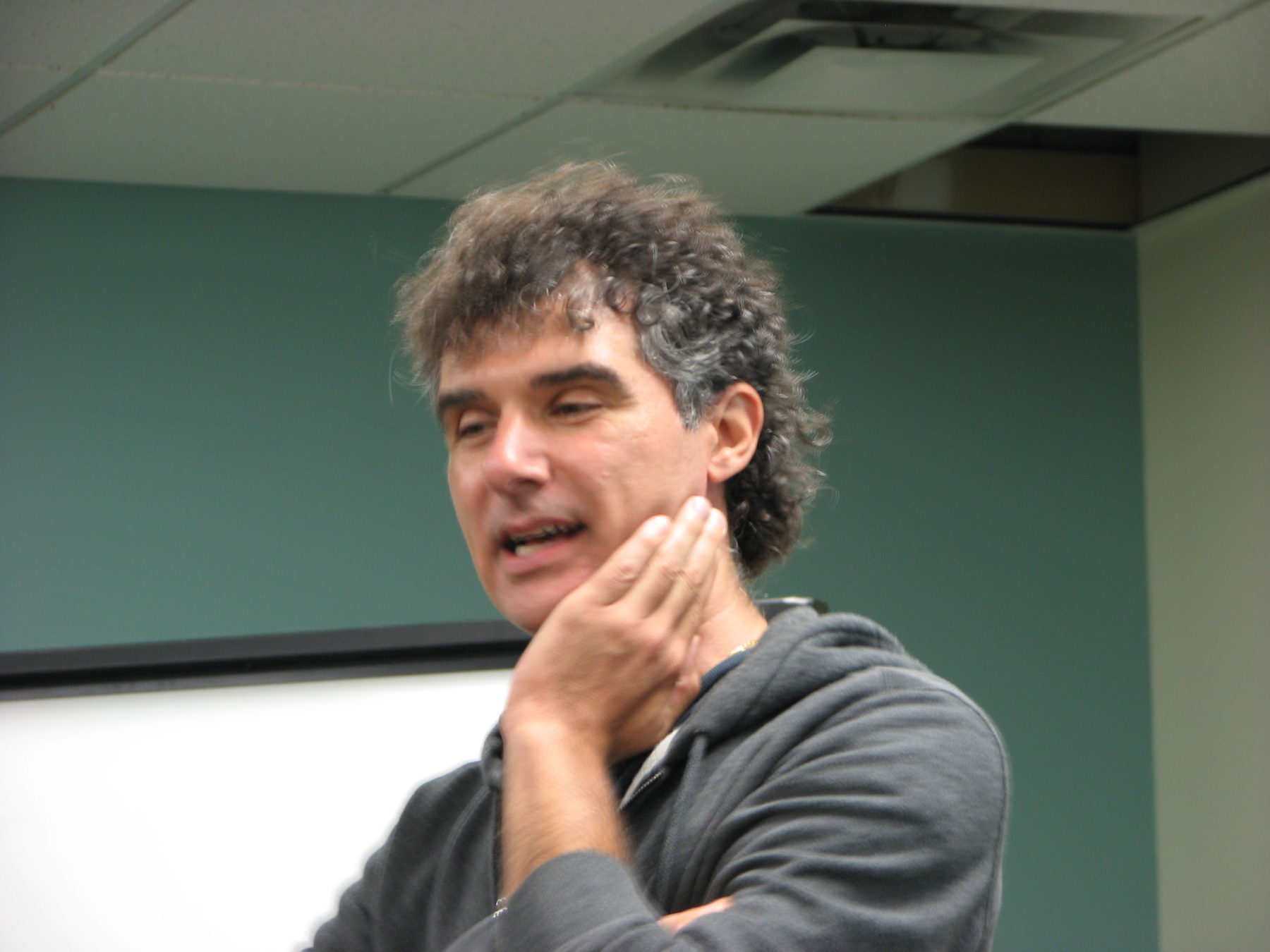 Rob DiVito and Elmer Isler Singers recording
Rob DiVito discussed his recent recording project with the Elmer Isler Singers highlighting his mic setup. He played some audio excerpts of the sessions and briefly discussed his miking setup with the aid of visuals.
Mike layout for Elmer Isler Singers recording project.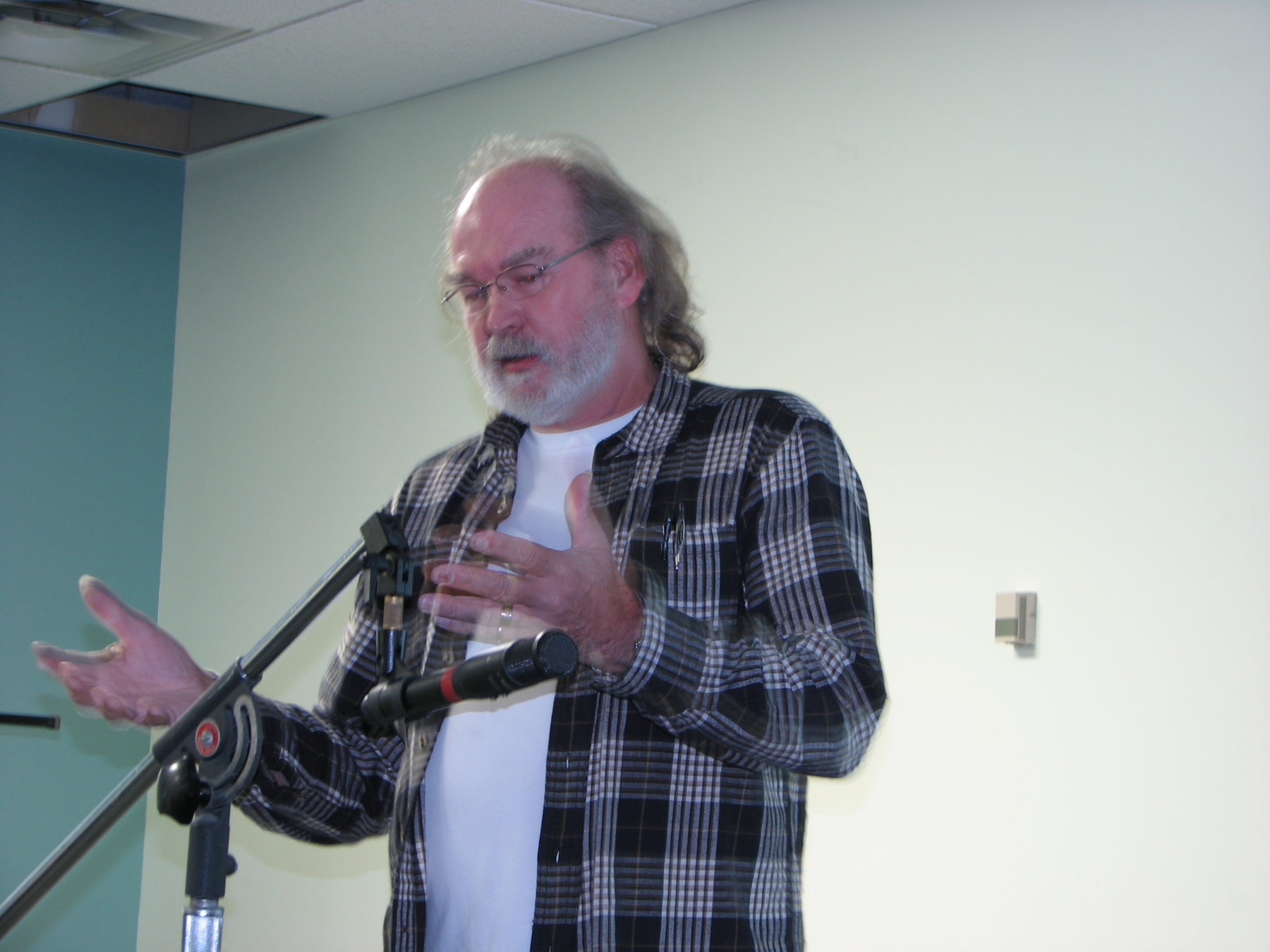 Sy Potma and Mic Pro swivel adapator
Sy Potma talked about his custom mic swivel adaptors which, amongst other things, permitted easy adjustments, positive locking, allows for quick changes and has no need for external tools such as screwdrivers, hex keys, etc. He has 3 models that match existing mic stands. His presentation comprised visuals and actual working models. When asked what was unique about them, another audience member replied "it works!"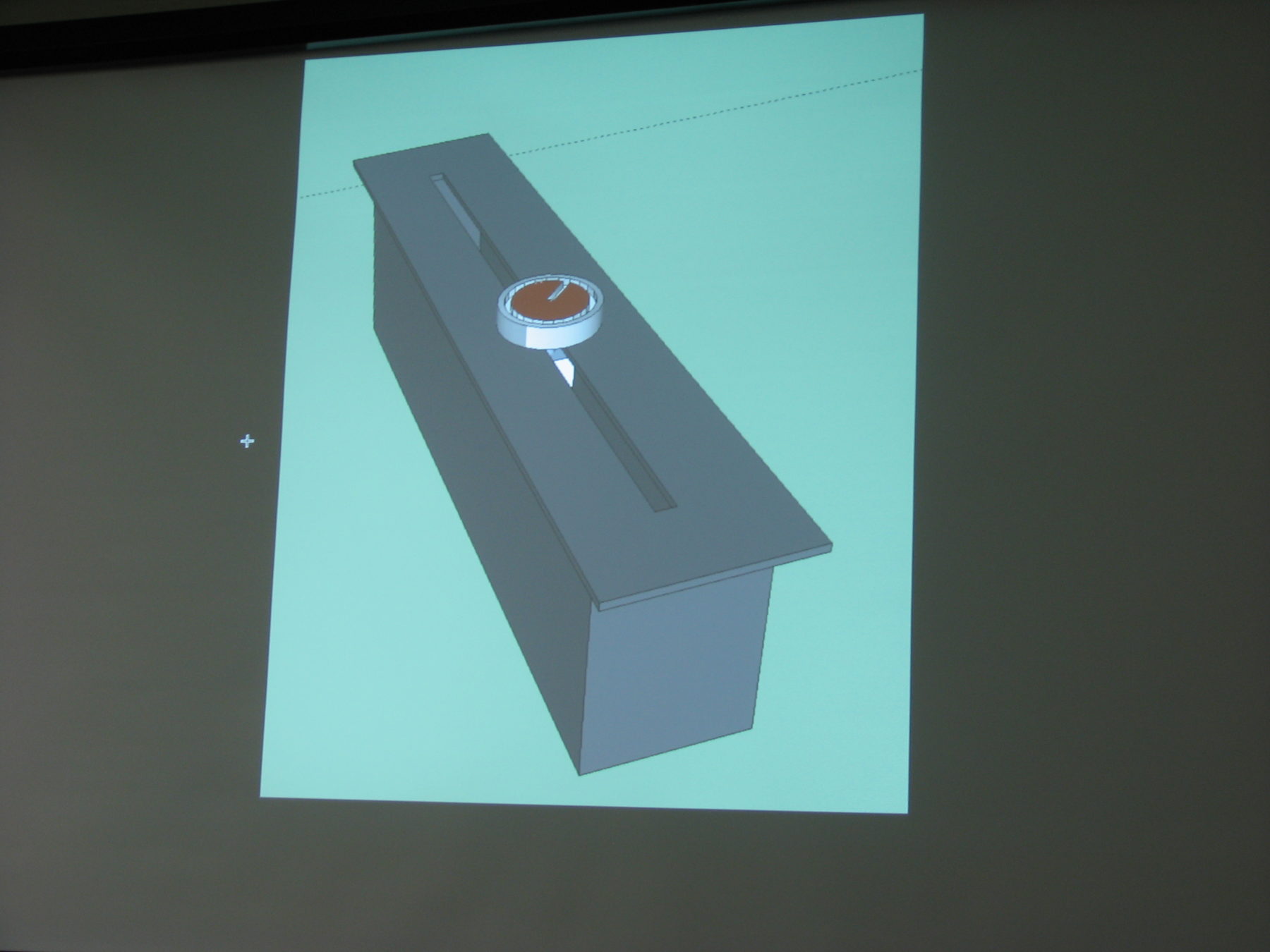 Anthony Kuzub, single point level-pan fader
Anthony Kuzub, of Revolution Recording, demonstrated his aid to quickly set up Dolby surround utilizing Pythagorean 3-4-5 triangles. He also discussed his single point level-pan fader. This was a fader with a rotary pan pot. This was a concept that had many applications including MIDI control, as well as surround control. He had demo models for the audience to experiment with.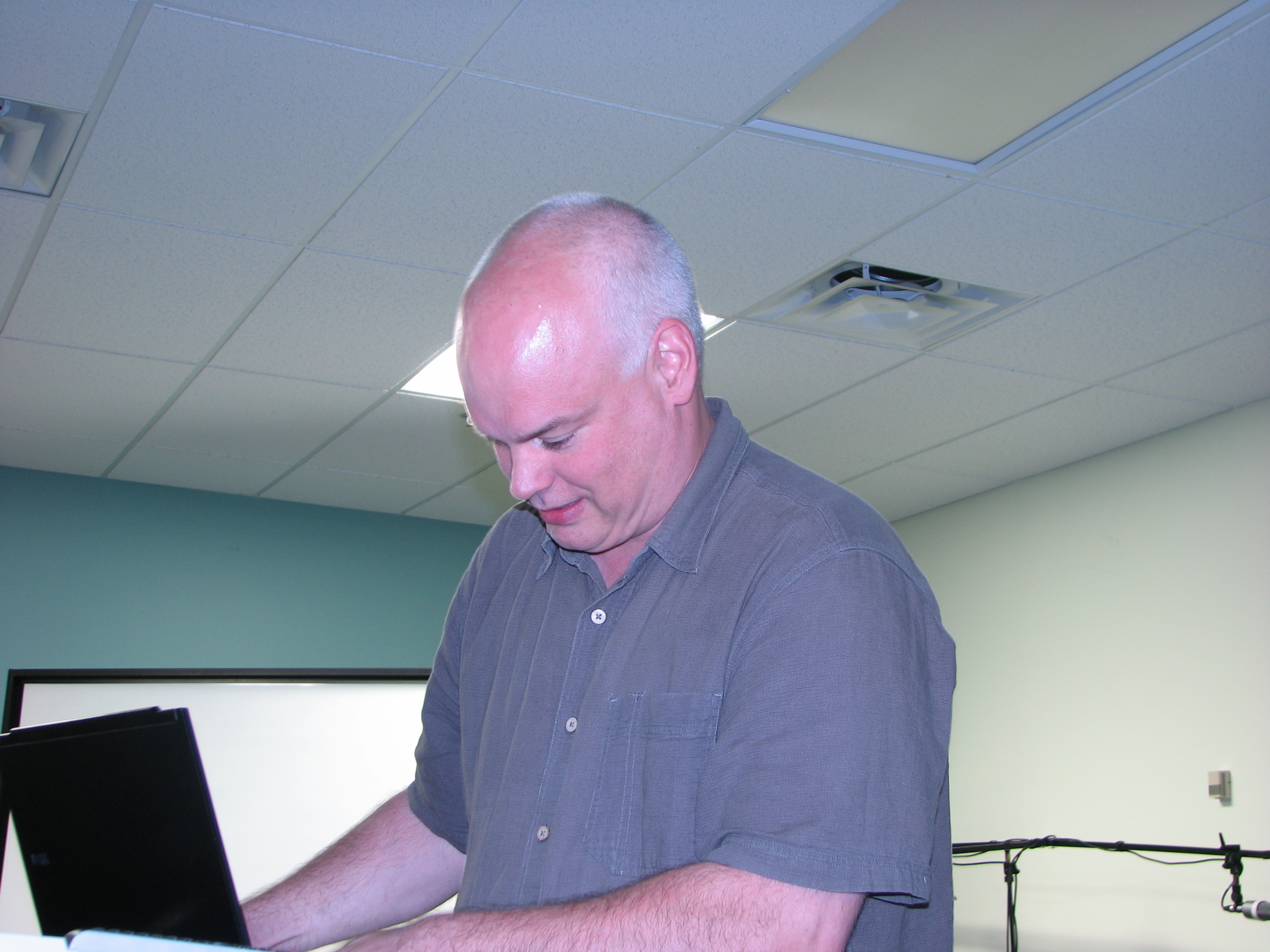 Ron Skinner remastered Done on Bradstreet's CD
Ron Skinner discussed his obsession with recording engineer Norman Petty who recorded 12 top 10 hits with Buddy Holly and the Crickets. This obsession led to a story about Done on Bradstreet, a band from Calgary that recorded with Petty in the early 70's. Ron ultimately re-transferred and remastered their less than stellar original digital transfers of those sessions from long ago. He utilized hardware and software from Universal Audio for the process. He had CD's to hand out for the audience members. Responding to a question: no post audio restoration was needed for the sound. The original session tapes had no tones however.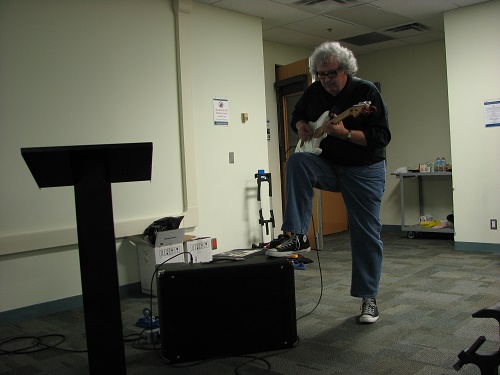 Denis Tremblay and a custom solid state tube-sound amplifier
Denis Tremblay discussed his 'unhealthy' obsessions with guitar amplifiers. Working with high resolution all day, he relishes the opportunity to work with something decidedly 'lo-fi' on his own time. He talked about the history of guitar amps and their design. He showed off his attempt at building a solid state guitar amplifier. There are a number of 'tricks' he used to get a 'reasonably' tube like sound which he didn't elaborate on!
The highlight was when he played his guitar to demonstrate the tone. After his performance, he demoed the tremolo levels, colour control on the reverb (which uses 3 springs instead of 2), and the built in compression circuit. In response to a question, the compressor is placed after all other effects are summed together. And, by the way, all the controls go up to 11!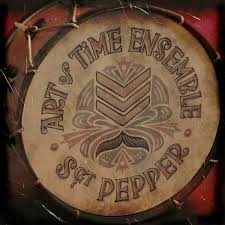 Earl McCluskie and Sgt Pepper live concert CD recording
Earl McCluskie presented a few tracks from the The Art of Time Ensemble which is a project he recently recorded and produced, involving hybrid pop-classical arrangements of the entire Sgt. Pepper album by The Beatles. He played the audience several samples including "Lucy in the Sky with Diamonds", "Lovely Rita", and "A Day In The Life".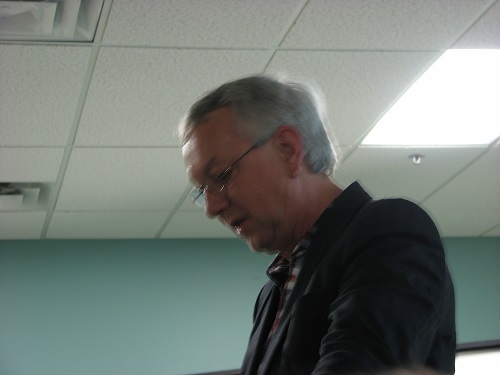 Ross Whitney and the Bucket of Volts
Ross Whitney of Plitron Manufacturing talked about a custom PA system comprising a number of pieces. One of them was a balanced power conditioner he called the "Bucket of Volts". The idea behind it is that the two secondary coils cancel out the common mode noise. Displaying a picture of the prototype produced laughs from the audience because the components are housed in an actual bucket!
Alan Hardiman promotes respected book by Phil Giddings
Alan Hardiman, of Associated Buzz Creative, spoke about having set up a website for the sale of the republication of the long-out-of-print book by Phil Giddings "Audio Systems Design and Installation" which is being republished early October, after being out of print for more than 10 years.  The site is:
http://posttoronto.com/
Other Showcase Presentations
Check out presentations from other Members' Showcases.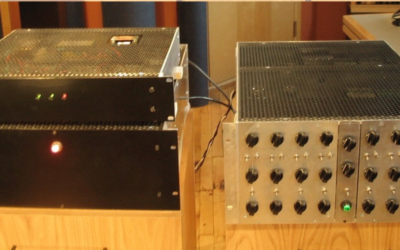 When: Tuesday, February 26, 2019
Time: 7:00pm
Where:
Ryerson University, Room RCC204, Eaton Theatre
80 Gould Street, Toronto, ON
read more