5th Annual Members Showcase – 2018: A Presentation for Toronto AES Members
When: Tuesday, February 27, 2018
Time: 7:00pm
Where: Ryerson University,
Eaton Theatre, Room RCC204
80 Gould Street, Toronto, ON
Corner of Gould and Church, east of Yonge St (Dundas Subway)
Pre-Meeting Dutch Treat Dinner
5:00 pm
The Pickle Barrel
(corner of Edward and Yonge, just north of Dundas, in the Atrium)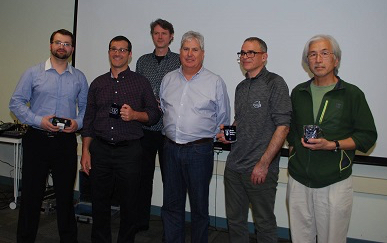 Presenters from Members' Showcase 2017
About the Event
The Toronto section of the Audio Engineering Society is holding its fourth annual Members Showcase of Gadgets and Projects night on February 27, 2018. Toronto AES members will be showcasing projects, hardware and work they have developed and created. In the AES spirit of sharing knowledge, we will be taking this opportunity to honour and appreciate some of the work that our fellow engineers do on a daily basis and as hobby projects.
CALL FOR PRESENTATIONS
If you have a project or personal work you would like present to the membership, NOW is your chance. For example, if you have a piece of gear you've built, or helped create, or a recording project that you'd like to share insight into, we'd like to see and hear it. All presentations should be limited to 10 minutes and can have an audio/visual component if necessary for the presentation.
This promises to be a great night to find out more about the work your fellow AES colleagues do.
Please submit your proposal to Rob DiVito before February 1, 2018 for consideration this year.
Past Showcase Presentations
Check out presentations from past Members' Showcases.
Tuesday, February 28, 2017. See the slideshow of presentations.
read more
Event Location
Ryerson University
Eaton Theatre, Room RCC204
80 Gould Street, Toronto, ON