Members' Showcase 2017 Presentations
Reviews by Karl Machat, Pictures Jeff Bamford.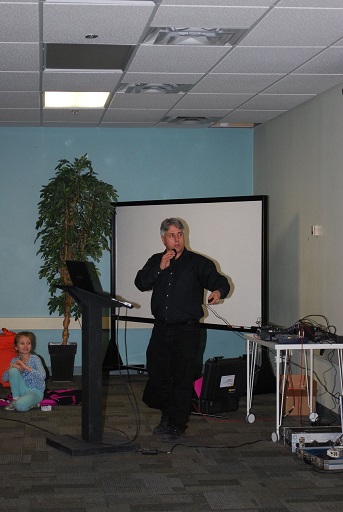 Bob Breen: "Life Beyond Audio School"
Bob was formerly at the OIART school for just over 12 years. Recently he bought an A/V company: ARMOR. His slides of the various events the company's been involved in included mixing gigs and installing sound systems, as well as his company's showroom. They are "not always selling, but solving problems". The company is 30 years old and hasn't advertised over the last 10.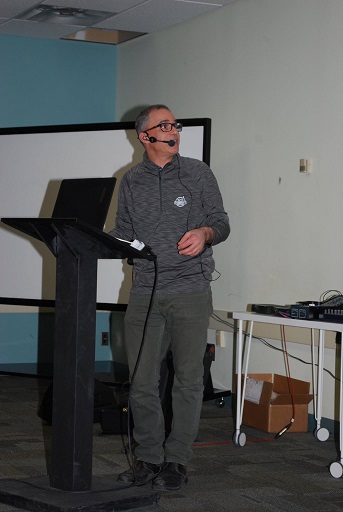 Ike Zimbel: "New Product by Aurora Audio called the Aurora Stinger"
Ike recently wound down his own business and joined Jeff Tanner's company Aurora Audio. Jeff wanted someone to represent Canada who was also capable of repairing Aurora Audio's equipment. Ike fit the bill and is now the Canadian dealer for the company. The Aurora Stinger is a like a channel strip with an I/O transformer, 3 band EQ, clean DI with overdrive circuit and true 48v phantom power. It has many creative routing options. His presentation included going over the unit's schematic, and other products in the company's line. He concluded by discussing purchasing procedures concerning the US/Canada border.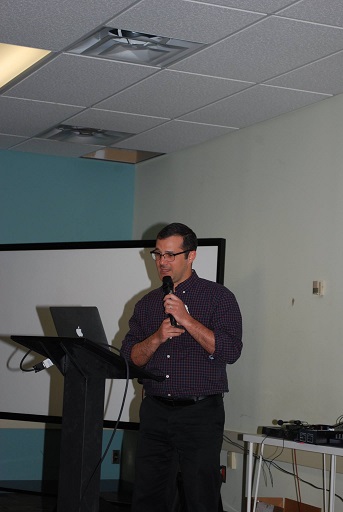 Rich Wattie: "SSL Duality installation at Eastman"
Rich presided over a slide show that also presented recent projects he's been involved in with the SSL console. He went over the reason for the console replacement and how the current setup is implemented. Slides depicted the recording halls, equipment setups, and routing, as well delivery and reconstruction pics. The SSL is very repairable, only has 2 plugs, and doesn't draw very much power overall.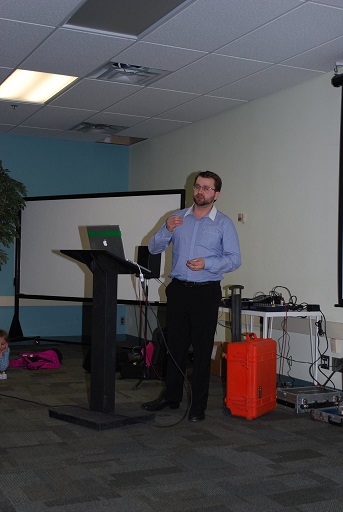 Anthony Kazub: "New Ward Beck Preamps"
Anthony's talk included the history of the Ward Beck company, as well as designing AES67 devices. The preamps are built in increments of one because of client demands – an example being that radio broadcasters don't require units of 'multiple 8's'.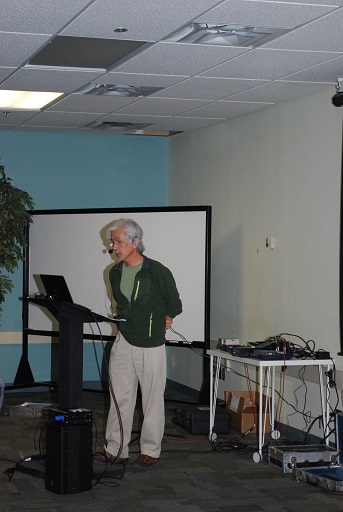 Ginn Anazawa: "Loudspeaker Voice Coil Temperature Sensing"
Ginn presented his work and testing he has done for mobile voice application (micro speakers), but which can be applied to any speaker model.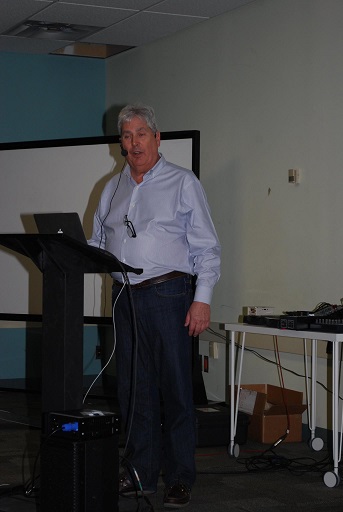 Bob Snelgrove: "Electronic product from the 'Bob Snelgrove Hobby Series' "
Bob has an electronic product line called the "Bob Snelgrove Hobby Series". Specifically his presentation was about something called Project 16. This combines four sub-projects in one: a bi-polar power supply, swept sine oscillator, variable gain level control and a line drive amplifier. During the question period, he stated he did think of adding a frequency counter.
Buck Moore: "Soundtrack Mapping - An Extension of the 'D Curve' "
Buck expanded on a presentation he made at last year's member showcase of the 'D Curve'. This is an EQ preset he developed for voice that starts a 5 dB cut between 320 and 450 Hz with a not-too-wide bandwidth. The addition include level measurements and appropriate compression. He called this method was a way of 'faking the loud'.
When: Tuesday, February 28, 2017 Time: 7:00pm Where: Ryerson University, Room RCC361 80 Gould Street, Toronto, ON Corner of Gould and Church, east of Yonge St (Dundas Subway)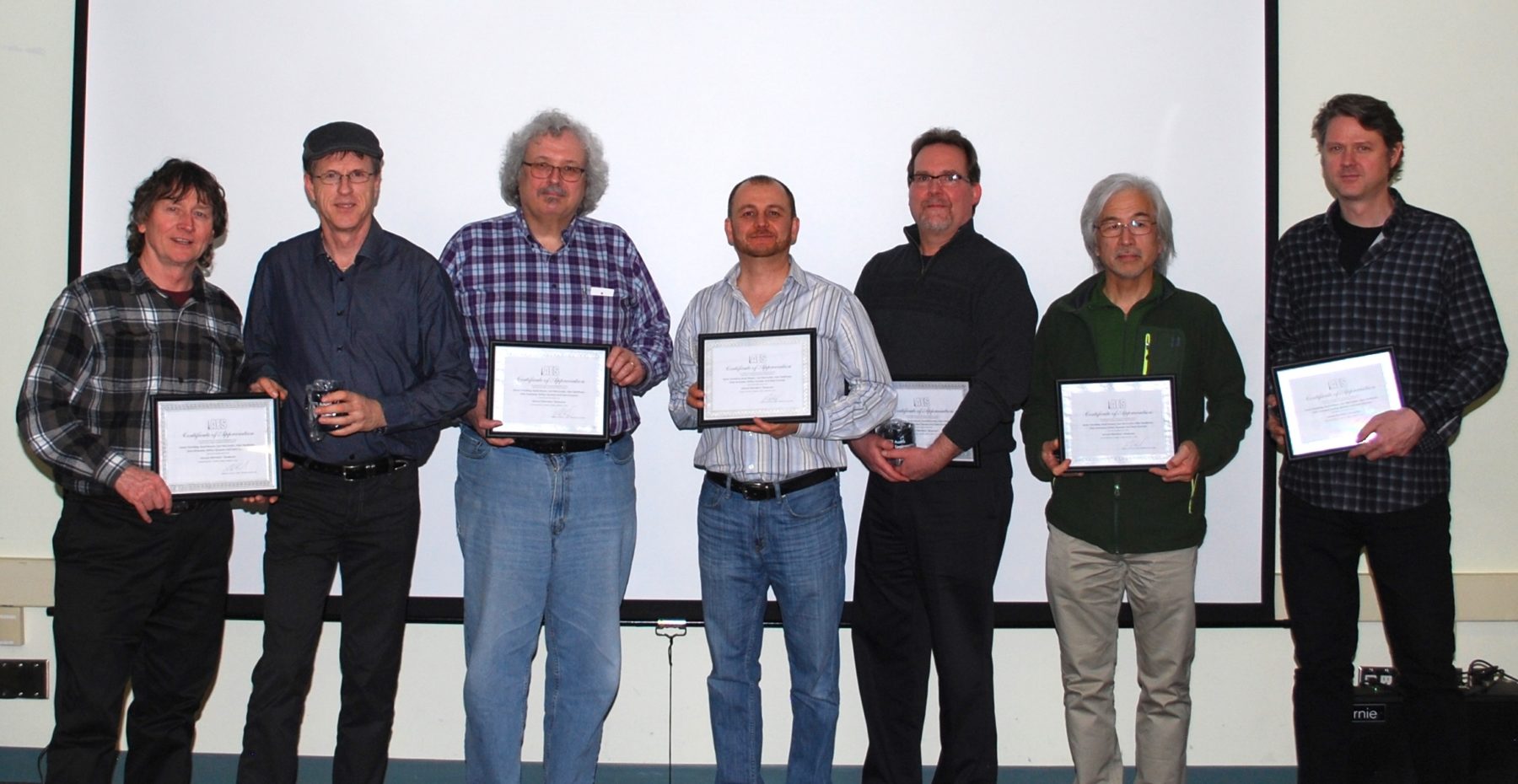 About the Event
On February 28, 2017, the Toronto section of the Audio Engineering Society held its 4th annual Members Showcase of Gadgets and Projects night. Toronto AES members showcased projects, hardware and work they have developed and created. In the AES spirit of sharing knowledge, we honoured and appreciated some of the work that our fellow engineers do on a daily basis and as hobby projects. This year's presenters included:
Bob Breen – Life beyond Audio School
Ike Zimbel – New product by Aurora Audio called the Aurora Stinger
Rich Wattie – SSL Duality installation at Eastman
Anthony Kazub – New WB pre amps
Ginn Anazawa – loudspeaker voice coil temperature sensing
Bob Snelgrove – Electronic product from the "Bob Snelgrove Hobby Series"
Buck Moore – Soundtrack Mapping – an extention of the D Curve
If you have a project or personal work you would like present to the membership, next year is your chance. For example, if you have a piece of gear you've built, or helped create, or a recording project that you'd like to share insight into, we'd like to see and hear it. All presentations should be limited to 10 minutes and can have an audio/visual component if necessary for the presentation. This promises to be a great night to find out more about the work your fellow AES colleagues do. Please submit your proposal to Rob DiVito before February 1, 2018 for consideration next year.
Pre-meeting Dutch treat dinner
5:00 pm at the Pickle Barrel (corner of Edward and Yonge, just north of Dundas, in the Atrium)
Other Showcase Presentations
Check out presentations from other Members' Showcases.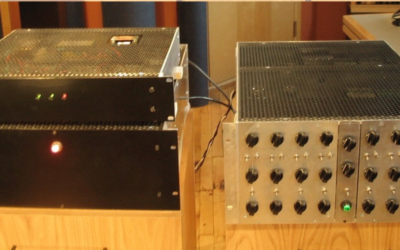 When: Tuesday, February 26, 2019
Time: 7:00pm
Where:
Ryerson University, Room RCC204, Eaton Theatre
80 Gould Street, Toronto, ON
read more